Image credit: National Archives of Singapore
Happy 55th, Singapore! It's our nation's 55th year of independence, and we have really come a long way together. From a colonial-ruled trading post to metropolitan island-city, do you still recall Singapore at her infancy stage? Let's take a walk down memory lane this coming National Day, and create new memories while reminiscing the past. Read on to find iconic local places and interesting activities to explore with your loved ones!
Orchard Road

Image credit: PictureSG and Tourism Information & Services Hub
It's hard to imagine Singapore without its bustling shopping district of malls, restaurants, and parks! Gaining its name from the fruit orchards that used to occupy this district, the 2.2 kilometres Orchard Road has numerous spots and activities for the family besides just shopping! Head down to *SCAPE at Somerset, where you can enjoy live music and purchase local products from local sellers such as arts, crafts, t-shirts and books.
Then, visit BOUNCE Singapore, where the kids can go wild with the interconnected trampolines, and zip around this large trampoline park! Currently, they are operating at lower capacity of only 33 people per 50-minute session as a social distancing measure. So call ahead before visiting to make sure you don't have to wait long.
After all that bouncing, take it slow with a family meal at any of the eating places around Orchard to wind down the day.
#TiqOurWord As the places you'll be visiting may be crowded with visitors, it is always advisable to keep a safe distance from others and wear a face mask at all times. For a limited time, get yourself insured and enjoy complimentary special coverage for COVID-19 and Dengue fever with ePROTECT safety.
Changi Airport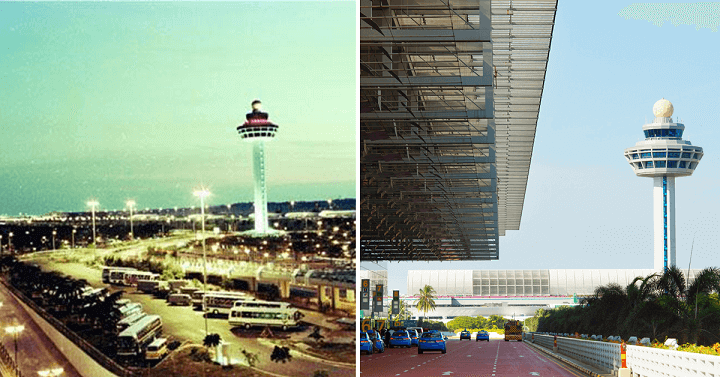 Image credit: PictureSG
Built to replace the now-defunct Paya Lebar airport, Changi Airport opened its doors in 1981, and has been an iconic part of Singapore ever since. Whether you are catching your next flight or simply catching a glimpse of the planes taking off the runway, being at Changi Airport always brings a sense of awe when we step into the terminals.
While you're here, visit Jewel Changi Airport, a nature-themed complex where you can go shopping and dine within the airport at over 300 shops and restaurants. It also features the famous Rain Vortex – the world's tallest indoor waterfall standing at 40 metres high and releasing about 37,850 litres of circulating rain water per minute.
While there are still travel restriction in place, everyone is advised to stay healthy by practising safety measures and avoiding travels, especially to crowded places, unless truly necessary. Learn what to do if your travel plans have been disrupted and check out what the future holds for travellers post-Circuit Breaker.
Queenstown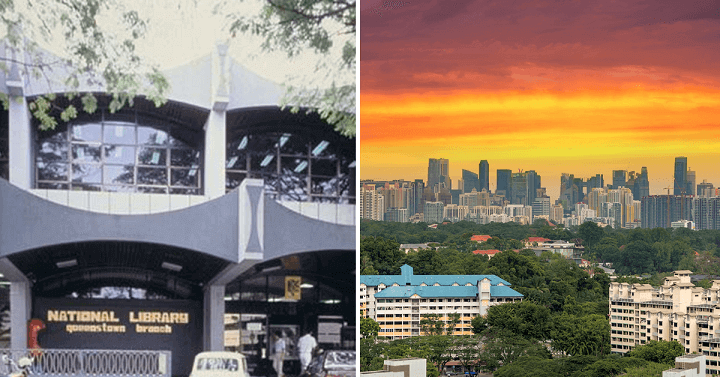 Image credit: PictureSG
Queenstown, one of the earliest estates in Singapore when our nation was established, is also a retro playground filled with Instagram-worthy shops and spaces. Did you know that the first few HDB buildings in Singapore were built here?
If you need some directions to start your Queenstown exploration, do join the heritage organisation My Community on their Queenstown heritage trails (postponed till further notice). Led by volunteer guides, the non-profit group organises free walking tours that bring participants around historic spots in the precinct like Gillman Barracks and shrines around Radin Mas. They also provide virtual tours, so you can enjoy the nostalgia trip in the comfort of your own home.
For the keen-eyed individuals, try spotting all twenty murals hidden amidst the residence area, or take a trendy family wefie around Wessex Estate.
Fort Canning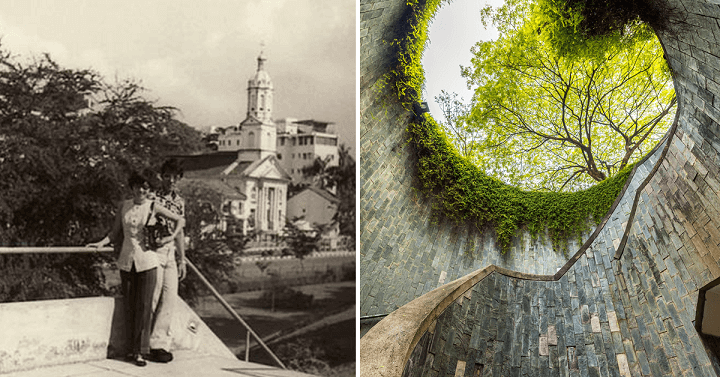 Image credit: to PictureSG
We love Fort Canning, and not just because it hosts one of the best music festivals in town! This idyllic hill in the middle of the city holds a few of our country's treasures for all to see. Looking to indulge in a day of history and culture? Head over to Battlebox Singapore, a preserved underground WWII command to experience the feel of the battle, or take a walk around the fort gates and spice garden to soak in the atmosphere.
For newly married couples, Fort Canning represents something more symbolic, as the nearby Registry of Marriages is where you might have penned your declaration of love. Life planning is an important step for couples that are making a life commitment together, so don't forget to browse through our Online Life Insurance and see how you can make the most of your life journey with your partner.
Experience Chinatown, Little India and Haji Lane with local guides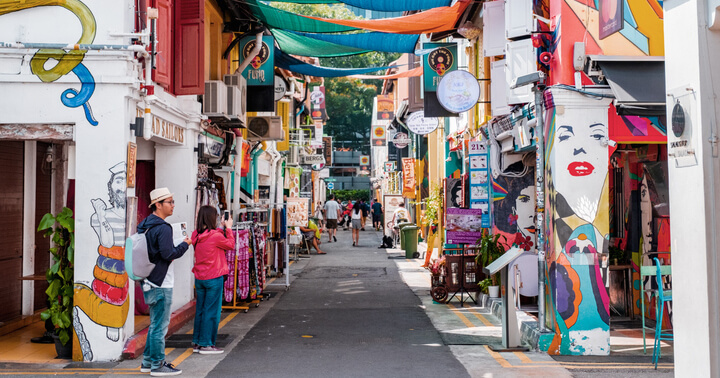 Sometimes, you don't want to just visit a place, you want to experience the life there and find hidden gems – especially with a trusted local guide. There are many Airbnb experiences curated just for the purpose of nostalgia.
For example, you can book an experience at Chinatown to really soak up the 70s atmosphere. Perhaps you'd like a tour around Little India to explore the vibrant landmarks and amazing food. How about taking photos at the psychedelic murals along Haji Lane with a guide who is also your personal photographer?
#TiqOurWord Don't forget to take extra safety measures while you're outside and be in a group of 5 people or less. You can enjoy more places if you keep yourself safe and healthy! With ePROTECT safety personal accident insurance, you are protected up to S$500,000 for accidental death or permanent disability. Learn more.
[End]
Information is accurate as of 3 August 2020. This policy is underwritten by Etiqa Insurance Pte. Ltd. (Company Reg. No. 201331905K). Protected up to specified limits by SDIC. As buying a life insurance policy is a long-term commitment, an early termination of the policy usually involves high costs and the surrender value, if any, that is payable to you may be zero or less than the total premiums paid. You should seek advice from a financial adviser before deciding to purchase the policy. If you choose not to seek advice, you should consider if the policy is suitable for you. It is usually detrimental to replace an existing personal accident plan with a new one. A penalty may be imposed for early termination and the new plan may cost more or have less benefit at the same cost. Benefits of the policy will only be payable upon an accident occurring. This advertisement has not been reviewed by the Monetary Authority of Singapore.
Tiq by Etiqa Insurance Pte. Ltd.
A digital insurance channel that embraces changes to provide simple and convenient protection, Tiq's mission is to make insurance transparent and accessible, inspiring you today to be prepared for life's surprises and inevitabilities, while empowering you to "Live Unlimited" and take control of your tomorrow.
With a shared vision to change the paradigm of insurance and reshape customer experience, Etiqa created the strong foundation for Tiq. Because life never stops changing, Etiqa never stops progressing. A licensed life and general insurance company registered in the Republic of Singapore and regulated by the Monetary Authority of Singapore, Etiqa is governed by the Insurance Act and has been providing insurance solutions since 1961. It is 69% owned by Maybank, Southeast Asia's fourth largest banking group, with more than 22 million customers in 20 countries; and 31% owned by Ageas, an international insurance group with 33 million customers across 16 countries.
Discover the full range of Tiq online insurance plans here.