Life is too short, and time is too precious! For those of you who are having perpetual wanderlust, our consolation to you is that we are all in the same boat, as well as this fun, action-packed weekend travel itinerary to Singaporeans' favourite Land of Smiles – Thailand! If you, like any other Singaporeans in general, love Bangkok for its affordable shopping, cafes and street food, you'll be intrigued by our latest recommendation – Hat Yai. This hidden gem is a mere 1 hour 35 minutes away by flight from Singapore, and there are many fun things to do, fitting for the hipsters too! Read on to find out what we have in store for you!
Note: This recommended itinerary assumes the travellers catch an early morning flight. Do note that flight timings fluctuate according to airline availability.
Day 1 Morning arrival to Hat Yai
[7.30am – 9.30am] Breakfast at Kim Yong Market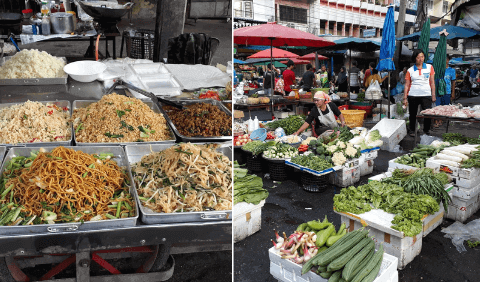 Good morning, troopers! Start the day right with a hearty breakfast at the Kim Yong Market, an approximate half hour car ride from Hat Yai airport. Known as the 'Small Market' amongst the locals (as compared to the nearby Santisuk Market that's bigger), you can find a great variety of local food, dried goods, appliances, and various merchandises at this 3-storey shopping complex!
Some local delights to savour include grilled banana/potato drizzled with coconut milk (yum! only 20THB/0.85SGD), coconut waffle, curry noodles, etc.
Address : Supasarnrangsan Road, Hatyai, Songkhla 90110, Thailand
Operation Hours: 6am to 6pm
[10.30am – 12pm] Escape the city hustle at Ko Yo Island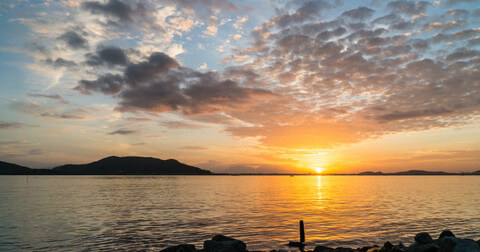 A fishing island just 30 minutes away from Hat Yai city, Ko Yo Island is connected across the Songkhla lake via the largest concrete bridge in Thailand. You might ask, what are the things to do on a fishing island? Head to the Southern Folklore Museum if you're looking to experience local culture through a historical lens. Think 4,000-year-old beadwork and 1,000-year-old ceramics!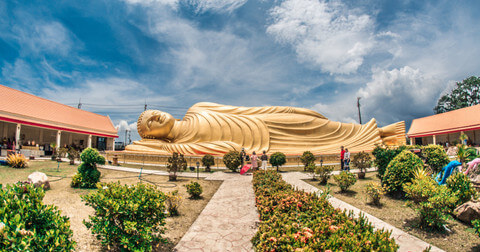 Don't miss Wat Laem Pho, a lakeside temple that was established more than 200 years ago. Here, you will find a 20-metre-long reclining Buddha statue, reputed to be the largest in Thailand.
Address: Ko Yo, Mueang Songkhla District, Songkhla 90100, Thailand
Operation Hours: 7am to 5.30pm
[12pm – 2pm] Lunch at a waterfront restaurant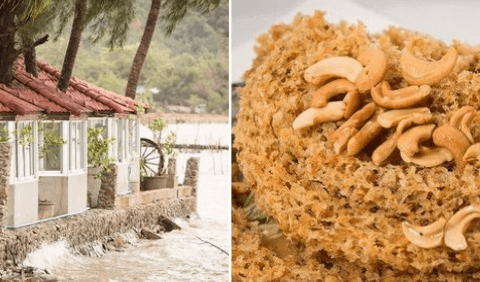 A trip to Ko Yo Island will not be completed without a seafood feast! While you are here, enjoy lunch at one of the various waterfront restaurants such as Khun Jit Sea View. If spice is your thing, go for the spicy catfish!
Address: 68 Moo 3 Songkla-Ranod Road, Koh Yo, Songkhla 90100
Operation Hours: 10am to 10pm
[2.30pm – 5.30pm] Shopping, massage and coffee time!
After lunch, head back to the city and proceed for your hotel check-in. Take a nap if you like or hit the various shopping malls around town. You may also want to pamper yourself at one of the city's many massage parlours.
The main shopping area in Hat Yai is around the Niphat Uthit 1, 2 and 3 Roads area. Check out Central Festival Hatyai too, which is one the biggest malls in the city. Prices are said to be relatively cheaper than Bangkok's, and that includes taxi prices!
Chillax at one of Hat Yai's hipster cafes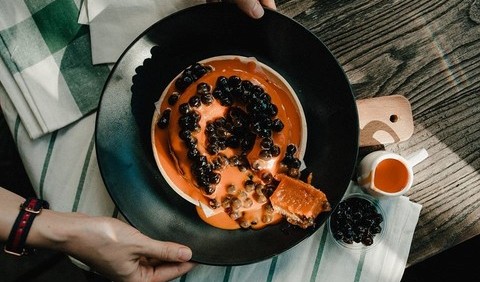 Hipsters alert! Instagram-worthy cafes have been trending and when you are tired of shopping, why not take a break at one of the hipster cafes? We recommend you to check out … …The Containers! This is a spacious café (imagine brick walls and tall ceiling) that serves an extensive menu of drinks, food and dessert, that just look so good!
Address: 145 Thaveevarn Road, Amphoe Hat Yai, Thailand
Operation Hours: Daily, 11am to 11 pm
[6pm – 9pm] Relive childhood memories at Pruksa Theme Park (Wine Village)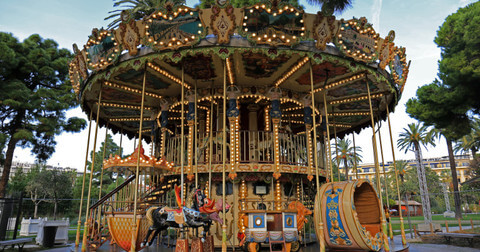 Pruksa Theme Park aka Wine Village is your fairy-tale dream come true with its white brick walls and conical roofs that resemble a medieval castle. It even has a white carriage at the park's entrance! This picture-perfect entertainment venue packs a whole lot of fun with fun rides, a farm house and various dining options.
Animal lovers, listen up! Their farm houses sheep, goats, rabbits and birds, which you can interact and feed! Let your inner child come alive by going on the park's iconic carousel, all the more mesmerising when night falls, offering a romantic and whimsical ambience.
Address: Prachayindee Rd, Tambon Hat Yai, Amphoe Hat Yai, Chang Wat Songkhla 90110, Thailand
Operation Hours: Daily, 4pm to 9pm
Turn in early tonight to get a fresh start on the morrow. Otherwise, there are night markets and bars that you can check out.
Day 2 Hat Yai
[9am – 11am] Morning hike at Ton Nga Chang Waterfalls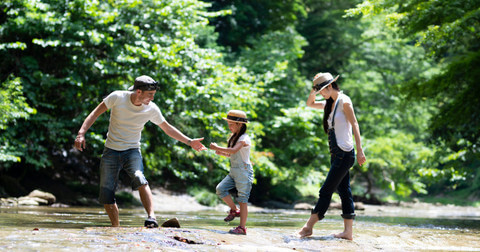 If you enjoy the company of nature, have your go at hiking up Hat Yai's most iconic waterfalls – Ton Nga Chang. This amazing landmark offers quite the sight and is a visionary treat, especially in how the water flows out, said to resemble an elephant's tusks.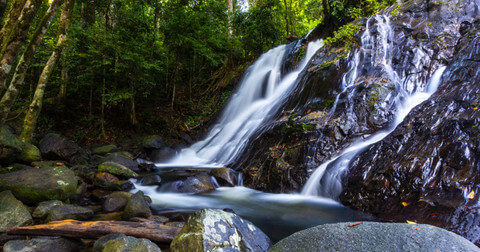 #TiqOurWord Be cautioned that the hike can be arduous for some, particularly those with pre-existing medical conditions, so do plan adequate pit stops. Did you know that Tiq provides coverage for pre-existing medical conditions? You're also given the flexibility to customise your plan with our travel insurance add-ons based on your needs to make the most out of your purchase!
[11.30am – 2pm] Enjoy a sumptuous lunch at one of the city's popular restaurants
From market stalls to well-established eating houses and trendy restaurants, Hat Yai offers a wide range of affordable food. Tuck in to a sumptuous lunch at one of the city's popular restaurants. According to various food bloggers, Kan Eng Restaurant serves delicious Chinese-Thai food that's affordable. Although the restaurant is often crowded, service is quick .
Some dishes to try include the signature deep fried sand fish, salted veggie intestine soup, braised pork trotters and steamed crab cakes (similar to otah ).
Address: 50/3 Kimpradij Road, Hat Yai 90110, Thailand
Opening Hours: 10.30am – 2pm; 5pm – 9.30pm daily
[3pm – 5pm] Visit the Khlong Hae Floating Market in Hat Yai (Temporarily Closed)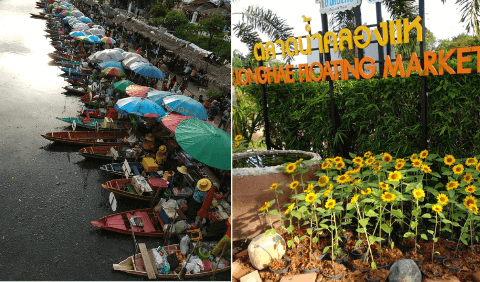 Available only from Friday to Sunday (timely for a weekend travel from Singapore!), the Khlong Hae Floating Market is definitely smaller than the ones in Bangkok, but it is an authentic local experience for those who have yet to visit a waterside market. Here, you can continue shopping and eating, or simply sit back and relax on one of the big boats that offers canal tours.
Address: Hat Yai District, Songkhla 90110, Thailand
Opening Hours: 3pm to 9pm
[5pm – 7pm] Discover the Little Mermaid and ride on a horseback at Samila Beach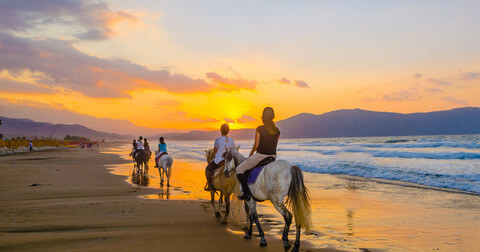 Samila Beach's natural beauty and local charm is well-preserved, seen in its long stretches of pristine white sand and breath-taking sculptures of mythical legends that tells of its long history and rich culture. Other than being famous for the Mermaid Statue (we heard it's bigger than the Little Mermaid in Copenhagen!), one of the unique things to do at Samila Beach is that one can enjoy the lovely sunset on a horseback at just 150 THB, which works out to be only about ~ 6SGD – score!
[7.30pm – 10pm] Indulgences at Greenway Night Market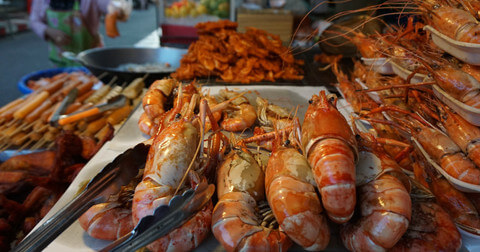 Greenway Night Market is Hat Yai's largest lifestyle market divided into 26 zones with something for everyone. Hipsters will love this place for its bright fairy lights and lively music. Shops carrying fashionable pieces at a bargain will satisfy the shopaholic in you, while the food station, a two-storey market selling all sorts of snacks, Instagram-worthy drinks and delicious local fare will appeal to foodies. There is also an open area where you can admire the stars while having your food! Not a fan of night markets in Thailand because of the crowd and heat? In fact, temperatures in Hat Yai will fall between 22-25 degree Celsius at night, so here's one more reason to visit Hat Yai!
Day 3 Morning arrival to Singapore
Note: If you flew on a Saturday, you only need to take 1 day leave on Monday to enjoy this itinerary. Alternatively, if time and budget permits, you can consider the afternoon departure flight by Scoot on Friday and return later on Sunday afternoon.
Accommodation
Plus, whether you're travelling solo, as a couple, or with friends or family, you'll be spoilt for choice for comfortable hotel options near the city centre at a steal, including but not limited to The Lantern Hatyai Hotel, The Smart Hotel Hat Yai, SJ Miracle Hotel, Bhava Residence and Centara Hotel Hat Yai!
Before you #TiqOff…
Can't wait to travel to Hat Yai with all these exciting activities in mind? Before you hit the 'X' button on the top right of your browser to book your flight and hotel, don't miss out on this – your travel insurance!
Tiq Travel Insurance offers COVID-19 add-ons, which covers travellers for pre-departure, during, and post-trip COVID-19 related expenses. Should you be diagnosed with COVID-19 just before your trip, resulting in trip cancellation or postponement, Tiq covers up to $5,000 on non-refundable costs for cancelling or postponing your trip 14 days before your departure date!
Even in the event that you are diagnosed with COVID-19 and are hospitalised back in Singapore for treatment, you will get a lump sum payout of up to $300. Read more on Tiq Travel Insurance here!
Wondering what the travel requirements are for travelling to Thailand? Check them out here!
Information is accurate as at 3 August 2022.