Thank you for your support! Tiq 3-Year Endowment Plan is now fully subscribed.
Check out GIGANTIQ, our all-in-one insurance savings tool before it's gone too!   
Thank you for your support!
Tiq 3-Year Endowment Plan is now fully subscribed. Leave your contacts and we'll inform you when Tiq 3-Year Endowment Plan is available for signup.
Grow your funds with our short-term savings plan
LIMITED TRANCHE
Achieve your goals, exclusively with Singtel Dash

High guaranteed return of 1.62% p.a. at maturity

Life protection of 101% of single premium

Short 3-year maturity period

Guaranteed acceptance regardless of your health condition

Start saving from S$5,000 to S$50,000

Apply and manage your policy online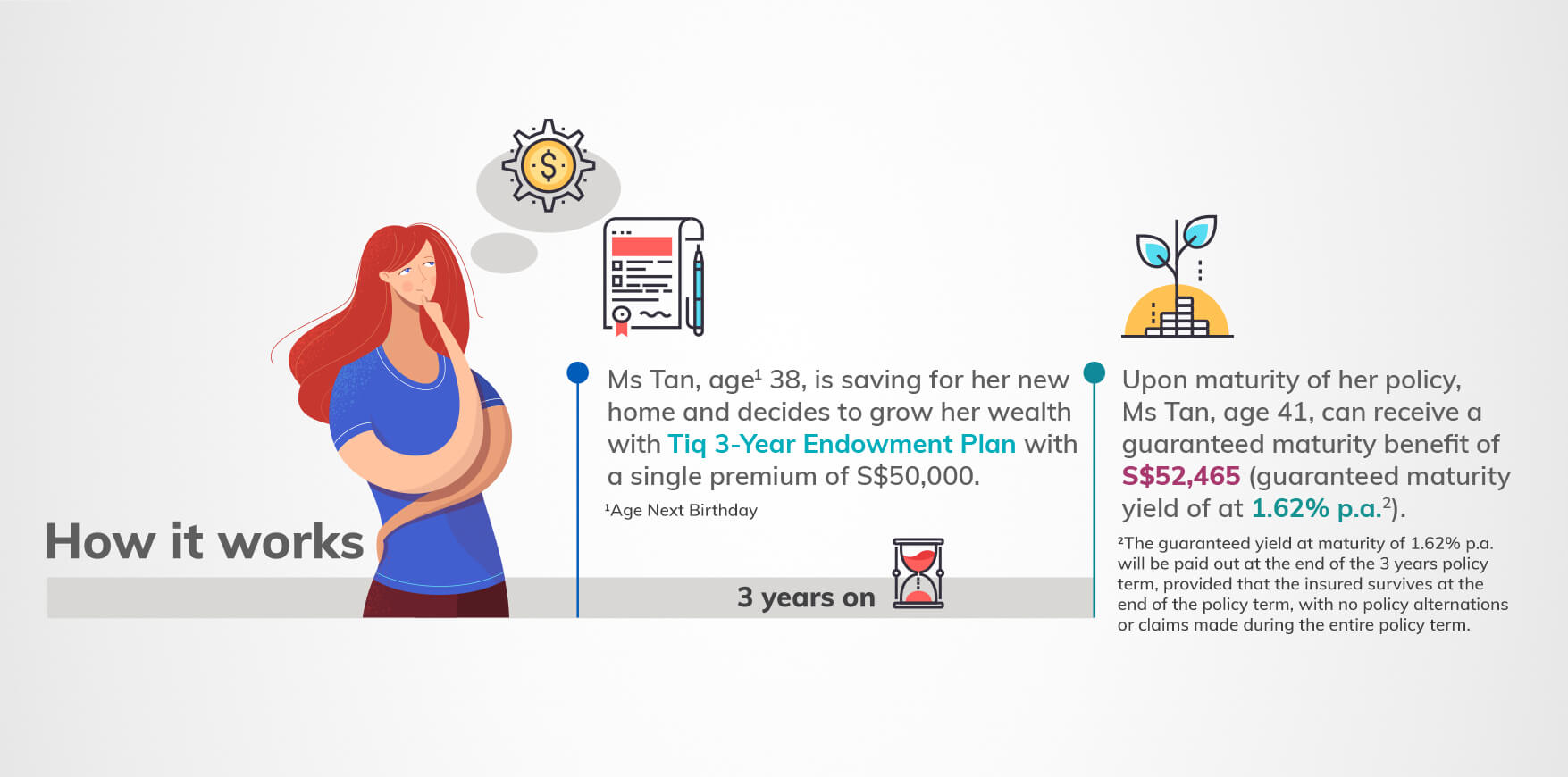 Frequently Asked Questions
This is a single premium, non-participating life insurance savings plan. This plan has a policy term of 3 years. A lump sum guaranteed maturity benefit will be paid at the end of the policy term.
You can purchase this plan for yourself if you fulfill the following criteria:
a. You are a Singapore Resident with a valid NRIC or FIN; or
b. You are foreigner but you must be holding a valid Work Permit, Employment pass or Social pass.
c. You are between age 17 to 70 (age next birthday).
You are only allowed to purchase one Tiq 3-Year Endowment plan at a time.
Our customer care team will be happy to take your questions during operating hours from Mondays to Fridays 8.45 am to 5.30 pm. Call us at +65 6887 8777 or start a live chat with us on our website. Alternatively, you may email us at customer.service@etiqa.com.sg and we will respond within two working days.

Verification
Verify via Myinfo or Snap photos of the front and back of your NRIC/FIN Pass

Proof of Address
For non-Singaporean only. Submit a copy of your proof of address (from bills or statements)

Online Payment
Pay via DBS/POSB bank account or PayNow QR. It is recommended to pay via a bank account that matches the name of the policyholder.
Information You Might Find Useful
See What Our Customers Say
Important notes:
This product's availability is based on a first-come, first-served basis and Etiqa Insurance reserves the right to close the tranche at any time without prior notice.
This policy is underwritten by Etiqa Insurance Pte. Ltd. This content is for reference only and is not a contract of insurance. Full details of policy terms and conditions can be found in the policy contract. The information contained on this product advertisement is intended to be valid in Singapore only and shall not be construed as an offer to sell or solicitation to buy or provision of any insurance product outside Singapore. As buying a life insurance policy is a long-term commitment, an early termination of the policy usually involves high costs and the surrender value, if any, that is payable to you may be zero or less than the total premiums paid. You should seek advise from a financial adviser before deciding to purchase the policy. If you choose not to seek advice, you should consider if the policy is suitable for you.
This policy is protected under the Policy Owners' Protection Scheme which is administered by the Singapore Deposit Insurance Corporation (SDIC). Coverage for your policy is automatic and no further action is required from you. For more information on the types of benefits that are covered under the scheme as well as the limits of coverage, where applicable, please contact us or visit the Life Insurance Association (LIA) or SDIC websites.
Information is accurate as at 19 August 2021. This advertisement has not been reviewed by the Monetary Authority of Singapore.

Be the first to know
Get the latest promotions and news

Please share with us which topics interest you:
All
Financial Planning
Health & Wellness
Travel & Leisure
For the Millennials
Promotions & Giveaways
I consent and agree for Etiqa Insurance to collect, use and disclose the personal data above for the purposes of validation and sending, via telephone calls and text message. Read Etiqa's Privacy Policy [here]