Let's stay safe and healthy together!
With our enhanced ePROTECT safety, you get extended coverage for unexpected expenses due to infectious diseases, with a monthly renewable subscription from S$18 per month.
  For a limited time only, you will also be protected with our complimentary special coverage for COVID-19 and Dengue Fever.
COVID-19 and Dengue Cover
Diagnosis Benefit
S$3,000
Enhanced Infectious Disease Coverage

Death and Permanent Disablement benefit at S$50,000

Up to S$2,000 Inpatient Medical Expenses

Cash benefit of S$3,000 upon a COVID-19 or Dengue Fever diagnosis
Add a new shine to safety
Accidents bring about the unexpected. Personal accident insurance makes a decisive difference to your well-being.

Up to S$500,000 protection for accidental death or permanent disability

Hospitalisation expenses for 22 infectious diseases including Hand, Foot, and Mouth Disease, Dengue Fever, and H1N1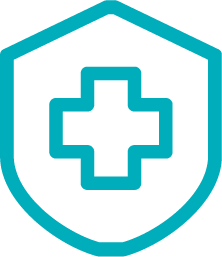 Outpatient medical expenses of up to S$4,000
BENEFITS
Sum insured (S$)
Enhanced Silver
Enhanced Gold
Enhanced Platinum
Section 1 – Accidental Death
$100,000
$300,000
$500,000
Section 2 – Permanent Disablement due to Accident
$100,000
$300,000
$500,000
Section 3 – Medical Expenses Reimbursement
$2,000
$3,000
$4,000
a) Outpatient Medical Expenses (Sublimit for TCM: up to $150 per visit and $1,000 per Accident)
b) Inpatient Medical Expenses due to Bodily Injury
c) Inpatient Medical Expenses due to Infectious Diseases
$1,000
$1,500
$2,000
Section 4 – Hospitalisation Allowance
$50 per day up to 180 days
$100 per day up to 180 days
$200 per day up to 180 days
Section 5 – Facial Reconstruction Surgery
$1,000
$2,000
$5,000
Section 6 – Bereavement Grant
$3,000
$3,000
$3,000
Section 7 – Mobility Expense Reimbursement
$1,000
$2,000
$3,000
Section 8 – Ambulance Fee
$200
$200
$200
Section 9 – Home or Office Modification Reimbursement
$1,000
$2,000
$5,000
Section 10 – Death due to Infectious Disease
$50,000
$50,000
$50,000
Section 11 – Permanent Disablement due to Infectious Disease
$50,000
$50,000
$50,000
Choose auto-renewal or renew monthly from $18 per month
Insured but still looking?
Let us know when your policy ends and we'll send you a reminder to switch to Tiq by Etiqa Insurance.
Set. Relax. No Regrets!
Don't worry, we'll wait for you!
When does your existing ePROTECT
safety
expire? (A guess is okay)
Invalid Date field
Invalid Name field
Invalid Contact field
Invalid Email field
Reminders will be sent at least 1 month prior to the renewal of your existing insurance policy. By submitting your details, you allow us to get in touch with the latest promotions, marketing updates and how to switch to us.
Disclaimer: We will not be held responsible if our reminder doesn't reach you and you choose to cancel your policy with your existing insurer.
Frequently Asked Questions
All insured with an inforce policy of enhanced ePROTECT safety insurance plan shall be provided with complimentary "COVID-19 & Dengue Cover Diagnosis Benefit".   Etiqa Singapore reserves the discretion to make amendments to this complimentary benefit, its validity and eligibility requirements at any time.
Yes, in the unfortunate event that you are diagnosed with both COVID-19 and dengue fever within the same period of insurance, you will be entitled to a lump sum payment of S$6,000. The complimentary cover for both COVID-19 and dengue fever will then expire for that period of insurance.
You will not be entitled for complimentary "COVID-19 & Dengue Cover Diagnosis Benefit" during the period of Leave of Absence, Stay-Home Notice or Quarantine Order. However, once you are negatively tested after the period of leave or quarantine, you will then be eligible to enjoy the complimentary cover for "COVID-19 & Dengue Cover Diagnosis Benefit" provided under enhanced ePROTECT safety.
Information You Might Find Useful
See What Our Customers Say
Important notes:
This policy is underwritten by Etiqa Insurance Pte. Ltd. This content is for reference only and is not a contract of insurance. Full details of the policy terms and conditions can be found in the policy contract. This policy is protected under the Policy Owners' Protection Scheme which is administered by the Singapore Deposit Insurance Corporation (SDIC). Coverage for your policy is automatic and no further action is required from you. For more information on the types of benefits that are covered under the scheme as well as the limits of coverage, where applicable, please contact us or visit the General Insurance Association (GIA) or SDIC websites (www.gia.org.sg or www.sdic.org.sg).The information contained on this product advertisement is intended to be valid in Singapore only and shall not be construed as an offer to sell or solicitation to buy or provision of any insurance product outside Singapore. You should seek advice from a qualified adviser before deciding to purchase the policy. If you choose not to seek advice, you should consider if the policy is suitable for you. It is usually detrimental to replace an existing personal accident plan with a new one. A penalty may be imposed for early termination and the new plan may cost more or have less benefit at the same cost. Information is accurate as at 02 April 2020.

Be the first to know
Get the latest promotions and news

Please share with us which topics interest you:
All
Financial Planning
Health & Wellness
Travel & Leisure
For the Millennials
Promotions & Giveaways
I consent and agree for Etiqa Insurance to collect, use and disclose the personal data above for the purposes of validation and sending, via telephone calls and text message. Read Etiqa's Privacy Policy [here]