Revenge travel is on the rise after a two years hiatus. That, plus the cost of airfares as much as travel insurance with added coverage for COVID-19. Be it to score a cheaper vacation, reduce carbon emission, or simply to take a much-needed break over the weekends, you may want to consider how you can save as you plan multiple short trips from Singapore.
Now, the question is, "should you get annual travel insurance or single trip insurance for each trip?" Let's weigh the pros and cons.
What is annual travel insurance?
An annual travel insurance covers unlimited trips to various destinations over a 12-month period.
It offers greater savings for frequent travellers that take multiple trips in a year (yes, JB is considered being overseas too) as compared to buying single-trip travel insurance each time one travels. If you are lucky to purchase an annual travel insurance during a promotion, then you'd save even more!
Getting an annual travel insurance requires a one-time effort. That means you don't need to spend time or take the hassle of checking out the most value-for-money plan prior to each trip. That's the hidden savings of annual travel insurance. Time equates money after all, especially for time-starved Singaporeans.
Fun Fact: Before the pandemic, Singaporeans led the Asia Pacific region in international travel, taking almost 7 international trips over two years on average.
What about single trip travel insurance?
You are probably familiar with single trip travel insurance, which as its name suggests, covers one trip that can include various destinations in a consecutive journey. The cost varies based on your trip duration and distance.
Getting single trip travel insurance tends to be favoured by Singapore travellers, as it lacks the 'commitment' that seems to be tagged with annual travel insurance. Also, one can enjoy the best promotional discounts of the period (if lucky). F.Y.I. bookmark this page for on-going promotions for Tiq Travel Insurance and more!
Now, let's take an in-depth view of how the two travel insurance plans measure against one another.
Annual Travel Insurance vs Single Trip Travel Insurance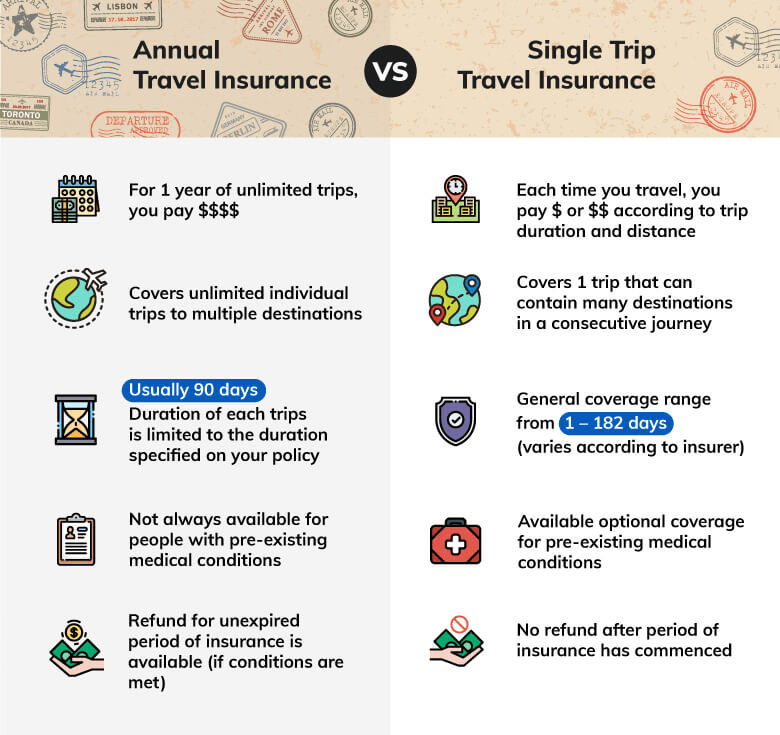 Other points to consider when buying travel insurance
As borders reopen around the world, there are varying COVID-19 restrictions and requirements. Some countries may require pre-departure tests such as PCR or ART while others impose mandatory travel insurance that covers COVID-19 with a specific limit.
It may be wise to consider getting travel insurance with COVID-19 cover, even if you are fully vaccinated, have recovered twice from COVID-19 or your destination does not require the specific coverage. Anything could happen when you are overseas, and nothing matters more than your health and well-being. Being covered also gives assurance that you will not be laden with high medical expenses in case of unexpected events.
Tiq Travel Insurance by Etiqa offers COVID-19 add-on cover for both annual and single trip travel insurance. If you are diagnosed with COVID-19, the extensive coverage includes pre-trip cancellation, various costs that may be incurred in case of disruptions during your trip as well as a lump sum payout for post-trip hospitalisation in Singapore.
That's not all! We also collaborate with Healthway Medical to provide policyholder rates for pre-departure COVID-19 tests for all Etiqa customers! Learn more

Pre-existing medical conditions
If you have a medical illness or injury before your trip, it may be considered as a pre-existing medical condition. Take note that only select travel insurers (such as Tiq by Etiqa) in Singapore cover pre-existing medical conditions.
If you require such coverage, you may consider Tiq Travel Insurance Pre-Ex plans, which are available in the form of single trip travel insurance.
Different travel insurance offers varying add-on benefits to meet the needs of their customers, be it for those taking a road trip, adventure travel, sports-related travel, etc. With Tiq Travel Insurance, you can add on the following optional benefits:
Child Education Cover
Rental Car Excess Cover
Pet Hotel Cover
Sport Equipment Protector
However, do note that these add-on benefits are only available for single trip travel insurance.
You may like this:
Actual costs and savings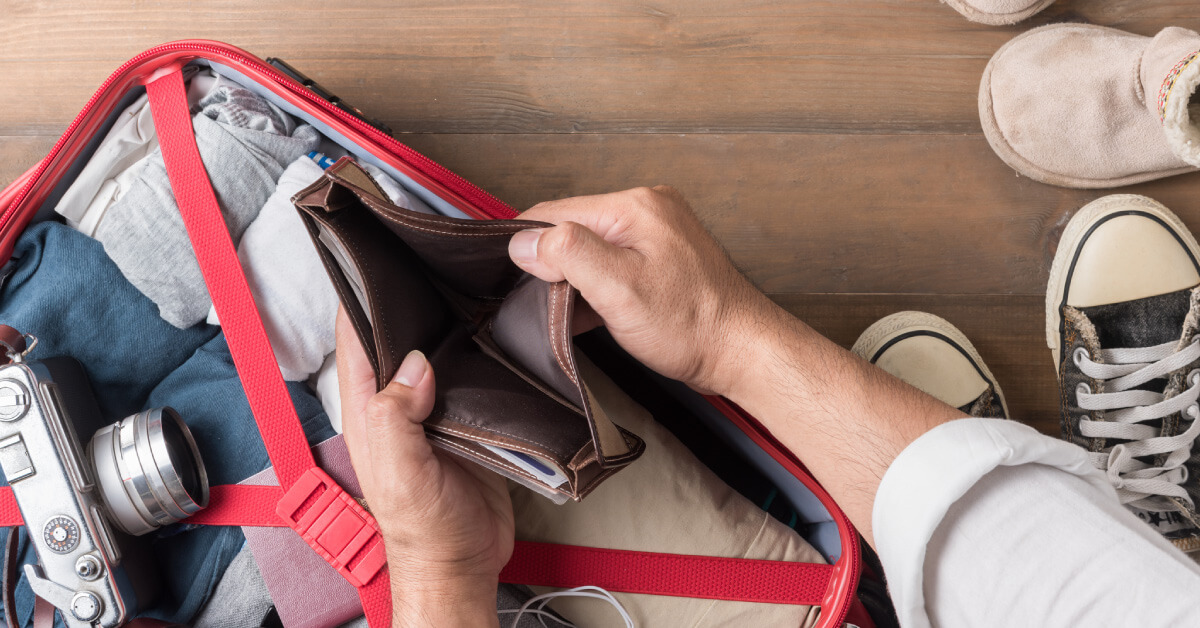 You can actually save quite a bit if you plan ahead for your travels. Having a general idea of the number of trips you are going to take for the next six to 12 months as well as the type of travel you have in mind can help you to determine a suitable travel insurance with greater savings.
For example, if you are a frequent traveller before the pandemic and you plan to travel as much or perhaps even more, here's a conservative breakdown of your potential travel calendar for the year:
At least 3 x overnight trips to an ASEAN country; i.e. 2D1N at JB, Batam, or Bintan (we are not even counting those day trips to JB or Batam!)
At least 2 x weekend trip to an ASEAN country; i.e. 3D2N Bangkok shopping trip
At least 1 x long weekend trip to an ASEAN or ASIA country; i.e. 5D4N Bali island getaway or 5D4N Korea shopping expedition
At least 1 x week long trip to an ASIA country; 7D6N Japan (hopefully border restrictions ease soon!)
Estimated travel insurance costs for 1 year (before discount)
Single trip travel insurance x 07
$493
Annual multi-trip policy for ASEAN
$483
Annual multi-trip policy for ASIA
$515
The total costs if you purchase single trip travel insurance with COVID-19 Cover add-on for the above listed trips (7 in total) will add up to $493 (before discount) under our Savvy plan. If you purchase an annual multi-trip policy to ASEAN or ASIA, the Savvy plan will cost $483 or $515 per individual respectively.
At first glance, the cost difference may not be that much between the two plans but here's what you need to keep in mind:
There are usually promotions going on (such as TEIF that happens every Friday), so prices are usually even more affordable. At this time of writing, Tiq Travel Insurance is offering a limited-time 40% discount for all single trip plans and 60% off COVID-19 Cover add-on for annual plans!
As mentioned earlier, the major advantage of getting an annual travel plan lies in a one-time effort, so you don't need to do extensive research for the best promotions each time before you travel. Sometimes, we just want to take that break with minimal planning and hassle.
"What inflation?" Despite the snaking queues at the recent NATAS travel fair and the car show at Singapore EXPO, prices are increasing across industries, products and services. It is general knowledge to purchase travel insurance early to protect you and your trip from expenses that may be incurred due to unforeseen events.
Right now, inflation is yet another reason for you to buy your travel insurance early – if you are planning to travel – as rising prices are expected to continue north, at least till the end of this year.
Cover your travel needs with Tiq Travel Insurance
Costs and savings aside, you should always bear in mind to get travel protection that covers your needs. Tiq Travel Insurance by Etiqa is the #1 travel insurance rated on Seedly (Oct 2021) with value-added services such as:
Automated flight delay claims upon a 3-hour delay
24-hour world-wide emergency travel support
Comprehensive COVID-19 Cover add-on
Coverage for Cruise-to-Nowhere
Full refund if you need to cancel your travel policy
And more!
Learn more about Tiq Travel Insurance or get a quote now!
[End]
Information is accurate as at 31 August 2022. This policy is underwritten by Etiqa Insurance Pte. Ltd. (Company Reg. No. 201331905K). Protected up to specified limits by SDIC.
Tiq by Etiqa Insurance Pte. Ltd.
A digital insurance channel that embraces changes to provide simple and convenient protection, Tiq's mission is to make insurance transparent and accessible, inspiring you today to be prepared for life's surprises and inevitabilities, while empowering you to "Live Unlimited" and take control of your tomorrow.
With a shared vision to change the paradigm of insurance and reshape customer experience, Etiqa created the strong foundation for Tiq. Because life never stops changing, Etiqa never stops progressing. A licensed life and general insurance company registered in the Republic of Singapore and regulated by the Monetary Authority of Singapore, Etiqa is governed by the Insurance Act and has been providing insurance solutions since 1961. It is 69% owned by Maybank, Southeast Asia's fourth largest banking group, with more than 22 million customers in 20 countries; and 31% owned by Ageas, an international insurance group with 33 million customers across 16 countries.
Discover the full range of Tiq online insurance plans here.