Located in southern Thailand, Koh Lipe is often described as the Maldives of Thailand with its crystal clear turquoise waters, white, sandy beaches, and colourful coral reefs. If you are not a diving enthusiast, chances are you may not have heard of this beach paradise that is just a few hours away from Singapore!
Accessible only by ferries, one can either visit Koh Lipe via Hat Yai or Langkawi. We will share more on how to get to Koh Lipe at the end of the article. Meanwhile, read on for a list of fun things to do at Koh Lipe (minus the crowd)!
Find Nemo everywhere under the sea!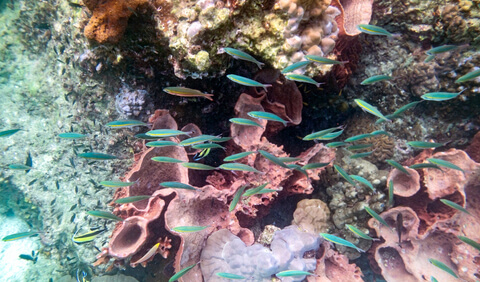 There are three main beaches on Koh Lipe, namely Sunrise Beach, Pattaya Beach and Sunset Beach. Word has it that Sunrise Beach has the best snorkelling off the beach and abundant marine life and corals. Expect calm and crystal clear water!
For the best experience, you may want to hire a long tail boat (easily available!) and head out to explore the many snorkel sites! Alternatively, check out the local travel agencies for snorkelling tours, which shall bring you to either the Inner Islands or Far Islands! Did you know Koh Lipe is surrounded by over 30 islands and hundreds of reefs all within easy reach of the island?
#TiqOurWord You can easily rent snorkelling or diving equipment but if you are bringing along any sports equipment, do consider adding on the optional coverage for your gears. Protect your beloved sports equipment with Tiq Travel Insurance by Etiqa.
Binge while you shop at Walking Street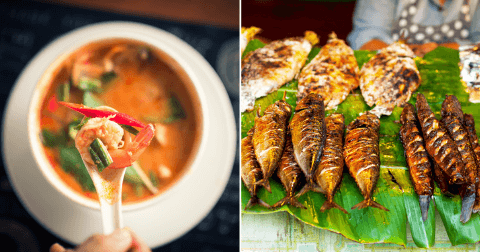 With a range of affordable street foods to fancy resort meals, Koh Lipe offers great variety to the hungry visitors! Except for seafood (which prices vary according to availability and weight), food prices at restaurants remain the same year-round.
Although international cuisines are well sought after on Koh Lipe, don't miss popular local specialties such as Tom Yum Goong (hot and spicy Thai soup), grilled seafood and banana pancakes while you are there!
Bring home a personalised Batik souvenir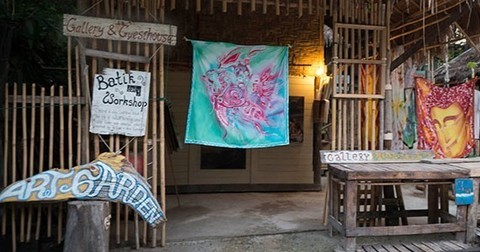 Source: Lipe Art Garden (https://lipeartgarden.wordpress.com)
Originating from Indonesia, batik is a technique of wax-resist dyeing applied to a cloth. For a full cultural immersion, learn the art of decorating cloth at Koh Lipe! At Lipe Art Garden, you can paint your own t-shirt or create your own batik under the supervision of a Thai artist!
Hiking at Koh Adang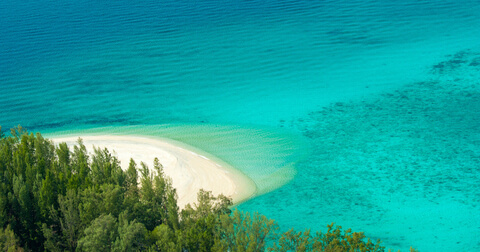 One of the closest islands to Koh Lipe, Koh Adang (part of the Tarutao National Marine Park) promises a great hiking experience! Spanning 6 km long and 5 km wide, the hike north is unpaved and involves some ropes, but should take the average hiker around 1 hour to reach the summit.
At the top (a.k.a. viewpoint 3), you shall be rewarded with an awesome view of Koh Lipe. For the sports enthusiast, you may also want to check out the waterfalls on the island. Don't miss the black sand beach too! To get to Koh Adang, either kayak or take a water taxi. Note that admission fee applies, and this amount differs for foreign and domestic travellers.
Catch a sunset at (duh!) sunset beach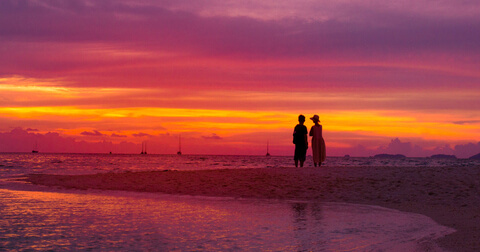 Koh Lipe certainly makes it easy when the namesakes literally mean what one can expect. For a spectacular sunset, head on to the slightly secluded Sunset Beach, and be awed by hues of orange, pink and violet as the sun goes down.
Sunset timing from January to May are around 6.30pm. For the morning people, you can head on to Sunrise Beach – a 2km stretch of white sandy, beautiful beach – for sunrise viewing. Bring along your snorkelling gears because this is one of the best locations to snorkel right off the beach!
See the sea glitters at night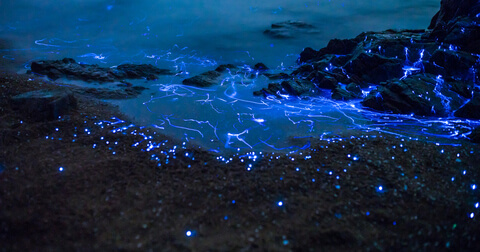 We have seen stars glittering at nightfall, but what about the sea? Go on one of the popular Bioluminescent Plankton tours at Koh Lipe and literally, light up your evening when you come in contact with the bio-luminescent plankton (a.k.a. sea fireflies).
According to this eco tour operator, "Bioluminescence is the production and emission of light by a living organism and it starts to glow from your touch. After sunset, when it get dark, you can see it light up in the ocean!"
While there are tour operators that offer night swimming excursions to see the glowing planktons, note that this is now restricted by the National Park, and you should choose your tour operator wisely. You can still view the sea fireflies from the beach!
#TiqOurWord Always book with a certified tour operator that follows legal regulations, as this will affect the eligibility of your travel insurance claims.
Watch others play with fire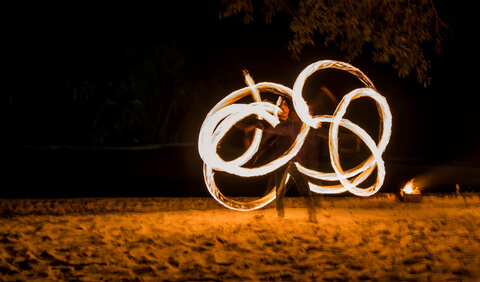 Fire shows on Thailand's beaches are like a permanent fixture, and unsurprisingly, you can find nightly fire performances at Pattaya Beach! Regardless of how many times we have watched a fire show, it remains a fascinating, hot performance! We can barely take our eyes off the acrobatic moves with fire. If you are with little ones, do pay caution and remind them that fire are not for games! Don't play with fires. Just watch!
Rejuvenate with a beach massage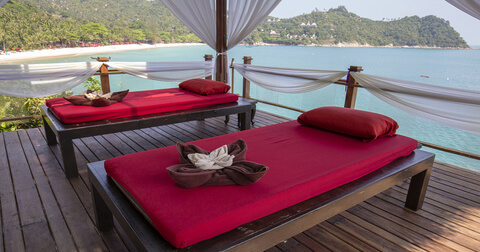 Now, what's a beach holiday without a good massage? Relax your muscles thoroughly with a Thai massage by the beach before you head back to reality. Prices are pretty standard (from 300 THB/hr for Thai massage/foot massage) although you may be able to get a slightly cheaper deal at some places in town.
How to get to Koh Lipe?
Ideal for family and couple getaways, getting to Koh Lipe is well-worth the extra time and effort. Note that the island is accessible only via ferry, which is why it is often overlooked by enthusiastic holiday makers. You can certainly avoid the crowd here!
To get to Koh Lipe, one option is to fly to Hat Yai International Airport and take a taxi or minibus to Pak Bara pier (approximately 2 hours). Next, take the ferry to Koh Lipe (approximately 90 minutes). Note that there are limited ferries to Koh Lipe during the off peak season from May to October. Nok Air and AirAsia offer an all-inclusive ticket package, which costs just about the same if you were to book everything separately.
Another option would be to take a ferry via Langkawi's Kuah Jetty. The ferry journey to Koh Lipe takes only 90 minutes. For a relaxing trip, why not make it a dual-destination holiday?
Did you know? Tiq Travel Insurance offers COVID-19 add-ons, which covers travellers for pre-departure, during, and post-trip COVID-19 related expenses. Should you be diagnosed with COVID-19 just before your trip, resulting in trip cancellation or postponement, Tiq covers up to $5,000 on non-refundable costs for cancelling or postponing your trip 14 days before your departure date!
Even in the event that you are diagnosed with COVID-19 and are hospitalised back in Singapore for treatment, you will get a lump sum payout of up to $300. Read more on Tiq Travel Insurance here!
Wondering what the travel requirements are for travelling to Thailand? Check them out here!
[End]
Information is accurate as at 3 August 2022. This policy is underwritten by Etiqa Insurance Pte. Ltd. (Company Reg. No. 201331905K). Protected up to specified limits by SDIC.
Tiq by Etiqa Insurance Pte. Ltd.
A digital insurance channel that embraces changes to provide simple and convenient protection, Tiq's mission is to make insurance transparent and accessible, inspiring you today to be prepared for life's surprises and inevitabilities, while empowering you to "Live Unlimited" and take control of your tomorrow.
With a shared vision to change the paradigm of insurance and reshape customer experience, Etiqa created the strong foundation for Tiq. Because life never stops changing, Etiqa never stops progressing. A licensed life and general insurance company registered in the Republic of Singapore and regulated by the Monetary Authority of Singapore, Etiqa is governed by the Insurance Act and has been providing insurance solutions since 1961. It is 69% owned by Maybank, Southeast Asia's fourth largest banking group, with more than 22 million customers in 20 countries; and 31% owned by Ageas, an international insurance group with 33 million customers across 16 countries.
Discover the full range of Tiq online insurance plans here.