Have no idea what to do over the weekend? There are plenty of things to do in Johor Bahru (JB), just a short drive away from Singapore. From mouth-watering food, value-for-money entertainment to cheap(er!) shopping, we double confirm that you will have a great time with your friends or family. With the Singapore Dollar to Malaysian Ringgit exchange rates being so favourable, you wouldn't want to miss this. Read on to find out what we have in store for you! 
What to Eat in JB
Banana Cakes at Hiap Joo Bakery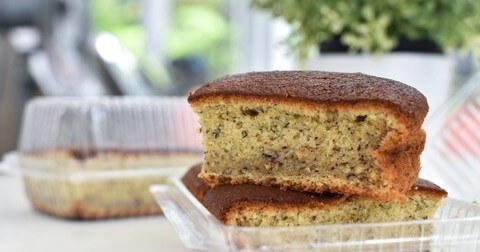 Picture credits to Explodingbelly
We're sure you already know of the various Instagrammable cafes along the streets of Jalan Trus, just a stone's throw away from Johor Bahru Checkpoint but have you heard of a traditional bakery operating since 1919? Famous for their freshly baked banana cakes and buns with fillings such as coconut and red bean, Hiap Joo Bakery is an old-time favourite amongst locals and tourists. Go early to avoid disappointment!
Address: 13, Jalan Tan Hiok Nee, 80000 Johor Bahru
Opening Hours: Mon – Sat 7am – 6pm; Sun 9am – 1pm.
Kam Long Curry Fish Head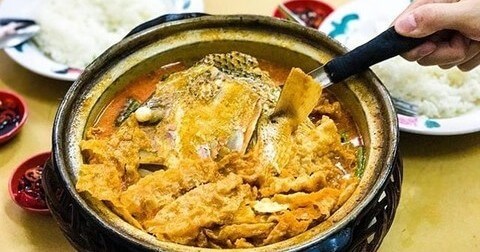 Picture credits to Burpple
If you're looking for some piping hot comfort food, be sure to try Kam Long Curry Fish Head, a popular eatery that sees snaking queues be it on weekdays or weekends. But why should you travel to JB for curry fish when Singapore has it too? Well, the curry packs a punch – the fish is fresh and tender, while the fried bean curd skin soaks up the flavourful curry, giving the dish an elevated texture. Most importantly, the food at Kam Long is super pocket-friendly. At just RM24 (~S$8) for the smallest portion of curry fish head, you can feed up to 4 people, an ultimate bang for your buck!
Address: 74, Jalan Wong Ah Fook, Bandar Johor Bahru 80000 Johor Bahru, Johor, Malaysia
Opening hours: Daily from 8am – 4pm
Lok Lok at KK Lut Lut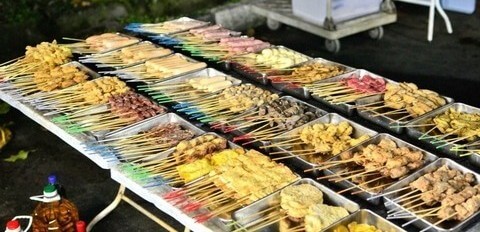 Picture credits to KK Lut Lut
Before unwinding for the night, end your travel adventures with some Lok Lok, which literally means "Boil Boil" in Cantonese. You will get to choose from a spread of "buffet" at a van with small snacks skewered on sticks and you can have them grilled or deep fried. The best Lok Lok van in Johor Bahru has to be KK Lut Lut, also known as the "doomz doomz van", because it is complete with electronic dance music blasted by accompanying speakers in the van, making it a unique supper experience.
Address: Jalan Pingai, Taman Pelangi, 80400 Johor Bahru, Johor, Malaysia (in front of Maybank)
Opening hours: 10pm – 4.30am (closed every third week of the month)
#TiqOurWord While the food in JB is good and cheap, be mindful of your intake and don't overeat and risk stomach problems (touch wood!)! Otherwise, make sure you've got travel insurance even if you are just visiting on a day trip. Tiq Travel Insurance (Savvy and Luxury plans) covers medical expenses incurred in Singapore if you see a doctor within 48 hours of your return from overseas.
Related post: Things You Should Know About Travel Insurance And Claims Benefits
What to Do in JB
Paintball Games at Outdoor Learning and Adventure Park (AOV Paintball)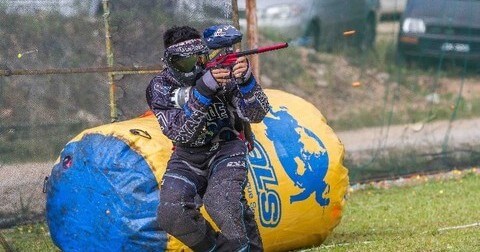 Picture Credits to AOV Paintball
This place is a one-stop destination for your sports adventures, especially for paintball enthusiasts! A two-hour game will cost you only RM115 (~S$39) per pax. With a 20-acres field for your enjoyment (or dodging from the pellets), paintball games allow you to have fun while shedding some calories after all that non-stop eating! 
 If you're new to the game, the staff at AOV Paintball will be more than happy to guide you.
Address: PTD 114143 Jalan Desa Tebrau Taman Desa Tebrau 81100 Johor Bahru Malaysia
Opening hours: till 6pm daily
Enjoy a horse-riding experience at Sinar Eco Resort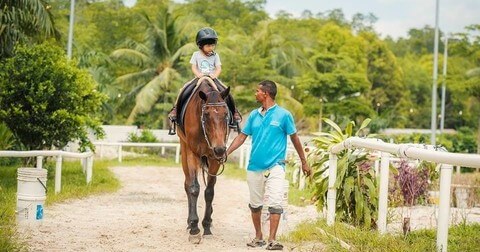 Picture credits to Sinar Eco Resort
For those who're looking for a thrilling experience, why not try horse riding in the countryside of JB? Do not be intimidated, as these horse-riding classes cater to both beginners looking to ride for leisure and serious learners under professional guidance. Some places like Sinar Eco Resort even offer a 1-day package that includes return transfers, lunch and horse-riding lessons – a convenient option for those who do not drive. This is definitely an interesting activity to try out, apart from the usual shopping and eating!
If you are considering a staycation in JB, consider staying on for a night or two at one of the container rooms at this farm. Sinar Eco Resort offers a family-friendly farmstay experience with modern amenities, yes, there's air-conditioner and swimming pool.
Address: LOT 2346 GM 2535 MUKIM JERAM BATU, Pekan Nenas, 81500 Pontian District, Johor, Malaysia
Catch a show at Beanieplex, TGV Cinemas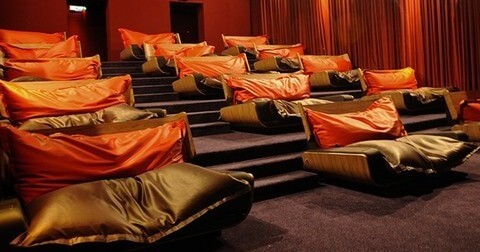 Picture credits to TGV Cinemas
If a cineplex is a cinema, then a beanieplex would be… yes, you guessed it right, a beanieplex is a cinema with ultra-comfy bean bags. Does watching a movie while lying on bean bags sounds like a good idea? Then check out the Beanieplex at TGV Cinemas at AEON Bukit Indah, a 20-minute drive from JB checkpoint. Tickets are sold in pairs for RM50 (~S$17), making it a super good deal which works out to be only ~S$5.67 per person. Don't say bojio!
Address: AEON Bukit Indah, 16, Jalan Indah 15/2, Taman Bukit Indah, 81200 Johor Bahru, Johor, Malaysia
#TiqOurWord Travelling overseas carries some form of risks – regardless of proximity to your home country. Don't forget to buy travel insurance to cover your back.
Where to Shop in JB
Paradigm Mall JB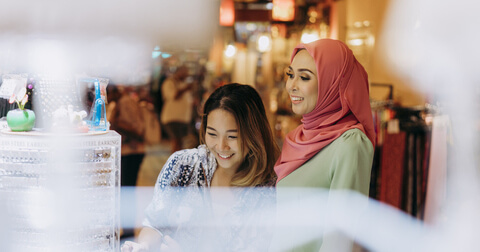 We probably don't need to mention shopping when it comes to things to do in Johor Bahru, but in case you're out of the loop, here are a few places for the shopaholic in you! First up, Paradigm Mall JB is definitely a favourite haunt for many, with fashion brands such as SPAO and MIXXO from Korea that are not available in Singapore. It also offers recreational activities for the young and active ones such as an ice-skating rink spanning 20,000 square feet and an indoor climbing gym called Camp5.
For those looking to bring some quality imported groceries home, visit Village Grocer, a premium supermarket with plenty of rare ingredients that can't be found elsewhere. There is surely something for everyone in Johor Bahru's largest mall.
Additionally, if you're paying with a NETS ATM card, you won't be charged any currency conversion fees. Bargain hunters from Singapore can look forward to "competitive exchange rates" for NETS transactions. Over 100 stories in the mall are accepting the card, including Subway, Samsung and Homepro.
Address: Jalan Bertingkat Skudai, Taman Bukit Mewah, 81200 Johor Bahru, Johor, Malaysia
Opening hours: 10am – 10pm daily
The Mall, Mid Valley Southkey
Reputed to be a shopping playground for all walks of life, Mid Valley Southkey is one of the latest hits in JB with familiar retail brands such as SOGO, Michael Kors, Village Grocer, Uniqlo, etc. Officially opened in late April 2019, this integrated shopping centre is inspired by Mid Valley Megamall, KL.
For Singaporeans who are planning to drive in to JB for a good shopping session, you would be happy to know that this spacious mall has plenty of parking lots and is located just a 10-minute drive from JB customs under normal traffic condition.
Address: Jalan Bakar Batu, Southkey, 81100 Johor Bahru, Johor
Opening hours: 10:00am to 10:00pm
R&F Mall JB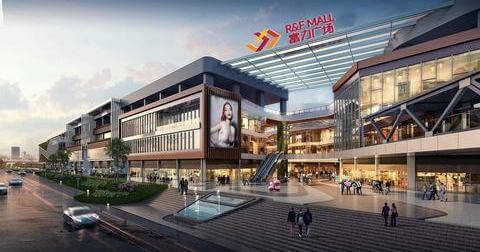 Picture credits to R&F Mall Johor Bahru (Facebook)
Since its soft launch in March 2019, the R&F Mall has been gaining attention for its pretty Muji-style interior that's beautifully decked out in wood. If there's ever a mall that's made especially for Instagrammers (IG-ers) and foodies, it must be this! Amongst the 106 retail stores at R&F Mall, 46 are F&B establishments!
Some things to do include getting pampered at the hipster salons (more IG-ing!) and Tui Na massage. If you have tried the abovementioned beanieplex, it's time to up your movie experience at Emperor Cinemas, a luxury cinema chain that hails from Hong Kong. Think reclining leather chairs, access to free Wi-Fi and even charging points in the comfort of your cinema seat!
Located just one kilometer away from the Johor Bahru Checkpoint, you can walk to R&F mall via the 650-metre CIQ link bridge in about 10 minutes. It's a relatively nice, comfy sheltered walk, which helps you save money and dodge traffic jams.
Address: R&F Mall Johor Bahru, Jalan Tanjung Puteri, 80300 Johor Bahru Malaysia
Opening hours: 10am to 10pm, daily
Capital 21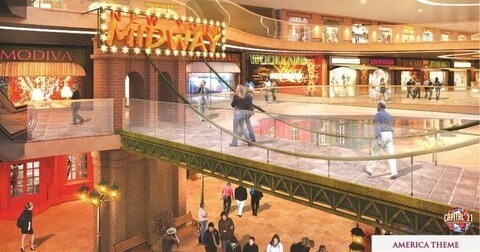 Picture credits to Capital 21 (Facebook)
Featuring cities from five continents of the world, Capital 21 is definitely an Instagrammer's dream as you pose in different landscapes such as "America". Granted that Capital 21 did not have a smooth start, but this largest thematic mall in JB is said to contain the largest indoor theme park in Southeast Asia, with more than 1,600 retail stores and even daily circus performances!
While no air ticket is required to visit the '21 countries' at Capital 21, you will need travel insurance since you are across the borders. Don't underestimate the importance of purchasing a travel insurance even for a short getaway to Johor Bahru.
Address: 83 Jalan Tampoi Bandar Baru Uda, Jalan Tampoi, Bandar Baru Uda, 81200 Johor Bahru, Johor, Malaysia
Opening hours: till 10pm daily
Now wouldn't you wish for the weekend to come faster? We can't wait to getaway on a weekend trip to JB, indulge in some self-pampering with yummy food, fun activities and retail therapy! Psst, don't forget your travel insurance! While it might be a short weekend getaway, how can we end our list of things to do in Johor Bahru without your safety in our list? Besides, we have up to additional discounts off Tiq Travel Insurance every Friday. Check out our TEIF deals and buy now! Terms apply.
[End]
This article has been updated and information is correct as at 4 June 2019. This policy is underwritten by Etiqa Insurance Pte. Ltd. (Company Reg. No. 201331905K). Protected up to specified limits by SDIC.
Tiq by Etiqa Insurance Pte. Ltd.
A digital insurance channel that embraces changes to provide simple and convenient protection, Tiq's mission is to make insurance transparent and accessible, inspiring you today to be prepared for life's surprises and inevitabilities, while empowering you to "Live Unlimited" and take control of your tomorrow.
With a shared vision to change the paradigm of insurance and reshape customer experience, Etiqa created the strong foundation for Tiq. Because life never stops changing, Etiqa never stops progressing. A licensed life and general insurance company registered in the Republic of Singapore and regulated by the Monetary Authority of Singapore, Etiqa is governed by the Insurance Act and has been providing insurance solutions since 1961. It is 69% owned by Maybank, Southeast Asia's fourth largest banking group, with more than 22 million customers in 20 countries; and 31% owned by Ageas, an international insurance group with 33 million customers across 16 countries.
Discover the full range of Tiq online insurance plans here.