We all know that parenting is tough, but being a mother is the hardest job in the world. According to a 2018 survey, the average mother spends 98 hours a week on parenting duties. That's equivalent to 2.5 full time jobs! Today, many mothers even have to juggle between parenting duties and career. 😐
Well, time is a luxury and there's only so much that one can do, so don't be too harsh on yourself for making certain sacrifices such as not spending enough time with your elderly parents. With Mother's Day being just around the corner, here are some ideas on how you can restore lost bonding time with your mum (and dad).
Key takeaways:
Re-evaluating your priorities and being creative can help you to allocate time for people that truly matter.
Stay grateful to cultivate better relationships.
Time is limited for everyone. Don't wait too late to show care or to get protection.
Re-evaluate your priorities
With just 24 precious hours per day, time management is an essential skill that all mothers eventually acquire due to our hectic lifestyle. The key lies in setting priorities. We can get domestic helpers to help with household chores but we're irreplaceable – as children to our parents – and so, it's important to bond with them while they are still around.
Still can't seem to find time? You may want to re-evaluate your priorities and be creative. How about running errands together with mum, i.e. doing the weekly grocery shopping or exercising together while catching up on the latest gossip? That helps to kill two birds with one stone. Remember, the idea of bonding here is quality over quantity.
Let her teach you
You probably don't remember this, but it is likely that your mother taught you the basics of being a decent human being and has played an important role in helping you make life decisions, just like how you are teaching your own children now.
Perhaps you don't want to trouble mum or make her worry, but one is never too old to seek advice from mum. Be it career choices, household matters or parenting tips, your mother is going to feel more valued and useful if you ask for her opinions and advice.
With age, the elderly may feel lonely or useless at times, so feel free to bug your mother and let her teach you. 😛 To begin with, you may want to ask her to impart the much-loved family recipe.
Show gratitude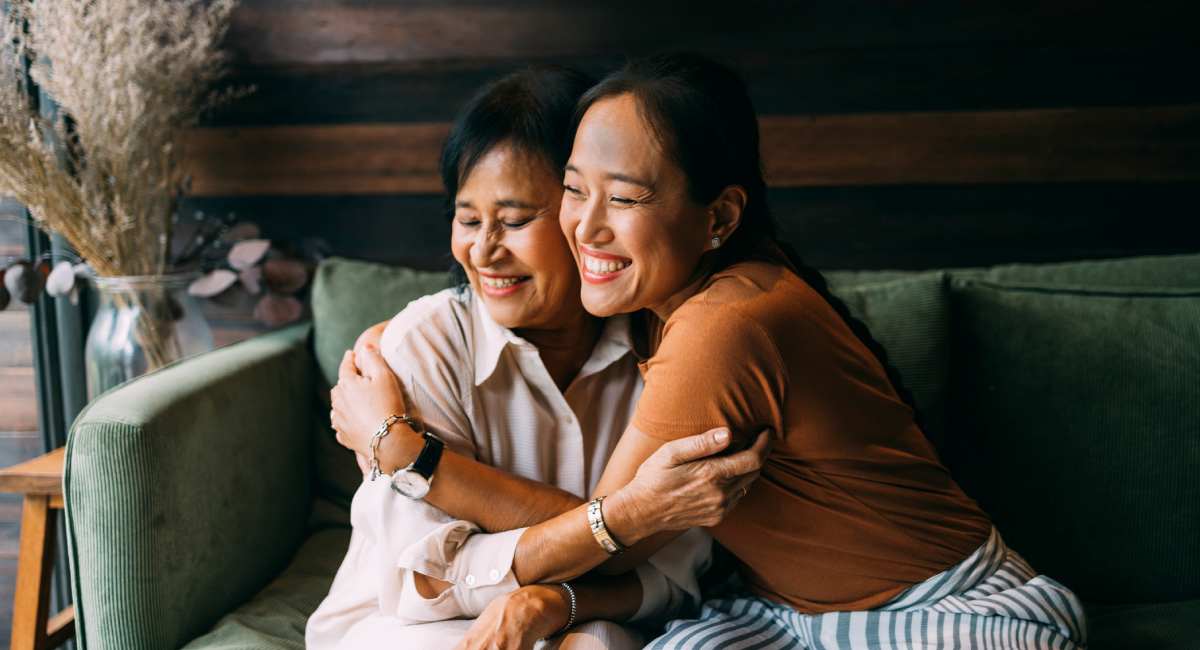 Some things are easier said than done. The majority of us are grateful to our mother (and father) but at times, we behave inappropriately due to a moment of quick anger. We are only humans after all, and stress is an inherent part of motherhood. 😏
Instead of going with the mentality of lesser contact equates lesser conflicts, how about agreeing to disagree with mum? Conflicts are bound to arise due to differing opinions but a kind word or gesture can go a long way. With a thankful heart, you can cultivate an even closer relationship with your mother.
If you are contemplating on Mother's Day gifts, you may want to write her a heartfelt card and assure her that you will take good care of yourself and the family. With proper coverage such as Tiq 3 Plus Critical Illness insurance that covers the 3 most claimed conditions – heart attack, stroke, and all stages of cancer, one doesn't need to worry much in times of need.
Share your experiences
Do you feel like you are relearning primary school work as your child(ren) go(es) to school? The young ones often share what they learnt, but this tends to diminish over time as they get older. Not sure about you, but this author will probably miss learning from the children and reckons that this applies to most mothers, including those of our own.
So, who's to say that we cannot continue to share with mum our experiences and knowledge? Talking often and maintaining meaningful conversations with mum has plenty of health benefits for both parties. It only takes a couple of minutes for a quick call or to send a short message.
Similar to getting protection, don't wait till it's too late to restore lost bonding time with your loved ones. While you're at it, you might want to share this unbelievably affordable protection plan with mum too. As you connect more often with mum, she will feel less lonely and be happier, which promotes healthy ageing and lowers the risk of illness.
Create or continue traditions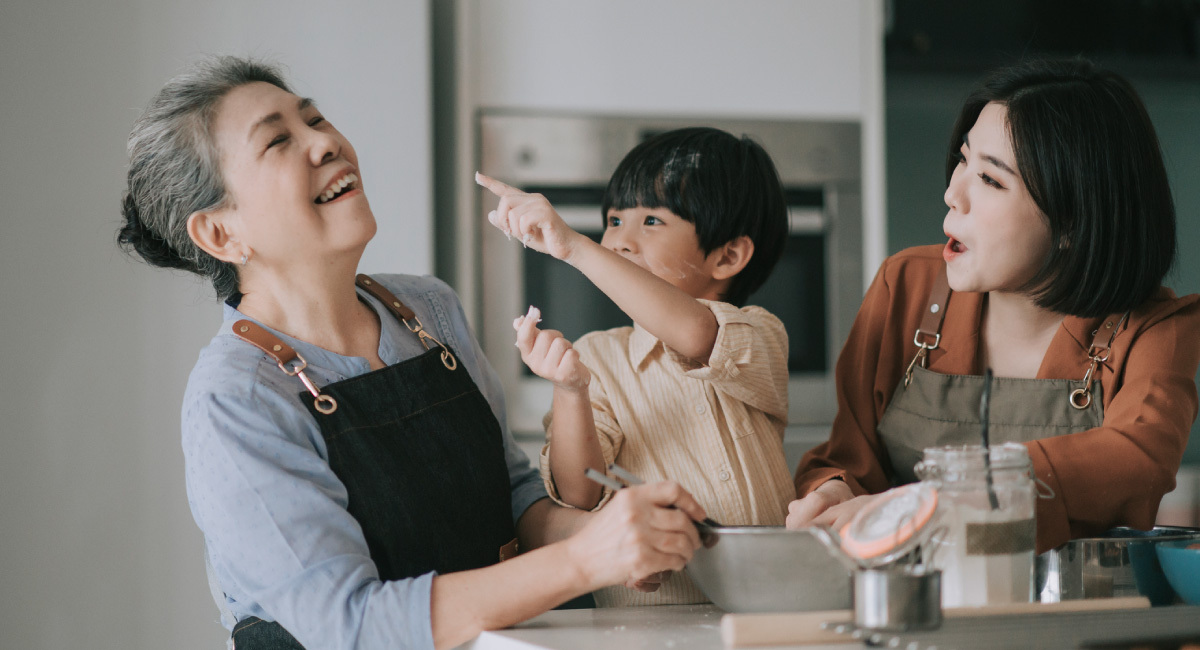 When you were younger, did you go for swimming lessons while mum waited nearby under the shade? How about those family excursions to the zoo or science centre? You may want to continue the traditions by bringing your children to do the same things and invite your mum (and dad) along.
Be it to recreate a favourite memory or create new traditions, spending quality time together can enhance family ties. Some ideas include a regular multi-generation cookout session (perhaps monthly?), going on an annual family trip or an impromptu surprise outing.
While we can't turn back time for those who are missing your mother, you can relieve fond memories of mum by continuing certain traditions with your child(ren). Bear in mind that self-care is more important than ever.
Restore bonding time with mum
The clock is ticking for everyone. To avoid future regrets, don't wait to tell mum thank you, give her a hug or to bring her on that long-awaited trip that you have been meaning to organise. Good health should never be taken for granted.
You may also want to learn more about the unbelievably affordable critical illness insurance. Tiq 3 Plus Critical Illness offers super flexi coverage from between $30,000 and $300,000 for the top 3 critical illnesses in Singapore, namely heart attack, stroke and all stages of cancer plus added benefits.
For a limited time only, new sign ups can get up to 50% off the first 3 years. Learn more here or get a quote now.
[End]
Information is accurate as at 8 May 2023. This policy is underwritten by Etiqa Insurance Pte. Ltd. (Company Reg. No. 201331905K. Protected up to specified limits by SDIC. You should seek advice from a financial adviser before deciding to purchase the policy. If you choose not to seek advice, you should consider if the policy is suitable for you. As this product has no savings or investment feature, there is no cash value if the policy ends or if the policy is terminated prematurely. It is usually detrimental to replace an existing policy with a new one. A penalty may be imposed for early termination and the new plan may cost more or have less benefit at the same cost. This advertisement has not been reviewed by the Monetary Authority of Singapore.
Tiq by Etiqa Insurance Pte. Ltd.
A digital insurance channel that embraces changes to provide simple and convenient protection, Tiq's mission is to make insurance transparent and accessible, inspiring you today to be prepared for life's surprises and inevitabilities, while empowering you to "Live Unlimited" and take control of your tomorrow.
With a shared vision to change the paradigm of insurance and reshape customer experience, Etiqa created the strong foundation for Tiq. Because life never stops changing, Etiqa never stops progressing. A licensed life and general insurance company registered in the Republic of Singapore and regulated by the Monetary Authority of Singapore, Etiqa is governed by the Insurance Act and has been providing insurance solutions since 1961. It is 69% owned by Maybank, Southeast Asia's fourth largest banking group, with more than 22 million customers in 20 countries; and 31% owned by Ageas, an international insurance group with 33 million customers across 16 countries.
Discover the full range of Tiq online insurance plans here.
Suggest to include a product banner here