In this article, we continue our exploration of home automation after reviewing the essentials in part 1 of Traditional vs Smart Home. Going beyond the basic, we now look at some creature comforts from past to present, as well as the pros and cons of having smart gadgets in today's home.
4. Fan vs Smart air conditioner
While there's much to love about Singapore, our tropical weather can sometimes be a tad uncomfortable, especially during our warmest months between April to June. Regardless of the nostalgia trend, it is highly doubtful that one will choose a handheld straw fan over a smart air conditioner in spite of those sweet memories of mum fanning you to sleep on countless stuffy nights back when you were a child.
Since most of us would have at least one air conditioner or electric fan at home, it may be more fitting to compare one of those bladeless fans or non-smart air conditioner with a smart air conditioner. 
What's a smart air conditioner?
At its most basic, a smart air conditioner allows you to control, automate and monitor it using your smartphone or tablet. This gives you the convenience of cooling your home/room just before you return, which also translates to better energy saving (lest you keep your air conditioner on 24/7!). You can also connect a smart air conditioner to other smart home systems with voice commands such as the Google Assistant or Alexa.
On the other hand, if the speed of your non-smart air conditioner can cool your space fast enough, the difference is not really that great. There are also gadgets such as Sensibo that helps make your air conditioner smart.
#TiqOurWord – A Singapore Civil Defence Force (SCDF) reported "Air conditioning fires are most prevalent among the common electrical household appliances in Singapore with about 2 – 3 cases per month." Do your due diligence to maintain your air conditioner regularly and don't scrimp on home content insurance!
Tiq Home Insurance offers an emergency cash allowance of up to S$5,000 within 24 hours in the event your home is rendered inhabitable due to an insured peril. Terms apply. Learn more here.
5. Mirror vs Smart Mirror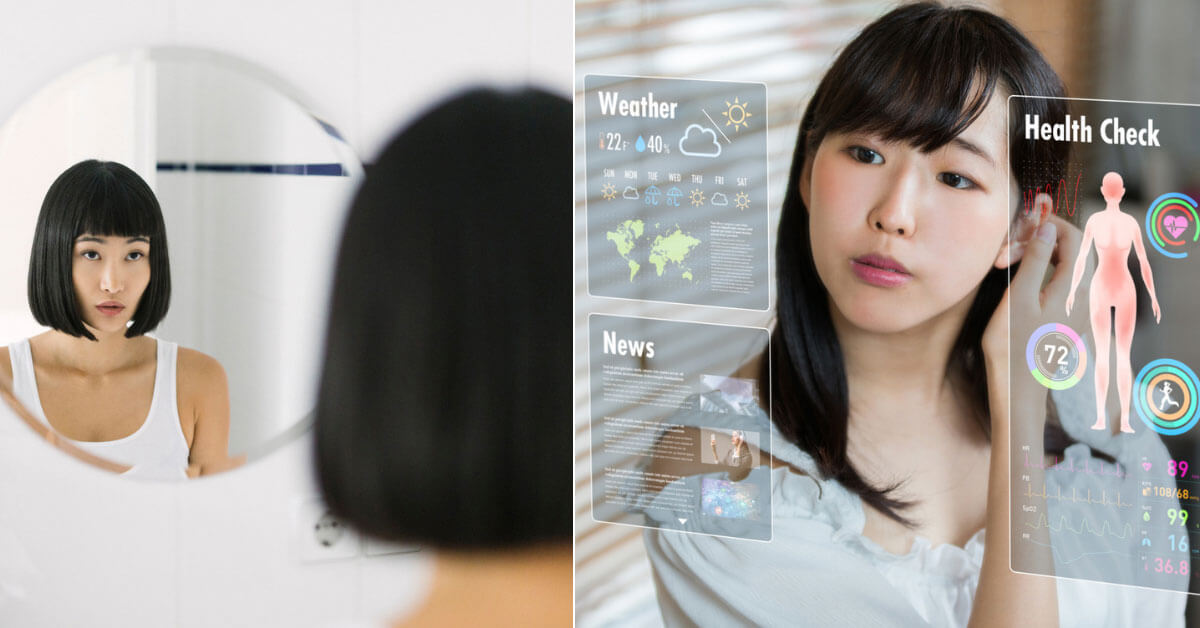 What's a smart mirror?
A smart mirror is like your magic mirror of the Snow White fairy tale, which provides more than just a reflection! Ladies, imagine having perpetual natural light to help you get your makeup right and a health check analysis. Guys would love a smart mirror too, as most include entertainment features such as a built-in speaker where you can listen to your favourite music or get real-time news. Some even allow you to watch YouTube videos while you take your shower/bath and of course, it is mist-free. Allure, a smart luxury mirror created by a local company, even comes with air purifying technology. With so many functions packed into a glass, a smart mirror can be a great space-saving multi-functional furniture to have!
It seems like the sky's the limit when it comes to a smart mirror, until you question, do you really need all these functions with the existing furniture and devices that you already own? Being connected also poses certain risks that homeowners should take note of.
6. Handwash vs Smart washing machine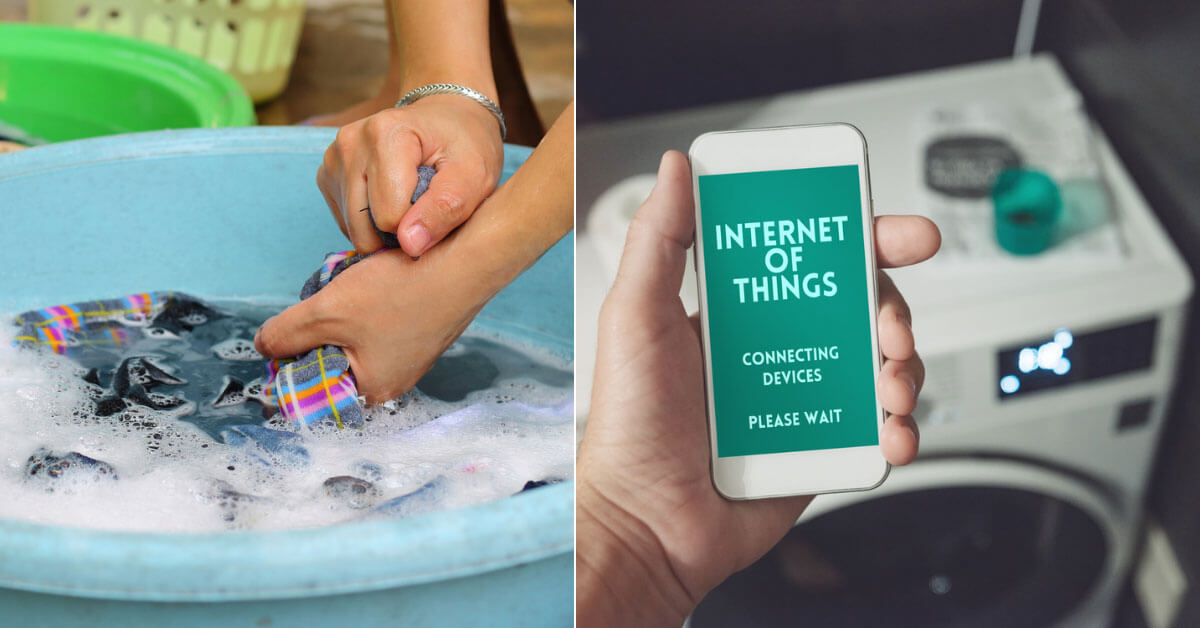 Do you still wash your clothes or intimates by hand? While that can ensure that your apparels last a longer time, the effort that goes with it can be tedious. In addition, you may be using more water than required as compared to the washing machine.
These days, smart washing machines are a much coveted home appliance, one notch above the non-smart ones. Imagine having the luxury of automating washing or controlling it with your phone from wherever you are, so that you need not sit around waiting for the laundry to be done. Some machines can even detect the content of the drum and change its tumble and spin actions accordingly! While smart washing machines cost a couple of hundreds or more than non-smart machines, its ability to save time, energy and water could be worth considering.
#TiqOurWord – Did you know that washing machine supply lines are one of the most common sites for plumbing mishaps and issues to occur? F.Y.I. Tiq Home Insurance provides 24-hour Emergency Home Assistance (EHA) that covers four common emergencies – plumbing, electricity, locksmith and pest control. #JustSaying 
7. Broom vs vacuum robot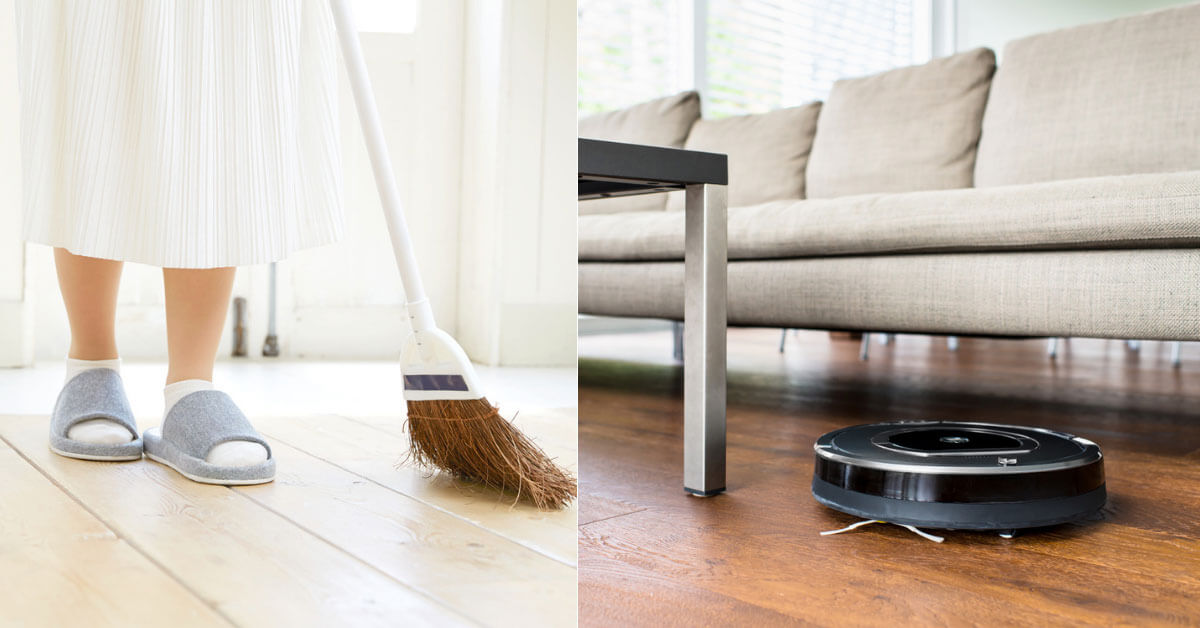 These days, household chores are made easy with technology advancement but there are some who still prefer the basic ways to keep their house in order. When it comes to a broom, vacuum cleaner and vacuum robot, which would you choose?
It is no doubt that sweeping with a broom or vacuum cleaner can be done more thoroughly with a human touch. Nevertheless, a vacuum robot is a godsend for the time-strapped technology lover. Unprepared for last-minute company at home? You can activate your efficient vacuum robot from wherever you are to start cleaning up before you arrive home. The silent cleaner with its smart navigation function can also be connected to a smart home system such as Google Home and be activated by voice command.
While the cost of a vacuum robot starts affordably from a couple of hundred dollars, the lifespan is significantly shorter than that of a conventional vacuum cleaner. Also, let's not mention about all the 'work-out' that you are going to miss from traditional home cleaning methods. 
Traditional vs Smart home – Are you ready?
As our nation progresses on its smart nation journey, we continue to learn, explore and benefit from the Internet of Things. Smart gadgets and home automation promise alternative options and great convenience at a cost. Regardless of your preference for a traditional or smart home, one thing is for sure – a comprehensive home insurance can help you to protect your home, household members and all the things that you love.
Now, are you ready to embrace home automation?
[End]
Information is accurate as at 7 November 2018. This policy is underwritten by Etiqa Insurance Pte. Ltd. (Company Reg. No. 201331905K). Protected up to specified limits by SDIC.
Tiq by Etiqa Insurance Pte. Ltd.
A digital insurance channel that embraces changes to provide simple and convenient protection, Tiq's mission is to make insurance transparent and accessible, inspiring you today to be prepared for life's surprises and inevitabilities, while empowering you to "Live Unlimited" and take control of your tomorrow.
With a shared vision to change the paradigm of insurance and reshape customer experience, Etiqa created the strong foundation for Tiq. Because life never stops changing, Etiqa never stops progressing. A licensed life and general insurance company registered in the Republic of Singapore and regulated by the Monetary Authority of Singapore, Etiqa is governed by the Insurance Act and has been providing insurance solutions since 1961. It is 69% owned by Maybank, Southeast Asia's fourth largest banking group, with more than 22 million customers in 20 countries; and 31% owned by Ageas, an international insurance group with 33 million customers across 16 countries.
Discover the full range of Tiq online insurance plans here.