As we move towards a digitalised era, even homes are getting 'smarter' here in Singapore. Our #SmartNation vision is gradually materialising with smart towns and smart homes in the works. Wondering how much does it cost to turn your house into a smart home? The setup could be cheaper than you think. Read on to learn how you can create a safe and smart home space with just a few hundred dollars!
Digital Door Lock
No more fiddling around with keys and you don't have to worry about forgetting where you placed them! Possibly one of the best investments for your home, basic digital locks cost a couple of hundred dollars and come with various modes of access such as passcodes, fingerprints or RFID cards.
A digital door lock will also give your home an added layer of security as most of them come with fire alarms and anti-theft alarms that will sound if someone tries to tamper with it.
#TiqOurWord Did you know Tiq's comprehensive home insurance has a 24-hour Emergency Home Assistance hotline that you can call in case of home emergencies such as locksmith, plumbing, electricity, and pest control issues? Learn more here
Smart Speaker
A great introduction to smart home, smart speakers do more than just put on your Spotify playlist or tell you the weather forecast. They can also control other smart home devices such as your lights or coffee machine so that one trigger word from you shall set your usual routine into motion. How convenient!
The more popular smart speakers in the market are Amazon Echo, Apple HomePod and Google Nest (previously called Google Home). You can buy a smart speaker for less than S$100!
#TiqOurWord Protect your home contents with a reliable insurance that can also cover accidental damages to your electrical and electronic appliances. Learn more here
Smart Plug
With a compatible app, smart plugs can control your devices remotely. Imagine setting the timer for your electrical appliances such as the rice cooker so you do not have to rush home to cook. These smart plugs can also be a lifesaver, allowing you to switch off devices that you have forgotten in your haste to head out.
Smart plugs are easy to use with prices starting from below S$20. Available at electronic retail stores, a smart plug works like an adaptor – simply plug in your appliance into the smart plug and then directly into the wall socket. After installing the compatible app, it is good to go!
#TiqOurWord Get greater peace of mind with Tiq Home Insurance that protects your home and all that you love from just S$28/year. Learn more here
Security Camera
With modern security cameras, you can monitor your home on your phone wherever you are. Available in wireless options, you may control it using your smart speaker too! Prices start from as low as S$89 and you can easily install it by yourself.
#TiqOurWord  As many of these modern security cameras run on Wi-Fi or on other networks, your data from the security cameras can be susceptible to cyber hacking. Stay safe online with Tiq's Personal Cyber Insurance (also available as an optional add-on to Tiq Home Insurance). Learn more here
Smart Kitchen Appliances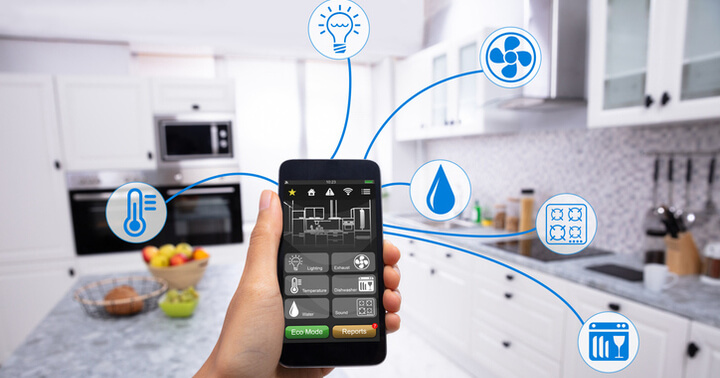 While a fancy fridge with a screen and built-in cameras or a smart full surface induction hob with flexible cooking zones can transform your kitchen into an atas-looking showroom, there are other more affordable smart home appliances that you can adapt to make your life easier and even help to elevate you to domestic goddess status.
Smart kitchen appliances such as a smart microwave can reduce cooking time by half and they are also energy efficient. Some smart microwaves even feature an anti-bacterial interior, which makes cleaning it so easy!
#TiqOurWord Consider the multi-appliances home protector add-on with Tiq Home Insurance! It provides coverage for home appliance repairs due to mechanical and/or electrical failure, limited to S$700 per callout repair service and up to 2 times per year. Learn more here
Protection for your smart home
These smart home gadgets provide convenience, security and also perhaps improve your quality of life. Try to consider your needs and practicality – just as how you would with any insurance premium. Tiq Home Insurance by Etiqa Insurance gives you the flexibility to choose your cover to suit your needs, starting from just S$28/year! Terms apply.
[End]
Information is accurate as at 25 November 2020. This policy is underwritten by Etiqa Insurance Pte. Ltd. (Company Reg. No. 201331905K).
 Tiq by Etiqa Insurance Pte. Ltd.
A digital insurance channel that embraces changes to provide simple and convenient protection, Tiq's mission is to make insurance transparent and accessible, inspiring you today to be prepared for life's surprises and inevitabilities, while empowering you to "Live Unlimited" and take control of your tomorrow.
With a shared vision to change the paradigm of insurance and reshape customer experience, Etiqa created the strong foundation for Tiq. Because life never stops changing, Etiqa never stops progressing. A licensed life and general insurance company registered in the Republic of Singapore and regulated by the Monetary Authority of Singapore, Etiqa is governed by the Insurance Act and has been providing insurance solutions since 1961. It is 69% owned by Maybank, Southeast Asia's fourth largest banking group, with more than 22 million customers in 20 countries; and 31% owned by Ageas, an international insurance group with 33 million customers across 16 countries.
Discover the full range of Tiq online insurance plans here.