In case you haven't noticed, the electricity consumption of Singapore households tend to increase from April till August each year due to the hotter weather. This year, one can expect even higher electricity usage with increased remote working conditions amid social distancing measures. Although the hike in electricity bills are unavoidable, here are fast and easy ways you can save electricity at home while staying productive.
While working from home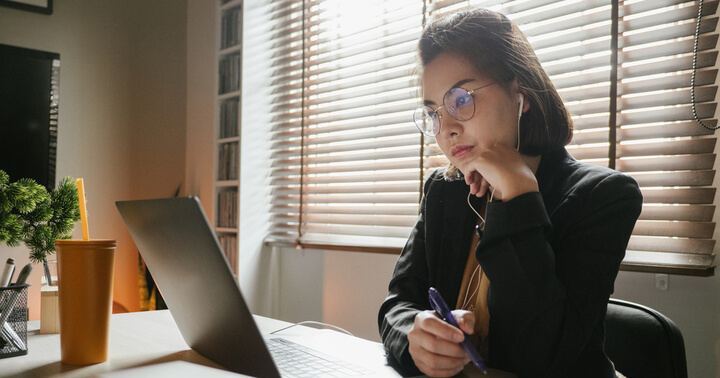 #1 Set your PC on power-save mode
You'll be online for approximately 8 to 10 hours. That means 8 to 10 hours of electricity consumption! Hence, it's wise to switch to power save mode where your PC's screen is dimmed and background tasks are limited. Don't forget to put your PC on sleep mode whenever you take a break!
#2 Consider task light
Your lights will also be on for at least 8 hours. Consider using task light, a low energy-consuming LED table lamp used to specifically illuminate your workspace. If all else fail, set up your workstation near a window because the sun doesn't just light up the room, but also give you your daily dose of vitamin D.
#3 Unplug when possible
If you use a tablet or laptop for work, unplug when the battery is full. Not only will this save electricity, you can literally work anywhere, i.e. on the sofa or the bed, you get the idea. 😉
#TiqOurWord If you have more than one device, avoid overloading the socket by plugging in multiple extensions. This is not only inefficient, it can also cause short circuit and fire. Be sure to check on all sockets at home to see if there's any circuit issue. With Tiq Home Insurance, you can contact Emergency Home Assistance (EHA) 24-hour services to solve your electrical problems.
For entertainment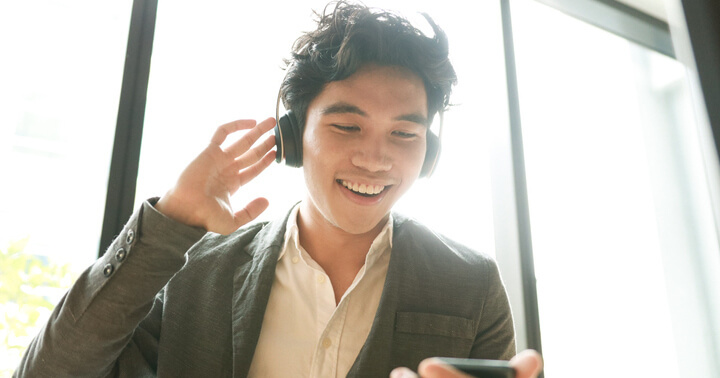 #1 Minimise screen brightness
You're going to binge-watch a Netflix series for several hours. Minimising screen brightness will help you save on electricity and also save you from eye strain.
#2 Use headphones instead of speakers
Speakers require more electricity to produce sound as compared to headphones. Plus, you get better bass drops from headphones anyway.
#3 Opt for streaming services
Apple TV, YouTube and other streaming sites used on your devices require less energy as compared to a television. Unplug and keep yourself entertaining wirelessly.
In the kitchen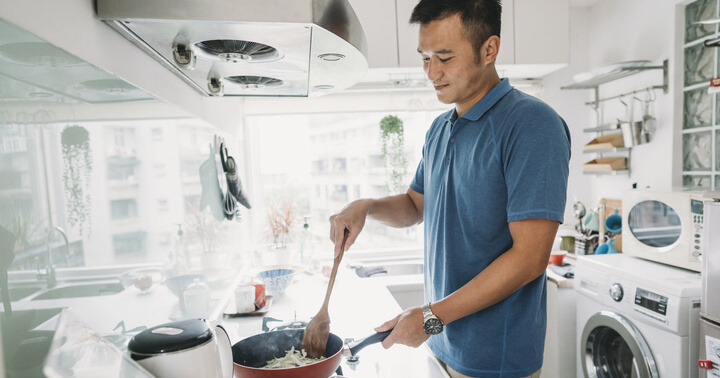 #1 Set the right fridge temperature
Did you know that about ~6% more electricity is needed for each additional degree of refrigeration output? The most efficient temperature should be around 5°C for your fridge and -18°C for your freezer.
#2 Reduce microwave usage
Depending on what you're heating up, a gas stove top will help you save more electricity than using a microwave. Even an electric burner uses ~25% less electricity than a microwave.
#3 Cook efficiently
Cooking uses up electricity, especially if you use an electric stove. Using a lid to close the pan can trap heat and make the food cook faster. Choosing the correct type of pan will also affect the efficiency of your cooking, such as using a griddle to cook your pancakes, saucepan to cook your rice and sauté pan for your vegetables.
#TiqOurWord Take extra care while cooking in the kitchen. Did you know that there were 2,862 fire cases in Singapore in 2019? Get your home protected with Tiq Home Insurance and be covered up to S$2,000,000 for building, renovation and content damages due to fire. Learn more.
Other home appliances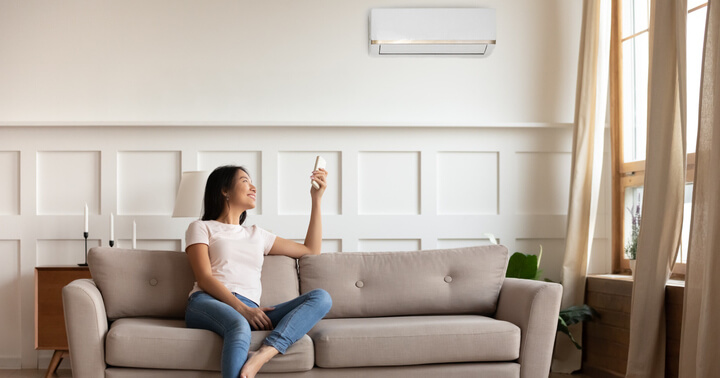 #1 Air-conditioner
Yes, the weather is hot. But use the AC sparingly by setting a timer of 1-2 hours to avoid overusing it. Set the temperature at 25°C to keep the room nice and cool. You can also switch to Dry mode, which is more energy efficient and helps reduce the humidity in a room. Consider changing to inventor AC for a more energy efficient cooling experience.
#2 Water heater
The weather is already hot enough, so reduce your hot water shower time. You will save water and electricity. Want more ways to save water at home? Read here.
#3 Washing machine
As each wash cycle uses the same amount of energy, wait for a full load of clothes before doing your laundry. This helps lessen the number of times you use the washer each week. And if possible, choose a shorter cycle every time.
#TiqOurWord Accidental damages to your home appliances? With the Tiq Home Insurance Optional Add-on Multi-Appliances Home Protector, you get up to S$700/year coverage for repairs of your television, refrigerator, washer and other appliances. Terms apply. Learn more here.
Unplug with some peace of mind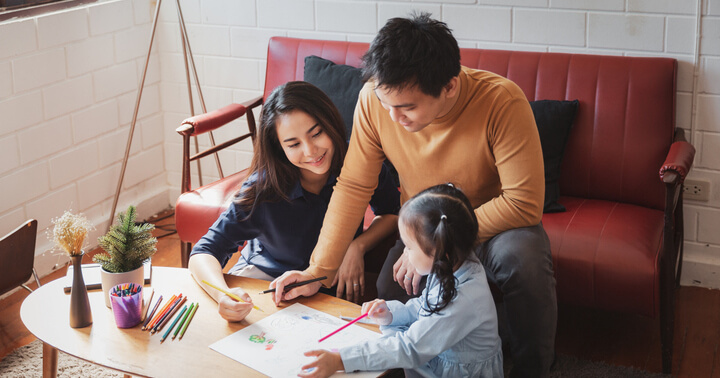 During these tough and uncertain times, making little changes to save electricity can go a long way in cutting expenses. You can also prevent unexpected expenses deriving out of accidents at home with Tiq Home Insurance. Save even more with 15% discount and get additional 5% off during our Friday promotions. Protect your home and loved ones now. Terms apply.
[End]
Information is accurate as at 19 August 2020. This policy is underwritten by Etiqa Insurance Pte. Ltd. (Company Reg. No. 201331905K). Protected up to specified limits by SDIC.
Tiq by Etiqa Insurance Pte. Ltd.
A digital insurance channel that embraces changes to provide simple and convenient protection, Tiq's mission is to make insurance transparent and accessible, inspiring you today to be prepared for life's surprises and inevitabilities, while empowering you to "Live Unlimited" and take control of your tomorrow.
With a shared vision to change the paradigm of insurance and reshape customer experience, Etiqa created the strong foundation for Tiq. Because life never stops changing, Etiqa never stops progressing. A licensed life and general insurance company registered in the Republic of Singapore and regulated by the Monetary Authority of Singapore, Etiqa is governed by the Insurance Act and has been providing insurance solutions since 1961. It is 69% owned by Maybank, Southeast Asia's fourth largest banking group, with more than 22 million customers in 20 countries; and 31% owned by Ageas, an international insurance group with 33 million customers across 16 countries.
Discover the full range of Tiq online insurance plans here.