In 2017, Etiqa Insurance introduced Emergency Home Assistance (EHA) service as part of Tiq Home Insurance. EHA provides a one-stop repair assistance for homeowners when faced with unexpected home emergencies. This comprehensive solution provides a hassle-free, end-to-end support for customers. A 24-hour service that covers four major home emergencies. Think of it as your own personal superhero, on-demand.
4 most common problems faced by Singapore homeowners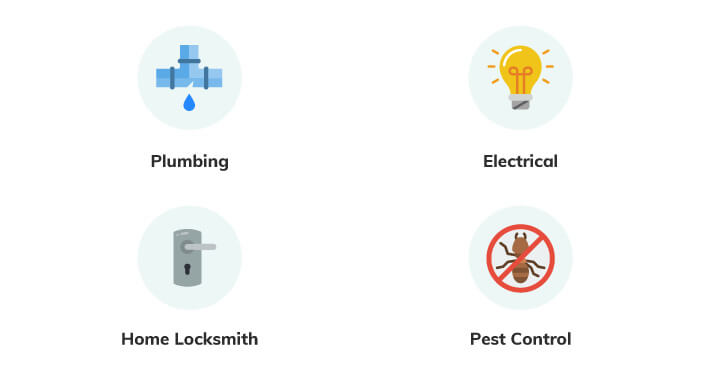 Plumbing: The oldest HDB in Singapore was constructed in the 1950's. Old flats are more prone to leaking pipes, clogged sewage and other plumbing problems.
Electrical Wiring: Power outages are common. But more serious electrical problems can start a fire. There were 664 house fires caused by faulty wiring in 2018, according to Singapore Civil Defence Force report.
Home Locksmith: Ever found yourself trapped in your own room because of a faulty doorknob? A broken key-and-lock kept you out of your own home after a long day at work? Yeah, we've all been there before.
Pest Control: Since 2017, National Environmental Agency (NEA) has done more than 148,500 inspections. They found 39,000 rat burrows, 16,000 mosquito-breeding sites and 420 cockroach infestations. Need we say more?
How EHA helped Singapore Homeowners since 2018?
Since 2018, almost 30,000 people are protected with EHA. We received 249 calls and rescued people from the troubles of plumbing, electrical wiring, home locksmith and pest control by giving them the best level of services.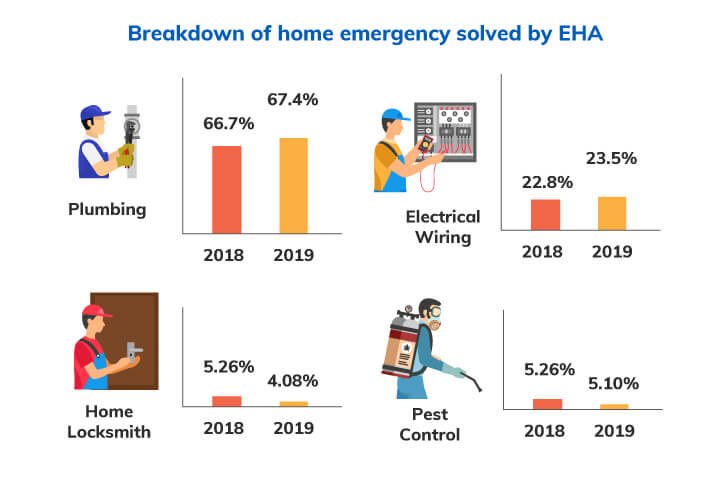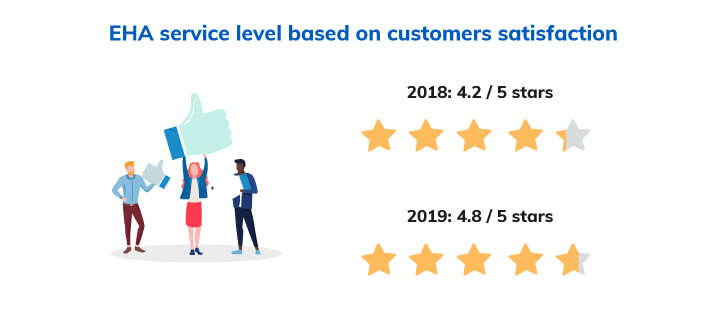 How to get EHA service for your home?
Emergency Home Assistance (EHA) service is part of Tiq Home Insurance plan. It is complimentary with Tiq Home Insurance plans from 3 to 5 years period. EHA helps to arrange the home repair service for you and even pay for it. Policyholders are covered up to S$200 per event and up to 4 events per year!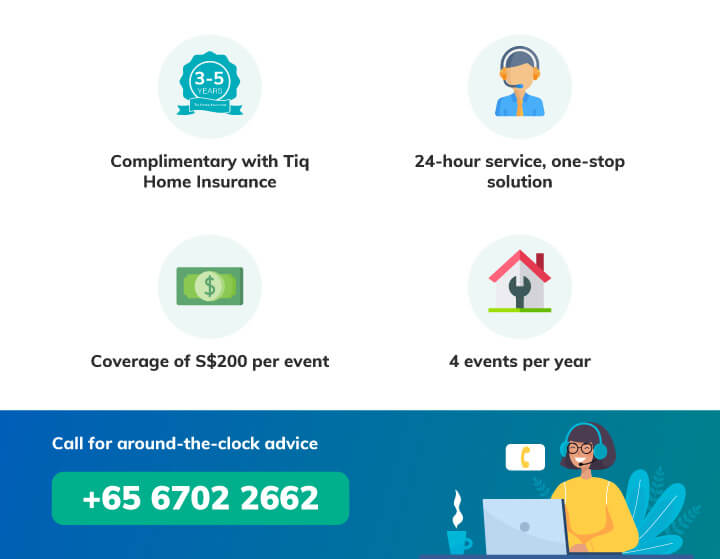 But wait… there's more!
Tiq Home Insurance also comes with Multi-appliances Home Protector, a coverage for repairs of basic home appliances. This includes refrigerators, washers, televisions, ovens, air-conditioners, and many more.

What is Tiq Home Insurance?
Tiq Home Insurance is a flexible yet comprehensive protection plan that goes beyond your HDB Fire Insurance. It offers assurance for home-owners and tenants for building coverage, home renovation and home contents such as furniture and fixtures. You only pay for what you need! So what are you waiting for? Protect your home today and get Emergency Home Assistance (EHA) and Multi-appliances Home Protector services with Tiq Home Insurance. Terms apply.

[End]
Information is accurate as at 24 February 2020. This policy is underwritten by Etiqa Insurance Pte. Ltd. (Company Reg. No. 201331905K). Protected up to specified limits by SDIC.
Tiq by Etiqa Insurance Pte. Ltd.
A digital insurance channel that embraces changes to provide simple and convenient protection, Tiq's mission is to make insurance transparent and accessible, inspiring you today to be prepared for life's surprises and inevitabilities, while empowering you to "Live Unlimited" and take control of your tomorrow.
With a shared vision to change the paradigm of insurance and reshape customer experience, Etiqa created the strong foundation for Tiq. Because life never stops changing, Etiqa never stops progressing. A licensed life and general insurance company registered in the Republic of Singapore and regulated by the Monetary Authority of Singapore, Etiqa is governed by the Insurance Act and has been providing insurance solutions since 1961. It is 69% owned by Maybank, Southeast Asia's fourth largest banking group, with more than 22 million customers in 20 countries; and 31% owned by Ageas, an international insurance group with 33 million customers across 16 countries.
Discover the full range of Tiq online insurance plans here.