We're sure you've at some point received misleading news or information about using your smartphone and driving at the same time. A message forwarded by say, your best friend, a safe driving advocate, on WhatsApp says that you're not supposed to use your smartphone whilst driving. Seems legit? Probably. While another message sent by that uncle of yours who tends to unknowingly share "fake news", states that you are actually allowed to use your smartphone while driving, but only if the car is stationary.
Being bombarded by information from unverified sources on social media, are you confused or uncertain if you are allowed to use your smartphone in your car? Not to worry, because we're here to debunk the myths and to provide you with a better understanding about driving safe. Read on to clear any doubts that you might have!
What does the Road Traffic Act cover?
Singapore takes road safety matters seriously, and there are strict traffic laws and regulations governing the use of mobile devices on the road. Using your smartphone in your car while driving is a dangerous act (duh!), as you will be a road hazard to other drivers and road users.
Yet, there are exceptions. Using your smartphone in your car becomes an offence only if:
Your car or vehicle is in motion AND;
The driver is holding on to any mobile device or smartphone in one hand AND;
You're using your mobile device or smartphone in ways (not limited only to the following) such as:

Making a call
Sending or receiving any messages
Typing on the keyboard
Using the Internet (Yes, this includes playing Pokémon GO while driving, a big no-no.)
If you are just holding onto your smartphone and it is switched off, then you're not flouting the laws. However, if your smartphone is switched on and you're holding it and someone sends you a message, this could be considered an offence even though you did not any send any message but merely received it.
It is also not illegal to use a mobile device or smartphone that is mounted on a holder, or on the car's dashboard.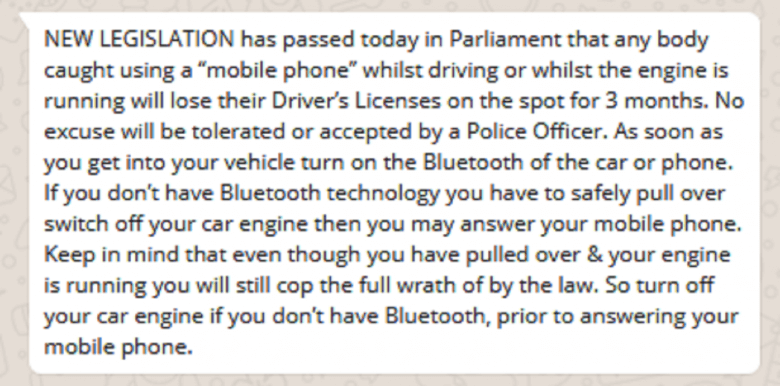 The fake news above circulating on WhatsApp is not true! 
TL;DR: Using a mobile communication device while the vehicle is stationary is not an offence. Nonetheless, you're not advised to do so as it could be potentially dangerous. When driving, you should remain alert and be aware of the traffic condition at all times.
What are the penalties if you flout the law?
Any driver caught using a smartphone or mobile device while driving will be charged in court. The penalty for the offence is a jail term of up to six months and/or a fine of up to S$1,000. Additionally, you are also likely to be disqualified from driving. For repeat offenders, you will face a jail term of up to 12 months and/or a fine of up to S$2,000.(Source: Basic Theory of Driving (Ninth Edition), published by the Singapore Traffic Police)
As of November 2019, amendments to the Road Traffic Act stipulates irresponsible driving offences being classified into Reckless or Dangerous Driving ("Dangerous Driving") and Driving Without Due Care or Reasonable Consideration ("Careless Driving"). The offences are divided into four categories, which delineate different levels of harm caused, with harsher penalties for dangerous and careless driving.
What to do and what not to do
Did you know that according to The Straits Times, there has been a spike in the number of drivers being summoned for using a smartphone while driving in recent years? This might be an upward trend in the near future, as smartphones become more prevalent in our everyday lives.
Even with the mandatory car insurance as stipulated by the Singapore law for motor vehicle owners, we should not take road safety for granted. Read on to learn the dos and don'ts for road safety in Singapore!

Source: GIPHY
1. Firstly, do not read or respond to text messages when your car is in motion. Try not to read or respond to text messages even if your car is stationary, unless they're really urgent and necessary.

Source: GIPHY
2. If you need to, get your passenger to receive, make the phone call or send a text message on your behalf.
3. Use a hands-free kit or headset to answer any incoming calls or make any outgoing calls if you need to while driving. This way, you will be fully focused on driving with both hands on the steering wheel.

Source: GIPHY
4. Concentrate! Always have your full attention on the road. If you are driving alone, head to a car park or drive to a safe spot away from traffic before making your call or responding to any text messages.
5. It is better to err on the safe side and drive with an added peace of mind – ready yourself with a car insurance! You're obligated to safeguard yourself and others with a car insurance before you are allowed to drive. The minimum prerequisite is that your insurance policy must cover personal injury to other parties. With Tiq by Etiqa's Private Car Insurance, you can be assured that you're covered extensively with a range of customisable features, from personal injury to third parties to the costs in the event that you damage someone's property.
Now you know the drill on how to drive safe with the dos and don'ts of using your smartphone in your car. Before you hit the road, here's a friendly reminder to stop holding your smartphone or mobile device in your hand while your car is moving. Also, do not be distracted with any of the mobile functions. Lastly, click here to get your quote for our Private Car Insurance right now!
[End]
Information is accurate as at 24 February 2020. This policy is underwritten by Etiqa Insurance Pte. Ltd. (Company Reg. No. 201331905K). Protected up to specified limits by SDIC.
Tiq by Etiqa Insurance Pte. Ltd.
A digital insurance channel that embraces changes to provide simple and convenient protection, Tiq's mission is to make insurance transparent and accessible, inspiring you today to be prepared for life's surprises and inevitabilities, while empowering you to "Live Unlimited" and take control of your tomorrow.
With a shared vision to change the paradigm of insurance and reshape customer experience, Etiqa created the strong foundation for Tiq. Because life never stops changing, Etiqa never stops progressing. A licensed life and general insurance company registered in the Republic of Singapore and regulated by the Monetary Authority of Singapore, Etiqa is governed by the Insurance Act and has been providing insurance solutions since 1961. It is 69% owned by Maybank, Southeast Asia's fourth largest banking group, with more than 22 million customers in 20 countries; and 31% owned by Ageas, an international insurance group with 33 million customers across 16 countries.
Discover the full range of Tiq online insurance plans here.