Image credit: Unsplash
Mmm… There's nothing quite like waking up to the smell of toast. You can already imagine the delicious golden-brown char in fuzzy parallel lines across the once-white surface, and the satisfying explosion of crumbs all over your school uniform as you take your first bite. This Mother's Day, let the tables turn and surprise your super mum with a delectable breakfast in bed! Here are 5 irresistible suggestions.
#1 Pancakes, not a-la-mode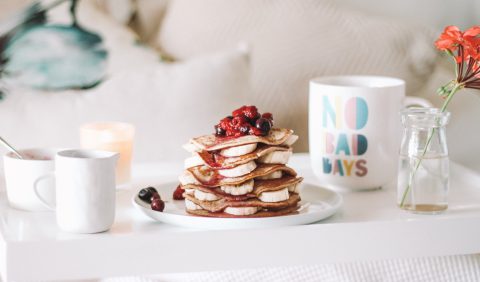 Image credit: Unsplash
The pancakes we're used to are usually smothered in maple syrup and butter, but switch things up with a healthy stack just for mum! Try a batter using sweet potatoes or oats, and serve with a side of fruit and superfoods.
#2 Baked oatmeal, the true breakfast of champions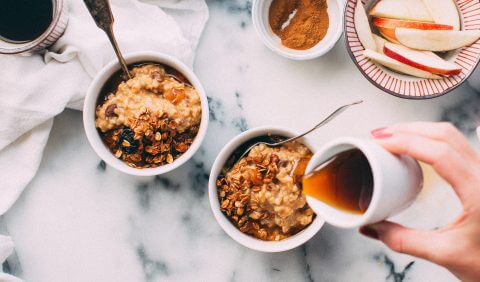 Image credit: Unsplash
We've all tried oatmeal, gooey and healthy for your heart. But wait till you try it baked! Chuck this yummy breakfast into the oven with some fruit for an added health boost.
#3 Out-of-this-world poached eggs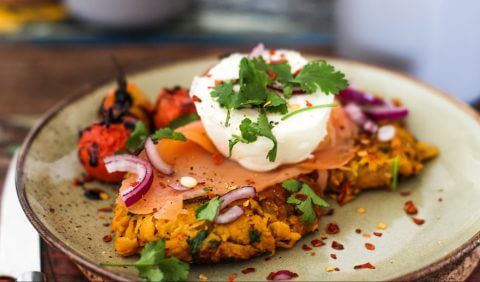 Image credit: Unsplash
It's time to forget everything you know about scrambled eggs! Pile your pan high with veggies and spices for a breakfast that will knock any café brunch out of the water.
#TiqOurWord Never leave the stove unattended as you cook – fire hazards are everywhere, but ensure you are always prepared to handle home accidents with a comprehensive Home Insurance plan.
#4 Bruschetta, because Mum is one fancy lady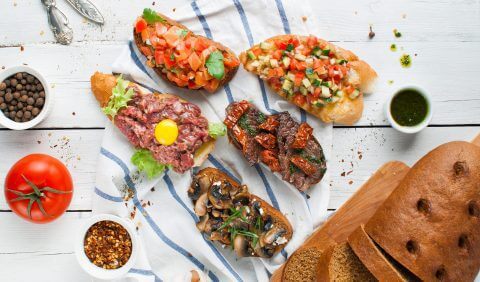 Image credit: Unsplash
No pasta sauce on bread for your mother – this lady deserves only the best. Get a good baguette, slice sideways, lay on some ricotta cheese or any other toppings and serve! No baguette at home? No problem. Make it yourself with just 4 simple ingredients.
1 ½ teaspoons of active dry yeast,
16 ounces of bread flour,
2 teaspoons of salt,
1.75 ounces of warm water and 10 ounces of cool water.
And follow these fast and easy steps to bake your own baguette.
Put yeast in warm water. Set aside.
Put bread flour and salt in a large bowl. Stir.
Next, add the dissolved yeast. Stir.
Add cool water, a little at a time, while mixing until the dough is formed.
Cover and let it rest for 30 minutes.
Divide the dough into 4 equal portions and shape them into long loaves with pointed ends. Let this rest for up to 2 hours.
Preheat oven to 230 degrees Celsius.
Placed the loaves on a greased baking sheet.
Bake until golden brown for 35-40 minutes.
Time for mum to enjoy the baguette!
#5 Breakfast quesadillas, a party in each bite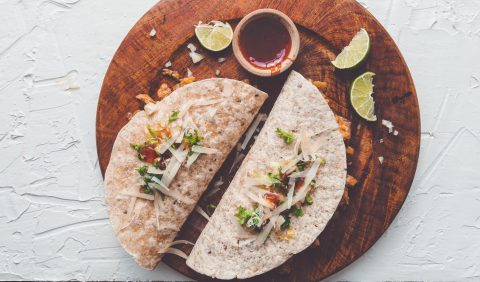 Image credit: Unsplash
Your super mum has seen you through a whole host of situations, so thank her for her boundless support with a big hug… of a corn tortilla around some tasty fillings!
Your mother has done more for you than you can imagine! Give her the gift of peace of mind this Mother's Day with the knowledge that her beloved home is well protected with Home Insurance from Tiq by Etiqa Insurance. You can enjoy 15% OFF Home Insurance and get up to S$70 worth of grocery vouchers (for mum to spend!) during our Hang In There (HIT) Circuit Breaker Campaign. Terms apply.
[End]
Information is accurate as at 10 May 2020. This policy is underwritten by Etiqa Insurance Pte. Ltd. (Company Reg. No. 201331905K). Protected up to specified limits by SDIC.
Tiq by Etiqa Insurance Pte. Ltd.
A digital insurance channel that embraces changes to provide simple and convenient protection, Tiq's mission is to make insurance transparent and accessible, inspiring you today to be prepared for life's surprises and inevitabilities, while empowering you to "Live Unlimited" and take control of your tomorrow.
With a shared vision to change the paradigm of insurance and reshape customer experience, Etiqa created the strong foundation for Tiq. Because life never stops changing, Etiqa never stops progressing. A licensed life and general insurance company registered in the Republic of Singapore and regulated by the Monetary Authority of Singapore, Etiqa is governed by the Insurance Act and has been providing insurance solutions since 1961. It is 69% owned by Maybank, Southeast Asia's fourth largest banking group, with more than 22 million customers in 20 countries; and 31% owned by Ageas, an international insurance group with 33 million customers across 16 countries.
Discover the full range of Tiq online insurance plans here.