It's coming to two months since the Circuit Breaker began, and the kids are bouncing off the walls. Now more than ever, you'd do anything for a bit of peace, if only just to hand them the smartphone in return for some silence. While your parental instinct advises otherwise, you're quickly running out of options. From the parents here at Tiq by Etiqa Insurance, we bring you these healthy, productive routines to keep the kids busy at home.
Limit screen time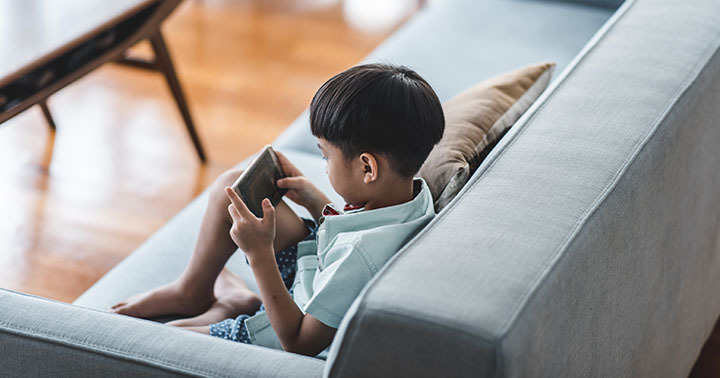 With home-based learning done for the day, reward the kids with a half-hour on the device, whether to watch cartoons, play mobile games or otherwise. Technology already plays such a big role in our everyday life that it seems almost senseless to raise children without at least some exposure to it.
Adding screen time to a daily routine gives the young'uns something to look forward to after a day's hard work, while rendering their usage of devices easier to moderate on your part.
Break out the old-fashioned games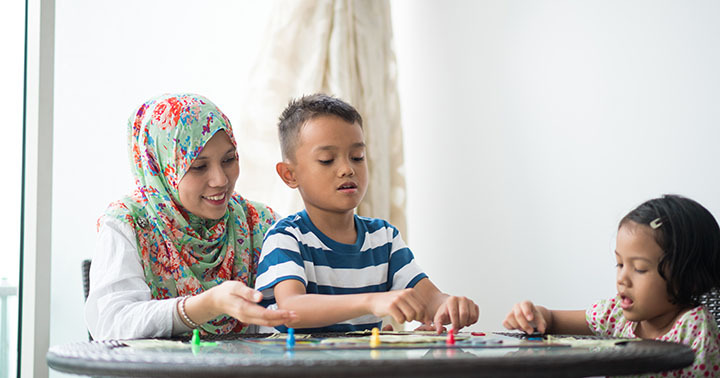 Add some variety to the family schedule and throw in some board games (including educational ones like word search and Scrabble). Learning the rules can take a while, so begin playing as a family and encourage them to continue on their own, especially when you are unable to attend to them. Not sure what to start with? Try these recommendations.
#TiqOurWord The understatement of a lifetime: being a parent can be exhausting. Without an extra pair of eyes to watch the kids 24/7, it helps to know that your home is safe and conducive for both study and play. Tiq Home Insurance can help with that. Learn about our competitive home protection options here.
Make food a family affair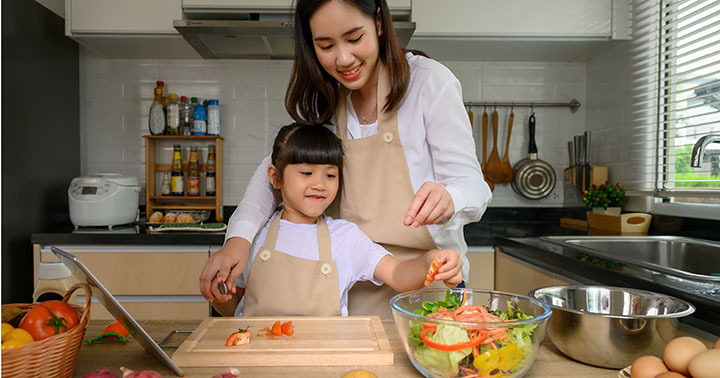 You're probably cooking more than you ever have these days, and luckily you have little helpers in your home. Enlist the kids' help in preparing food for the family by getting them to slice mushrooms with child-safe knives or stir ingredients in a bowl. Giving them easy tasks in the kitchen not only strengthens your bond, but helps cultivate the habit of preparing wholesome meals, an important life skill your kids will carry for a lifetime.
Exercise as a family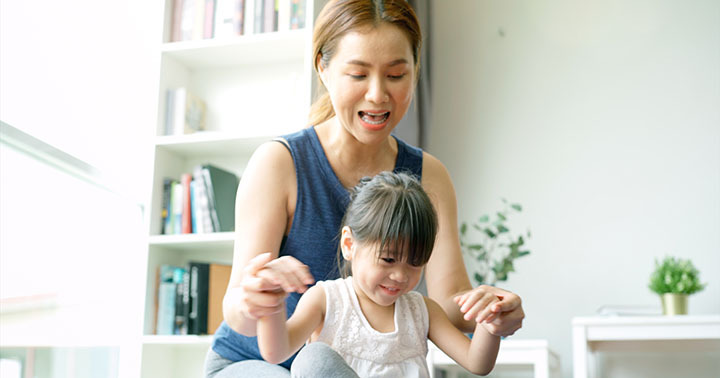 Keep exercise a part of your family's daily routine. If you have younger children, consider instructional home workout videos with dance elements to keep them entertained while you get in some good cardio.
Get organised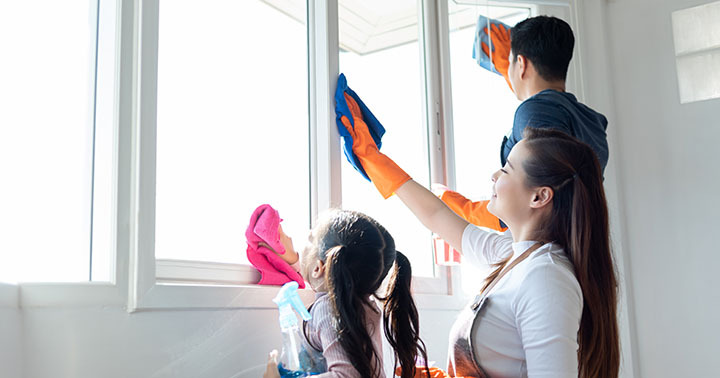 Before the Circuit Breaker in Singapore began, your busy schedule may have provided a convenient excuse for a messy home, but the excuse no longer holds. This time, tidy your home systematically and as a family. Get everyone involved, teaching the kids how to fold their own laundry and make the bed, while you vacuum the floor below the bed for the first time in months. Start with small tasks spread over the remainder of your time at home, and you'll be done in no time!
#TiqOurWord DIY as much of your home maintenance as possible, and where online tutorials and your own resourcefulness fail you, let our experts take over! Tiq Home Insurance includes the exclusive Emergency Home Assistance feature, which delivers end-to-end, 24h home repair services in the event of emergency. Find out more here.
Home is where the heart is
Now that everyone's home, the occasional frustration is inevitable. Most of all, remind yourself in such situations that you are among people you care about deeply, which is a blessing in itself. We hope these tips help to keep the kids busy while providing a little inspiration and some assurance that your family will come out of these times harmonious and refreshed.
[End]
Information is accurate as at 20 May 2020. This policy is underwritten by Etiqa Insurance Pte. Ltd. (Company Reg. No. 201331905K). Protected up to specified limits by SDIC.
Tiq by Etiqa Insurance Pte. Ltd.
A digital insurance channel that embraces changes to provide simple and convenient protection, Tiq's mission is to make insurance transparent and accessible, inspiring you today to be prepared for life's surprises and inevitabilities, while empowering you to "Live Unlimited" and take control of your tomorrow.
With a shared vision to change the paradigm of insurance and reshape customer experience, Etiqa created the strong foundation for Tiq. Because life never stops changing, Etiqa never stops progressing. A licensed life and general insurance company registered in the Republic of Singapore and regulated by the Monetary Authority of Singapore, Etiqa is governed by the Insurance Act and has been providing insurance solutions since 1961. It is 69% owned by Maybank, Southeast Asia's fourth largest banking group, with more than 22 million customers in 20 countries; and 31% owned by Ageas, an international insurance group with 33 million customers across 16 countries.
Discover the full range of Tiq online insurance plans here.