Folding bicycles or "foldies" as they are affectionally known, are becoming a common sight in Singapore, especially since more people are taking up cycling during this pandemic. Cyclists are also realising the benefits of owning a bicycle that is designed to be folded up like an origami piece when not in use. Thinking of owning a foldie? Read on for things to note before you make the purchase!
Foldie vs Regular Bicycle
A folding bicycle is designed to fold into a compact form, for easy transportation and storage. Comparing a folding bicycle to its traditional counterpart, the main differences would be how the folding bicycle is designed to conceptualise the idea of taking your bicycle literally everywhere you go.
Things to know before buying a folding bicycle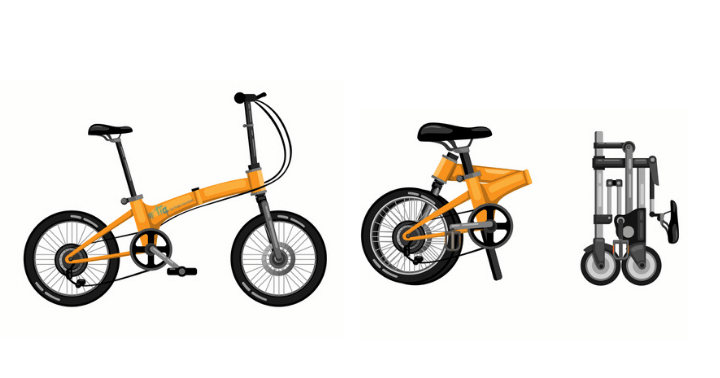 Before you make the splurge on a folding bicycle, here is the lowdown on the things every bicycle owner should know about.
Speed of folding bicycles
One argument against folding bicycles is that they are not as fast as regular bicycles. However, this is not true as folding bicycles are not inherently slower. The speed of a folding bicycle is attributed to the rider's position, wheel size, and possibly gearing.
Accessibility of folding bicycles (on buses and the MRT)
Folding bicycle are allowed on buses and on the MRT. However, you will need to make sure your bicycle is folded before boarding and that all protruding parts of the bicycle are covered. Also, folding bicycles are not allowed on the upper decks of the bus.
Safety of folding bicycles
Riding on a folding bicycle is as safe as riding on a regular bicycle. Aside from adhering to the road safety rules, riders need to be mindful of the bicycle's weight restrictions as well as the fact that some places and paths are off-limits to cyclists (e.g. expressways and road tunnels) As accidents may happen anytime, having a Personal Mobility Insurance can come in handy too.
#TiqOurWord In the unfortunate event that an accident happens, some insurers like Tiq by Etiqa Insurance offer coverage for bicycle damage and medical expenses including personal disablement and accidental death. Find out more here.
Are folding bicycles worth it?
The golden question: Should you be getting a folding bicycle? Let's take a look at the pros and cons of owning a folding bicycle.
Advantages of a folding bike
One of the worst things that can happen to a cyclist would be to have his bicycle stolen. As such, cyclists invest in intricate locking mechanisms to keep their ride secure. One good thing about a folding bicycle is that you can keep it with you. Even if you live in a small home or practise hot-desking at work, you can conveniently tuck it in the corner or place it under your desk.
#TiqOurWord Our Personal Mobility Insurance offers an optional bicycle cover, which can further protect your bicycle, covering bicycle loss and damage in case of an accident, theft or malicious damage. More details about this cover can be found here.
Due to its folding design, critics might have a misconception that the quality and frame of folding bicycles are flimsy and fragile. However, this is not true.  Manufacturers such as Brompton and Dahon build their folding bicycles from a range of materials such as aluminium, steel, and titanium.
If all else fails, you would be pleased to know that there is also the option of custom-made foldies.
Portability and convenience
One of the positive aspects of folding bicycles is that you can ride them to a nearby bus stop or MRT station and then quickly fold it up, before bringing it on board. As such, a commute to work can be done partly on the bicycle and partly via public transport. This saves time and cuts down on our carbon footprint.
According to LTA, folding bicycles are allowed on both the MRT and on buses, at any time of the day. Most establishments such as a hotel or a restaurant might also be more accepting of a patron with a folding bicycle since it can be folded and tucked away in a corner.
Disadvantages of a folding bike
While folding bikes are built to be durable, the frames do have weight restrictions and carry the risk of breakage if too much weight is placed upon it. As such, folding bicycles might have weight restrictions that may affect heavier riders.
The price of folding bicycles is generally more than the traditional bicycle even though they have similar specifications. This is because foldies generally have more components and require more complexity to construct. Depending on specifications, one can expect to pay from S$250 to more than S$6,000.
Ready to get a foldie?
Foldies can be the perfect bike for commuters. Their functionality makes them convenient to take on public transport and you can also carry them with you wherever you go. In tandem with the ePROTECT personal mobility insurance, you can focus on the road ahead and cast your cares aside, knowing that we have got your wellbeing and bicycle covered.
If you are still unsure, this guide on the 5 popular bicycle types in Singapore can help you! Click here to learn how to pick a bike that suits your best.
Speaking of which – did you know that World Bicycle Day is happening on 3rd of June 2021? This would be the perfect opportunity to get your folding bicycle and commemorate this day. Here are some suggested routes to take your foldie out for a spin.
[End]
Tiq by Etiqa Insurance Pte. Ltd.
A digital insurance channel that embraces changes to provide simple and convenient protection, Tiq's mission is to make insurance transparent and accessible, inspiring you today to be prepared for life's surprises and inevitabilities, while empowering you to "Live Unlimited" and take control of your tomorrow.
With a shared vision to change the paradigm of insurance and reshape customer experience, Etiqa created the strong foundation for Tiq. Because life never stops changing, Etiqa never stops progressing. A licensed life and general insurance company registered in the Republic of Singapore and regulated by the Monetary Authority of Singapore, Etiqa is governed by the Insurance Act and has been providing insurance solutions since 1961. It is 69% owned by Maybank, Southeast Asia's fourth largest banking group, with more than 22 million customers in 20 countries; and 31% owned by Ageas, an international insurance group with 33 million customers across 16 countries.
Discover the full range of Tiq online insurance plans here.