The young and healthy may be more inclined to invest rather than to buy critical illness insurance but how does that really work? Read on for some shocking figures and be enlightened!
When it comes to money management, people often focus on increasing income and reducing expenses. It is easy to overlook protection for unforeseen circumstances such as the onset of critical illnesses because you are healthy and it's just plain bad luck to even think about it.
Yet, 1 in every 4 or 5 Singaporeans may suffer a critical illness anytime and the treatment costs can be $100,000 to $200,000 per year! Previously, several surveys revealed the challenges with healthcare costs in Singapore; and a study in 2020 even found that 1 in 3 critical illness patients here have used up most or all of their savings to battle the illnesses.
If you (touch wood) fall ill due to a critical illness, it's likely that you have to delay your retirement dream, and you may even have difficulties in making ends meet if you don't have critical illness insurance. If you think that investing (increasing income) can be a substitute for insurance, we have some figures to show you. Read on!
Critical illness insurance or investment?
Insurance and investment are both equally important, and one should never have to make a choice between the two as they serve different purposes.
When you purchase critical illness insurance, you are essentially getting a backup plan in case of diseases such as cancer, diabetes and heart attacks. It provides financial coverage for serious diseases that may incur extraordinary medical fees.
When you invest, you are trying to accumulate wealth. This takes time and let's not forget that all investments come with some degree of risks. If you fall ill suddenly, will you be able to pay your medical bills with your investment returns? Let's do the maths and find out.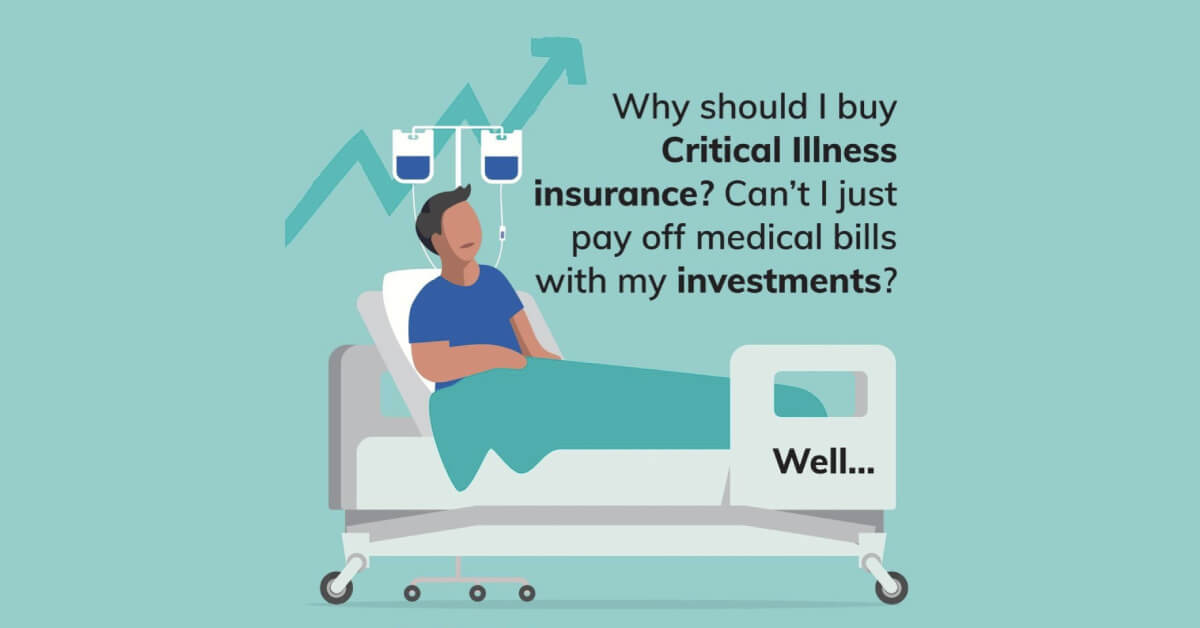 Example: Don is a 26 years old male (non-smoker) who has been working for a year. Some of his friends started investing while others recommended him to get critical illness insurance. With his limited budget, he is considering to invest because he already has life insurance. The idea of accumulating wealth is more attractive as that will bring him closer to his financial goals. But…
If he starts investing now (at 26 years old) for 20 years, his compound interest would be:
Current principal: $0
Annual addition: $309.40
Years to grow: 20
Interest rate: 8%
Investment future value: $15,291.45
After 20 years, he would have accumulated $15,291.45, falling short of the average treatment costs of critical illnesses between $100,000 and $200,000. Also, he would have to spend time learning to invest, managing his portfolio on the stock market, as well as weather stock market volatility. Think about the opportunity costs!
Note: Interest is compounded 1 time annually, with additions made at the start of each compounding period.
Is critical illness insurance worth it?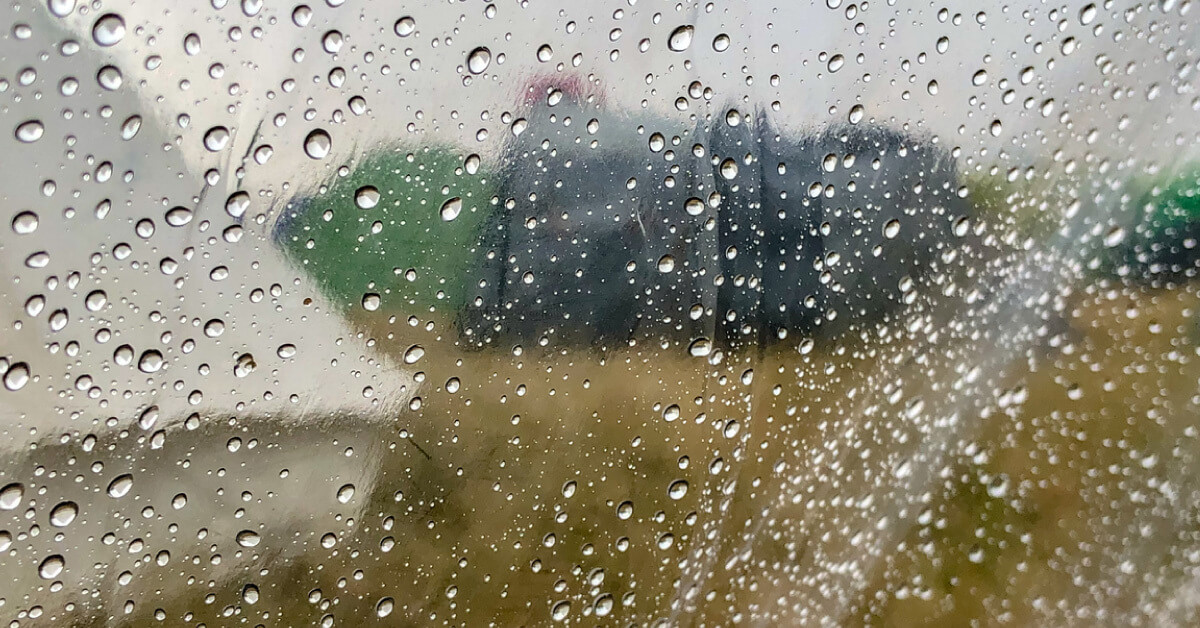 If Don purchases Tiq's 3 Plus Critical Illness for a coverage of $200,000, he would be covered for the top 3 critical illnesses with added benefits at the following costs:
Annual premium: $442
Total premium across 20 years: $11,1321
While this is not an apple-to-apple comparison, if you wish to protect you and your loved ones in case you fall ill seriously, a critical illness insurance such as 3 Plus Critical Illness plan is created specifically to meet this need. It would be more worthwhile to get protected rather than to use a non-guaranteed investment as a substitute.
F.Y.I. 3 Plus Critical Illness provides 100% payout upon diagnosis of the top 3 critical illnesses in Singapore, namely Cancer, Heart Attack and Stroke. From just S$0.24/day2 – about 33% of the price of a regular critical illness plan3, – we focus on protecting what's important for you and your family while keeping it low cost.
In addition, you'd also be protected with an additional 20% sum insured payout against Diabetic Complications or Severe Rheumatoid Arthritis (SRA). If you are already embracing parenthood, there's also a complimentary cover for up to 4 of your youngest children.
Benefits of having critical illness insurance
According to LIA Singapore, over 90% of all severe stage insurance claims received by life insurers are for five critical illnesses. These include major cancer, heart attack of specified severity, stroke with permanent neurological deficit, coronary artery bypass surgery, and end-stage kidney failure.
Critical illness insurance provides additional coverage for medical emergencies like cancer, heart attacks or strokes. As these emergencies or illnesses often incur extraordinary medical costs, policies such as Tiq's affordable 3 Plus Critical Illness offer payout that can help to cover the costs when standard health insurance falls short.

Dread disease(s) can happen to anyone
In case you fall prey to the optimism bias and think you won't be so unlucky to fall ill with a dread disease, here're some sobering statistics in Singapore:
Cancer is the leading cause of death in Singapore
Cancer happens to 1 in 4 to 5 Singaporeans
Cancer cases, and the number of people living with cancer continue to increase
Cardiovascular disease accounted for 31.7% of all deaths in 2020.
On average, there are 34 heart attack cases per day (2019)
The number of people having strokes is rising, especially among adults aged 40 to 59 years.
Stroke strikes about 8,300 people here every year – around 1 in 3 are under 60 years old
Anyone can fall ill suddenly. Based on current statistics, Singaporeans are living longer but spending more time in ill health. With advanced technology, there are adequate medical treatments to help one to survive critical illnesses. However, all this requires money. While investing can help one to accumulate wealth, the above example has shown that it will not be enough and the returns may not be generated in time.
You may also like this:
Prioritise your money needs
As inflation continues to drive prices upwards and threatens to diminish the value of your hard earned money, it's time to set your priorities to ensure good financial health in the long run. Some expenses cannot be spared, and insurance is one of them.
While you make plans for rainy days, don't mistake investing for insurance or vice versa. Insurance and investments are equally important. If you plan to kickstart your investment journey, you can start from here. For more information on Tiq's 3 Plus Critical Illness, click here.
[End]
1Based on total premiums paid if policy is renewed yearly for 20 years from age 26 provided no claims are made.
2Based on a sum insured of $30,000 for a 17-year old non-smoking male.
3This comparison does not include information on all similar products. Etiqa Insurance Pte. Ltd. does not guarantee that all aspects of the products have been illustrated. You may wish to conduct your own comparison for products that are listed in www.comparefirst.sg. Information is accurate as of 25 June 2020.
Information is accurate as at 16 June 2022. This policy is underwritten by Etiqa Insurance Pte. Ltd. (Company Reg. No. 201331905K. Protected up to specified limits by SDIC. You should seek advice from a financial adviser before deciding to purchase the policy. If you choose not to seek advice, you should consider if the policy is suitable for you. As this product has no savings or investment feature, there is no cash value if the policy ends or if the policy is terminated prematurely. It is usually detrimental to replace an existing policy with a new one. A penalty may be imposed for early termination and the new plan may cost more or have less benefit at the same cost. This advertisement has not been reviewed by the Monetary Authority of Singapore.
Tiq by Etiqa Insurance Pte. Ltd.
A digital insurance channel that embraces changes to provide simple and convenient protection, Tiq's mission is to make insurance transparent and accessible, inspiring you today to be prepared for life's surprises and inevitabilities, while empowering you to "Live Unlimited" and take control of your tomorrow.
With a shared vision to change the paradigm of insurance and reshape customer experience, Etiqa created the strong foundation for Tiq. Because life never stops changing, Etiqa never stops progressing. A licensed life and general insurance company registered in the Republic of Singapore and regulated by the Monetary Authority of Singapore, Etiqa is governed by the Insurance Act and has been providing insurance solutions since 1961. It is 69% owned by Maybank, Southeast Asia's fourth largest banking group, with more than 22 million customers in 20 countries; and 31% owned by Ageas, an international insurance group with 33 million customers across 16 countries.
Discover the full range of Tiq online insurance plans here.