At Tiq, we're always looking for ways to help you be prepared for life's surprises and inevitabilities, while empowering you to "Live Unlimited" and take control of your tomorrow. In our effort to do that, we have partnered with Autumn, a digital wealth, health and lifestyle solution.
Want to start investing but don't have a huge sum of money? Don't worry, starting small is better than not starting at all. You don't always have to start with lump sum investment. In fact, it might not always be the best. There are many several kinds of investment methods that you can consider and choose one that best suits help you achieve your needs and goals.
As a first-time investor, here are some key concepts that will benefit you greatly:
A good understanding of the effect of compounding
A healthy understanding of how inflation will deplete your savings in the bank
A plan of your investment goals, and the time and money that you are willing to sacrifice
A solid grasp on the different investing terms and the importance of diversification.
Once you understand that, we'll also share with you some of the  different investment tools!
1. Robo-advisors
A digital platform service that automates every part of investing to build a balanced, low-cost portfolio using algorithms and technology and with little to no human supervision. Robo-advisors are most commonly used for dollar cost averaging, where a small fixed sum of money is added to the portfolio every month for investment.
PROS
Low Barrier of Entry: Not much money in your piggy bank? Robo advisors allow you to start with as little as $100!
No Lock-in: Unlike bonds or endowment plans, there is no lock in period for robo-advisors! You may feel free to invest whenever the money is needed!
Ease of Use: Really easy to use, you don't have to research on what and how much to invest in.
Cost Effective: You're only charged a percentage of the total investment, meaning that the frequency of your transaction will not matter! You can add or take out your investment whenever you want.
Diversified Portfolio: There, you have your diversified portfolio easily! Even without needing a huge sum of capital to start off with!
CONS
Less Flexibility: You can't choose what stocks exactly you want in the portfolio, and would have to leave it to the algorithm to do the job!
Higher Fees than DIY approach: You get charged a percentage of your investment on robo-advisors, while DIY investments are charged based on the frequency of transactions. If you are investing a huge sum for a buy-and-hold, it would be more advisable for DIY approach. However, if you only have a small sum to begin with, then robo-advisors may still be a good choice as it allows for easy diversification!
Robo-advisors are probably right for you if…
You don't know how to invest globally and want a hands-free approach that will let you start with a small portfolio. Although they are more expensive than a totally DIY approach, it is a good way for a beginner to start off with robo-investing to learn about the different stock options, before moving to doing it DIY.
Here are some local Robo-advisors options that you can consider!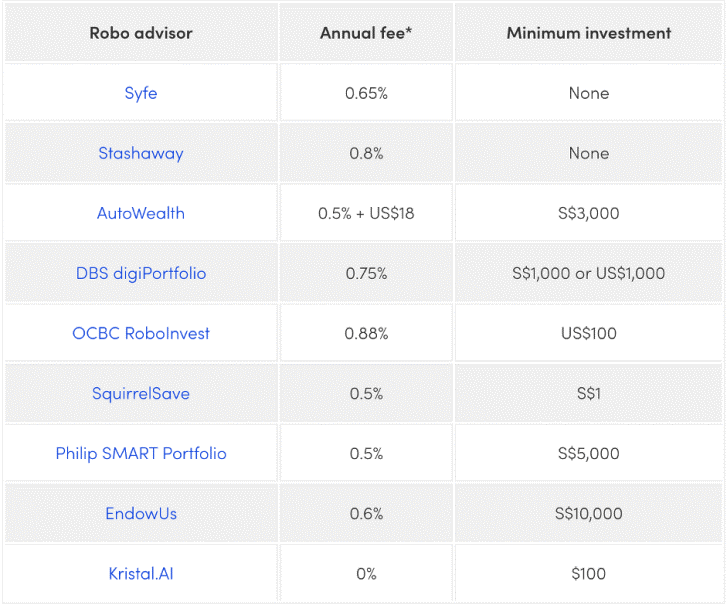 * Source: MoneySmart SG
2. Independent Financial Advisors
A person who can guide you on all sorts of financial decisions, including investments, insurance and wealth management. With their professional expertise, your financial advisor will be able to recommend on the suitable type of investment tools and services that would best suits your current needs and preferences.
PROs: You get financial clarity and an entirely customized one-on-one advice from a real human being. Financial advisors often take your whole financial situation into account as well, not just your investments.
CONs: You need to be really clear on how much you're paying for advice since different advisors have different fee structures. Some charge a percentage of your invested assets and others just charge a flat fee for building you a plan and giving you advice.
A financial advisor is right for you if…
You are completely clueless on how to start managing your finances and would prefer a trusted person to give you custom advice regarding your specific financial situation. Or if you are someone who is very busy and would rather someone manage your money for you. Pro tip: The question to ask yourself is, is the DIY approach a realistic option? Would you really devote time to manage your own finances? Leaving your money with a financial advisor might very well be a better option than a DIY if you're not disciplined enough, as it can easily end up with no action at all.
If you decide to go ahead with engaging a financial advisor, always ask around and speak to a few advisors before settling on one. Finding the right one who has your best interest at heart is important. After all, it's your money that they are managing.
3. Your Bank
Your bank also offers financial advisors who can offer advice and set up your investments for you in the same way without you needing to do much at all. Generally, they offer a range of mutual funds and similar options and recommend you the suitable fund depending on your portfolio.
PROs: It is pretty straightforward without much intervention needed. Once your financial advisor understand your needs, you can count on your advisor to handle the rest and let your investment grow in the mutual funds.
CONs: Fees. While having the convenience of investing with your bank sounds all good, but to keep in mind that mutual fund from the bank are also usually more expensive. Often, these bank financial advisors get their commission from the high-fee mutual funds which may incentivise their personal interests over what may be really good for you.
Investing with your bank is right for you if…
You trust your bank financial advisor to have your best interest. However, always make sure you understand the fees they're charging and don't be afraid to ask or clarify questions about those fees.
4. Online Brokerage
An online service that allows you to buy equities, bonds, commodities, ETFs, index funds, and more. Depending on which brokerage you choose, there may be a wide range of options or far fewer. This is the DIY dream because you have full control of exactly what you buy, and how much.
Here are some recommendations of online brokerage you can use:
For SG Stocks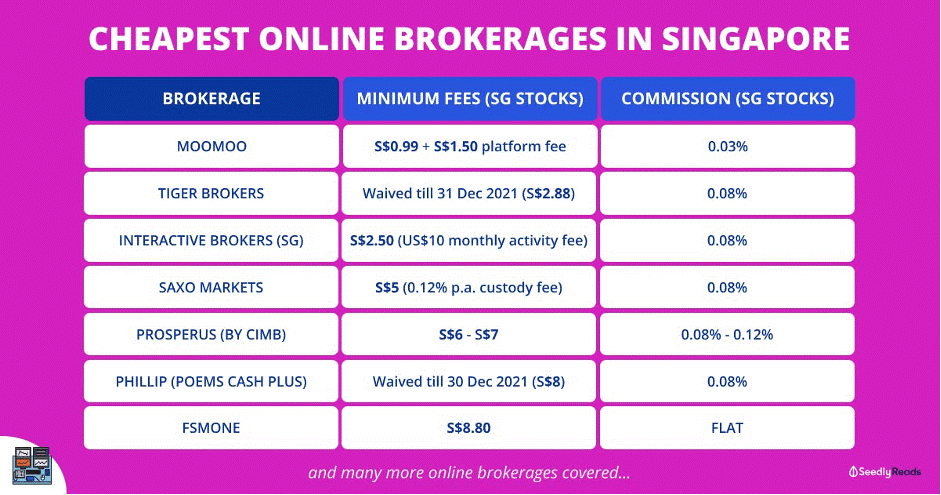 Source: Seedly
For US Stocks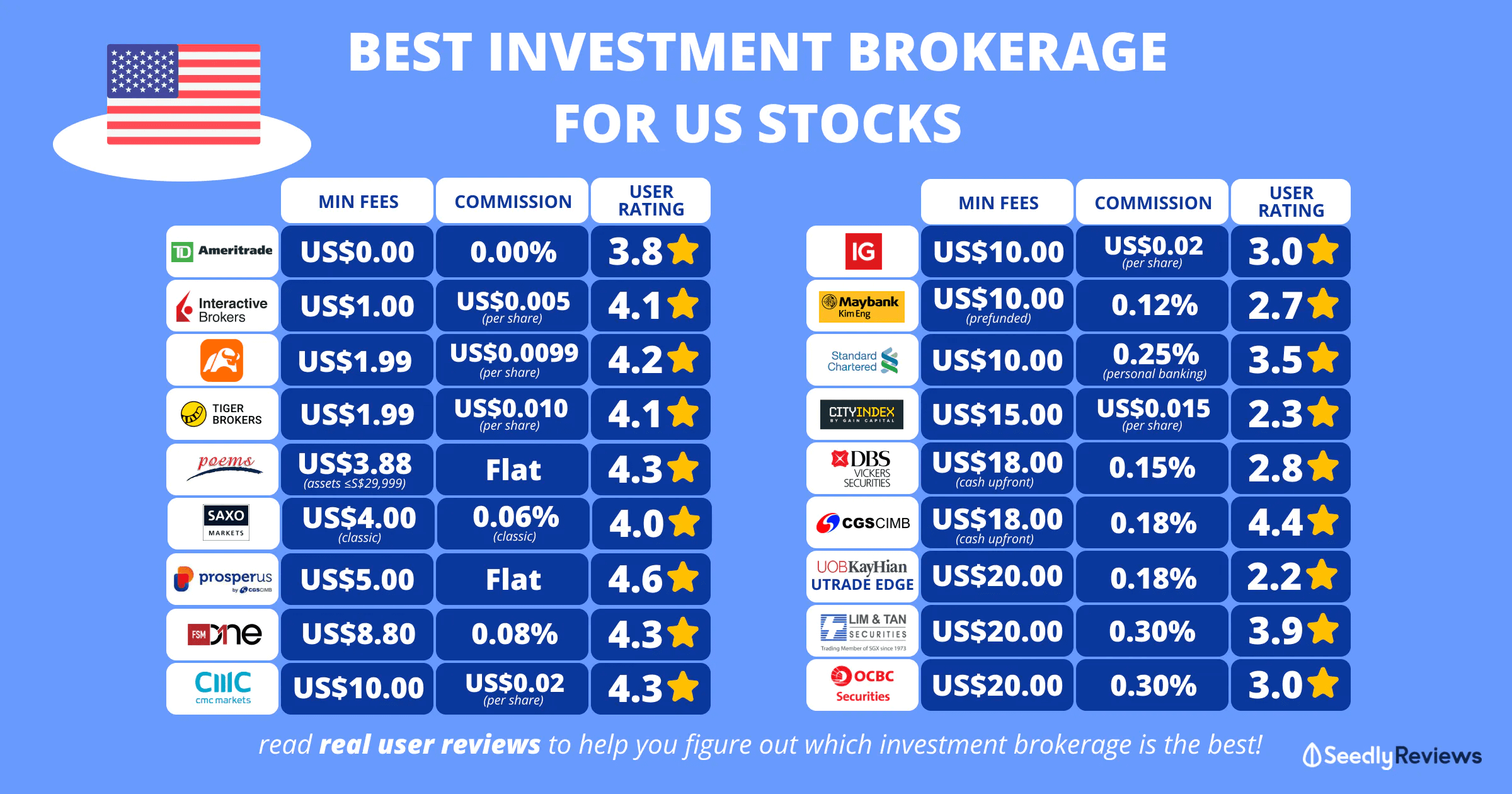 Source: Seedly
PROs: You are in full control of your investments DIY style and you're charged the lowest fees out of all the aforementioned options. This also gives you a better chance of learning from your own mistakes and get better at making your own investment decisions.
CONs: Setting up an online brokerage for the first time can be challenge and overwhelming. Being in control also means you are in the driver's seat making all the decisions on your own – from choosing the type of investments to rebalancing your portfolio. It requires much more effort and you are often responsible for your own decision.
An online brokerage is right for you if…
You are confident to commit and to do your own research and due diligence. You should be willing to learn from your losses, and be discipline to rebalance your own portfolio periodically.
… And that's it! You now know the basics of investing, and even some of the easy tools you can use.
This article is contributed by Autumn and first appeared here.  All information is correct as at the date of publication on 4 June 2021. For more information, please visit Autumn.sg.
Build your confidence and take charge of your investments with our easy and seamless digital insurance, investment, and life protection products. Looking to achieve your money goals with a savings plan? Check out Tiq Easy Save at a guaranteed 2% p.a. crediting rate for the first 6 years to optimize your savings with a short premium term!