Breast cancer is an uncontrolled cell growth in the breast tissue, which may metastasise* to other parts of the body. The exact cause is unknown but age, genetics and environmental factors play a part in increasing the risk. The good news is that regular screening and early detection are proven to increase the chance of survival. Here are the important things you need to know about breast cancer in Singapore including symptoms, treatments and prevention methods.
*metastasise = spread to other body parts through blood vessels and lymph nodes
Breast cancer in Singapore is more common than you think
Cancer cases have been rising in Singapore each year, from 14,148 in 20151 to 71,919 in 20182. And the number just keeps rising. Breast cancer affects almost 30% of all female cancer patients1. In fact, it is the leading cancer among females in the past 50 years3. The risk factors include
Family history of breast and ovarian cancers
Hormonal imbalances or history of undergoing hormone therapy
Personal history of early onset menstruation
Never having children, or having first child after the age of 30
Late onset menopause
Weight gain and obesity
High intake of alcohol, red meat and processed food
As you know, daily stress can cause hormonal imbalances and health problems. Singaporean couples are also getting married later with the common age of marriage being 30-35 years old. Hence, having children later in life. High consumption of alcohol, obesity, and sedentary lifestyle are also common. These lifestyle changes over generations may contribute to the rise of the disease.
#TiqOurWord Breast cancer used to be called "the nun's disease" due to the high number of nuns affected by it. A study shows that women who never have children, such as nuns, have a higher risk compared to mothers. There is a correlation between risk of breast cancer and the number of menstruation cycles a woman experiences through her lifetime.
Signs and symptoms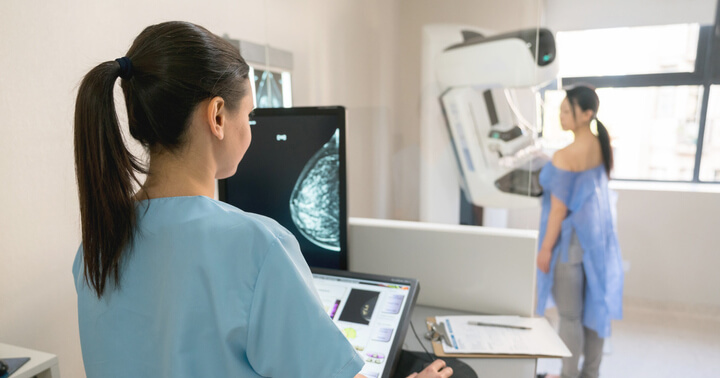 Stage 0: Early stage breast cancer. Non-invasive abnormal cells formed in the lining of the breast milk duct, but do not spread into the breast tissue. It usually has no symptom.
Stage I: Early stage breast cancer. The tumour is evident and traceable, but it has not spread. The size ranges from a pinprick to that of a rice grain and can be detected through breast self-examination and regular screening.
Stage II: Invasive breast cancer. The cancer grows and spreads to nearby lymph nodes. Symptoms include lumps, rashes and breast pain.
Stage III: Advanced breast cancer. The cancer grows, extending beyond the skin and spreads to lymph nodes outside of the breast – particularly the underarms. Symptoms include physical changes such as dimpled, wrinkled or thickened skin around the breast.
Stage IV: Metastatic breast cancer. The cancer spreads to other organs such as the brain, lungs, liver and bones.
By studying each stage, we can see that this disease is treatable and patients can, in fact, recover from it. Hence, the importance of regular screening and early detection cannot be stressed enough.
#TiqOurWord A single breast cancer surgery costs up to S$18,525 while chemotherapy can cost a whopping S$1,500 per cycle and can require up to eight cycles – not including recurring cancer cases. Learn more about insurance coverage for cancer here.
Beware of triple negative breast cancer (especially if you're young)
Triple negative breast cancer is found in 10-20% of breast cancer patients and it is more likely to affect younger individuals4. You see, breast cancer is often diagnosed using hormone receptor tests, particularly for estrogen, progesterone and epidermal growth factor. However, in a triple negative breast cancer case, all three tests will come out negative. Hence, the name.
This type of cancer cells tend to be more aggressive and do not have hormone receptors. Because of this, common treatments like hormone therapy and drugs are not effective against them. However, like other cancers, chemotherapy and immunotherapy have been proven to be the more effective options.
Easy ways to prevent breast cancer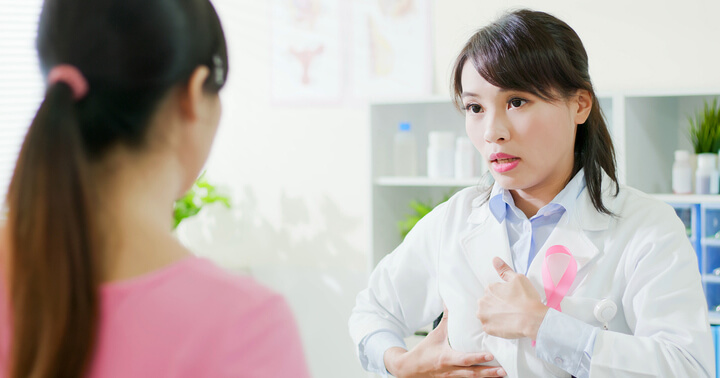 The best way to protect yourself against breast cancer is by doing breast self-examination in order to detect any changes in your breast. Inform your doctor if you noticed any abnormal changes and consider getting subsidised regular cancer screening or mammograms. Other than that, you can keep breast cancer at bay by:
Staying fit and active
Maintaining a healthy weight
Adapting a healthier diet that is low in fat and high in fibre
Decreasing your alcohol intake
Not smoking
Don't stop till cancer does
As we have learned, with early detection and proper medical attention, breast cancer is not only preventable, but also treatable. However, the road to recovery isn't cheap. That is why Cancer Insurance at Tiq by Etiqa Insurance offers coverage of up to S$200,000 for all stages of cancer, including early stage. From as low as S$0.271 per day, you can rest assured that your financial burden can be lifted in the event of a cancer diagnosis, so you can focus on recovery.
1 Premium is based on S$50,000 cover for a 20-year old non-smoking male. Age means the age at the next birthday.
References:
National Cancer Centre Singapore. (2019, November 5). Cancer Statistics. SingHealth Group. https://www.nccs.com.sg/patient-care/cancer-types/cancer-statistics
International Agency for Research on Cancer. (2019, May). Singapore. World Health Organization (WHO). https://gco.iarc.fr/today/data/factsheets/populations/702-singapore-fact-sheets.pdf
National Registry of Diseases Office. (2015, November 27). Cancer. National Registry of Diseases Office. https://www.nrdo.gov.sg/publications/cancer
National Breast Cancer Foundation, Inc. (2019). Triple Negative Breast Cancer. National Breast Cancer Foundation, Inc. https://www.nationalbreastcancer.org/triple-negative-breast-cancer
[End]
Information is accurate as at 29 May 2020. This policy is underwritten by Etiqa Insurance Pte. Ltd. (Company Reg. No. 201331905K. Protected up to specified limits by SDIC. You should seek advice from a financial adviser before deciding to purchase the policy. If you choose not to seek advice, you should consider if the policy is suitable for you. As this product has no savings or investment feature, there is no cash value if the policy ends of if the policy is terminated prematurely. It is usually detrimental to replace an existing policy with a new one. A penalty may be imposed for early termination and the new plan may cost more or have less benefit at the same cost. This advertisement has not been reviewed by the Monetary Authority of Singapore.
Tiq by Etiqa Insurance Pte. Ltd.
A digital insurance channel that embraces changes to provide simple and convenient protection, Tiq's mission is to make insurance transparent and accessible, inspiring you today to be prepared for life's surprises and inevitabilities, while empowering you to "Live Unlimited" and take control of your tomorrow.
With a shared vision to change the paradigm of insurance and reshape customer experience, Etiqa created the strong foundation for Tiq. Because life never stops changing, Etiqa never stops progressing. A licensed life and general insurance company registered in the Republic of Singapore and regulated by the Monetary Authority of Singapore, Etiqa is governed by the Insurance Act and has been providing insurance solutions since 1961. It is 69% owned by Maybank, Southeast Asia's fourth largest banking group, with more than 22 million customers in 20 countries; and 31% owned by Ageas, an international insurance group with 33 million customers across 16 countries.
Discover the full range of Tiq online insurance plans here.