Since the pandemic, the economy has been on hold. Lockdowns went into effect and F&B joints were forced to either close or adapt to survive while businesses were encouraged to have employees working remotely from home to maintain social distancing. If you have yet to tighten your belt and start saving more for a rainy day, it is time to seriously get down to it. Here are four simple questions to help you get started!
1. Do you really need more clothes?
A work from home arrangement gives us the opportunity of limiting the amount of clothes that we buy and wear since we would not be going out that often. This means we get to save money and de-clutter our wardrobe, at the same time.
By de-cluttering and selling off your under-utilised clothes, not only would you be able to earn some additional cash, you would also be freeing up more space at home which could lead to a more conducive work environment. To do this, you can make use of e-marketplaces such as Carousell and Facebook Marketplace.
Limiting the amount of clothes we buy does not necessarily mean abstaining from shopping. You can choose to be patient and wait to take advantage of the occasional e-commerce events such as Black Friday, 11.11 or Christmas sales. This would mean greater savings in the long run.
2. Are you spending too much on nice-to-have food?
In Singapore, we are blessed with great food options that ranges from affordable to high-end. With entertainment being cut to the minimal, you may find yourself splurging more on food, but it may be time to review these 'nice-to-have'.
Opt for self- takeaway instead of delivery if your situation permits (working parents doing HBL – we feel you!). Even better if you can bring your own container for the takeaway meal. While you may want to pamper yourself once in awhile, some costs are better to be saved.
While working from home, you will also realise it is easier to find the motivation and time to prepare healthier and cheaper home-cooked alternatives as compared to having an 'atas' meal with your colleagues when you work in the office, especially if you work in the Central Business District.
When you get down to purchasing ingredients, you can also decide on the portions to buy. One way to save money and effort is by doubling the recipe and keeping the leftovers for another day. That way you can get two meals out of one and use the ingredients more efficiently with lesser waste.
3. Are you getting your groceries on the right days?
On that note of visiting your grocer, do not panic buy. Instead, you should plan and shop on the right days as certain businesses offer discounts on specific days of the week. For example, Senior Citizens get extra rebates on Wednesdays when they shop at NTUC or Sheng Shiong and at GIANT, on Tuesdays.
You may also want to 'jio' (invite) your neighbours to organise a Group Buy for group discounts on daily necessities such as food and groceries. Minimally, you can save on delivery fees! The quickest, most effective way is to share the Group Buy deal on platforms such as Facebook Groups, WhatsApp or through the respective Residential Committees.
#TiqOurWord Did you know that Etiqa has its own weekly TEIF (Thank Etiqa It's Friday) Sale where you can get the best deals on a wide range of insurance products? Learn more here.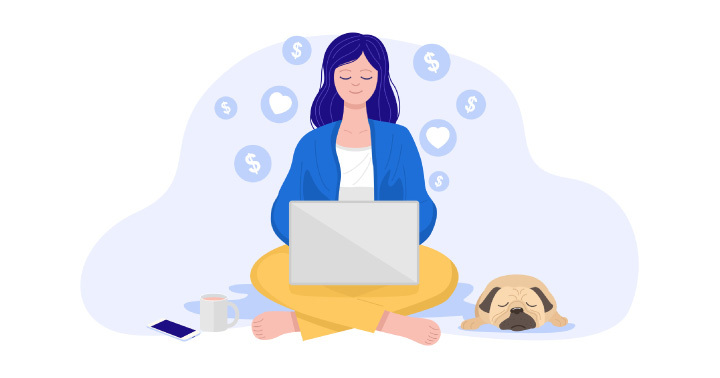 4. Can you cut down on existing expenses?
It would also be a good time to consider reviewing your existing expenses such as phone/internet bills and insurance to ensure that you are still on track to getting the best deals in the market.
For example, working from home would mean using lesser mobile data since you would be mostly using your home Wi-Fi. You may wish to consider an alternative plan such as a SIM-only mobile plan, for as low as S$5 a month. More details here.
Given the uncertainty, it would also be a good time to review your existing insurance coverage and premiums to adjust your portfolio to better align to your needs. As intimidating as it sounds, the process of reviewing your life insurance plan is straightforward and do-able on your own. You can find out how to do it here.
Take the extra step to protect your family and yourself today with Etiqa's Whole Life Insurance, DIRECT – Etiqa whole life plan, for round-the-clock worldwide coverage at an affordable premium of as low as S$1.27 day*. Your protection will also be further enhanced with our complimentary coverage for financial assistance of COVID-19 and side effects from the vaccine.
Saving money when working from home
Working from home can help save you some money provided you make the right decisions. Besides reducing expenses, you should also be looking into how to get the most out of your money.
With Tiq Easy Save insurance savings plan, you can get high guaranteed 2% p.a. returns on your savings for the first 6 years while enjoying benefits such as life and COVID-19 coverage. Only available for a limited tranche, learn more here or get a quote now!
*Based on a female, non-smoker, aged 18 years old with a S$50,000 cover. Information is accurate as of 10 June 2021. This policy is underwritten by Etiqa Insurance Pte. Ltd. (Company Reg. No. 201331905K). Protected up to specified limits by SDIC. As buying a life insurance policy is a long-term commitment, an early termination of the policy usually involves high costs and the surrender value, if any, that is payable to you may be zero or less than the total premiums paid. You should seek advice from a financial adviser before deciding to purchase the policy. If you choose not to seek advice, you should consider if the policy is suitable for you. This advertisement has not been reviewed by the Monetary Authority of Singapore.
Tiq by Etiqa Insurance Pte. Ltd.
A digital insurance channel that embraces changes to provide simple and convenient protection, Tiq's mission is to make insurance transparent and accessible, inspiring you today to be prepared for life's surprises and inevitabilities, while empowering you to "Live Unlimited" and take control of your tomorrow.
With a shared vision to change the paradigm of insurance and reshape customer experience, Etiqa created the strong foundation for Tiq. Because life never stops changing, Etiqa never stops progressing. A licensed life and general insurance company registered in the Republic of Singapore and regulated by the Monetary Authority of Singapore, Etiqa is governed by the Insurance Act and has been providing insurance solutions since 1961. It is 69% owned by Maybank, Southeast Asia's fourth largest banking group, with more than 22 million customers in 20 countries; and 31% owned by Ageas, an international insurance group with 33 million customers across 16 countries.
Discover the full range of Tiq online insurance plans here.