Bitten by the travel bug? In Singapore, we are a privileged bunch to have one of the world's best passports, so it's hardly surprising that we are also one of the world's top 10 countries with the most well-travelled citizens. Nevertheless, with increasing natural and manmade disasters (note recent Lombok earthquake), it certainly pays to be well-prepared for any emergency that may arise during our trip. Ever wondered what to do if a disaster hits your trip? If no, you better start now.
Pre-trip safety checklist
Precaution is better than cure. To be prepared for an overseas crisis, there are five simple but important things that you should be doing.
1. Buy travel insurance
Regardless the nature of your overseas trip, you should get travel insurance once you have confirmed your itinerary. Getting travel insurance not only insures you during and after your trip, it will also come in handy if you are unable to travel due to an emergency.
2. eRegister at Ministry of Foreign Affairs (MFA)
Singaporeans that are travelling or residing overseas can update information about your travel itinerary abroad. Doing so will allow MFA and their overseas missions to contact you and offer help during an emergency or crisis.
3. Share your itinerary…
… But not on social media! While you may not want the whole world to know that you'd be travelling (and invite thieves to home!), you should share your itinerary with an emergency contact. Leave copies of your itinerary, passport data page and visas with family or close friends.
4. Carry copies of your essential documents
Carrying copies of your important documents will help you be identified, and better manage your trip during an emergency. As original documents may be easily perishable, misplaced or stolen, you can take pictures of them, which you can store in your inbox. Do not forget to password-protect your documents because personal cyber security is essential!
5. Pack a to-go bag
Have you ever seriously considered what you'd need if a disaster strikes while you are overseas? We are referring to the bare necessities and these are important stuff that can be packed into a to-go bag, handy for you to take everywhere. Think travel waist pouch, passport, medication and cash!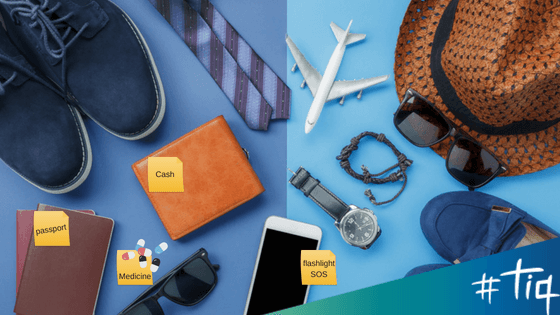 Things to do during your trip
6. Know where the emergency exits are
Do you have the habit of checking where the emergency exits are upon checking in to your accommodation? We take part in the safety drill on every flight and cruise ship, so there's no reason why we should ignore such details when we are on land. Knowing where the emergency exits are located can help you to get out of danger in times of need (i.e. earthquake!)
7. Check in with loved ones
Keeping someone back home informed every time you move to a new locale is essential, especially if you are travelling alone. Even if you are miles apart, your family or friends can raise a red flag at your unintended absence and activate help!
8. Practise self-awareness
While it is important to stay calm at all times, you should be mindful of your environment. Practise self-awareness and do not sleep through that mild shaking of your bed! If everyone is rushing out of the building, there must be a reason for it. Follow suit and be careful!
Things to do when a disaster strikes
9. Head for safety
If a natural disaster happens, head for safety and don't try to lug that heavy luggage. Your to-go bag will be sufficient! Stay indoors if it is safe. If you are on the streets, head somewhere safe and away from danger. If possible, go to the Singapore embassy or overseas mission. Unless it has been damaged by the disaster, you can get shelter and assistance to get back home. If this is not possible, seek help from local police or Red Cross personnel.
10. Call the emergency hotline
Be it business or leisure travel, there are emergency hotline details that you should take note of. These are usually provided by a) your office, b) travel agency, or c) insurer. It pays to know ahead of time how to make an international call.
Oh! And in case you are wondering, emergency calls are not always free. The good news is this is usually covered by travel insurance.
11. Send text if lines are down
However, do not be surprised if cell phone, Internet and telephone communications are disrupted in the event of a natural disaster. According to the vice president of global security and intelligence with International SOS Assistance, "Texting often works when voice calls don't".
12. Find food, water, shelter
If you encounter a natural disaster, chances are supplies for daily necessities are going to be in shortage (at least until aid arrives). Check with locals on where you can purchase a few days' worth of sustenance right away. You should also note that ATMS are likely to run out of money, which brings us back to point 5 and 9.
13. Try to get out of danger
Reconfirm your flight as soon as possible, as airports may be affected and closed.
Always plan ahead
Regardless of your purpose of travel, being well-prepared and staying alert can save you from disasters that strike while you are overseas. Therefore, plan well and travel safe!
[End]
Information is accurate as at 18 December 2019. This policy is underwritten by Etiqa Insurance Pte. Ltd. (Company Reg. No. 201331905K). Protected up to specified limits by SDIC.
Tiq by Etiqa Insurance Pte. Ltd.
A digital insurance channel that embraces changes to provide simple and convenient protection, Tiq's mission is to make insurance transparent and accessible, inspiring you today to be prepared for life's surprises and inevitabilities, while empowering you to "Live Unlimited" and take control of your tomorrow.
With a shared vision to change the paradigm of insurance and reshape customer experience, Etiqa created the strong foundation for Tiq. Because life never stops changing, Etiqa never stops progressing. A licensed life and general insurance company registered in the Republic of Singapore and regulated by the Monetary Authority of Singapore, Etiqa is governed by the Insurance Act and has been providing insurance solutions since 1961. It is 69% owned by Maybank, Southeast Asia's fourth largest banking group, with more than 22 million customers in 20 countries; and 31% owned by Ageas, an international insurance group with 33 million customers across 16 countries.
Discover the full range of Tiq online insurance plans here.