Lunar New Year in 2021 will come in mid-February. Before we know it, it would be that time of the year where most people start rolling up their sleeves, and get busy with a major spring cleaning session just before the spring festival a.k.a. Chinese New Year (CNY) arrives.
Even if you are not celebrating CNY, it is good family practice to clear the clutter and start 2021 afresh with a spick and span home! Being a firm believer of "working smart, not working hard", we have 10 brilliant spring cleaning hacks that shall help you to spruce up your home with minimal effort. Read on!
In case you are wondering, the first day of Chinese New Year falls on Friday, 12 February 2021.
1. Declutter to clean less
Clearing the clutter is a no-brainer, and should be done regularly. However, if you are a procrastinator or hoarder (or both) like most of us, then we understand how you must be dreading this spring cleaning session.
If it helps, start by throw away expired items, be it cosmetics, bathroom toiletries or canned food in the storeroom. The good news? After you declutter, you will have lesser to clean. Do this before tackling any other household chores!
"Keep only those things that speak to your heart. Then take the plunge and discard all the rest. By doing this, you can reset your life and embark on a new lifestyle." – Marie Kondo
2. Simple D.I.Y. window washing solution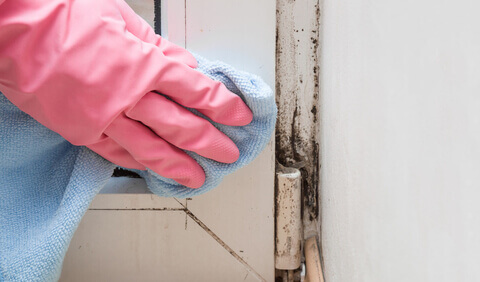 Do you dread cleaning those windows too? Perhaps this is why this household chore is often set aside until it becomes the 'yearly-affair-that-cannot-be-put-off'. To tackle this mandated task on the spring cleaning list, try this D.I.Y. window washing solution that includes white vinegar and warm water on a 1:1 ratio At the same time, get rid of old newspapers by using it to wipe the window glass shiny!
In the first 11 months of 2019, there were 48 cases of fallen windows. According to the Housing Development Board and Building Construction Authority, the main cause is due to lack of maintenance. Did you know it is actually an offence to not take good care of your windows?
Well, if the windows fall due to a lack of maintenance, one can be fined up to S$10,000, jailed for up to a year, or both. If you only spring clean your windows once a year, it's time to increase the frequency!
3. Clean your window on a 'right' day
In the Chinese culture, there are auspicious dates for spring cleaning to ensure your cleaning goes smoothly. We highly recommend you to choose a suitable day for washing the windows, but for another reason.
Check out the weather forecast and clean your windows on a cloudy day. Word has it that sunshine tend to cause windows to dry too quickly, leaving behind hard-to-remove streaks!
4. Remove stubborn food stains in microwave easily and safely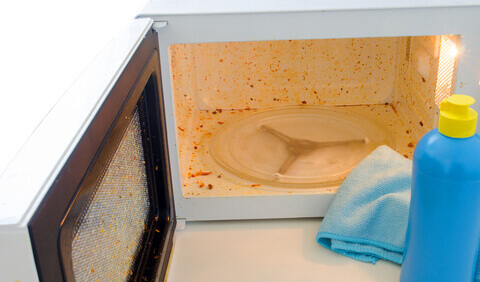 Old food stains in microwave can be difficult to remove. To avoid spending hours trying to scrub it clean, do a 'steam' before the scrubbing to halve the cleaning time.
To begin, fill a microwave-safe bowl with 1 to 2 cups of water, 2 teaspoons of white vinegar, and a few drops of your favourite essential oil. Set this bowl of mixture to heat for a few minutes in the microwave. After that, clean the inside of the microwave with a towel dipped in lemon-water.
Note: to avoid superheating, add a wooden skewer or bamboo chopstick in the bowl of water mixture.
5. Basic ingredients to remove stubborn stains around the stove
You may be enthusiastic to start your spring cleaning but a little planning could help you to save time and effort! Instead of diving straight into wiping the kitchen stove with the dishwasher liquid and a cloth, gather these items:
Salt
Baking soda
Vinegar
Rubbing alcohol
First off, use a wet towel to wipe off crumbs or anything that comes off easily. Next, sprinkle the baking soda and start scrubbing with a soft brush before wiping off. Repeat this with the salt.
If stubborn stains remain, use this stove cleaning solution, which comprises of baking soda, salt and vinegar in the ratio of 1:3:1. Mix the ingredients into a paste and spoon it over the affected areas. Leave it there for at least an hour or overnight. After that, start scraping with a wooden spoon.
To complete, wipe the entire kitchen top (except the burners) with rubbing alcohol to disinfect as well as to get a cleaner look.
#TiqOurWord Rubbing alcohol is flammable. Use with caution to avoid burning the house! Also, don't forget to have a comprehensive home insurance in place in case of unforeseen home emergencies.
6. Water marks on wood furniture? Use the hair dryer!
Using a coaster can help protect your wood furniture from water marks and stains, but this little detail can easily be forgotten. If your wooden desk or coffee table has those white water rings, here's what you should do: blast the hair dryer at the stained area until it starts to disappear.
If the marks don't go off, use a cloth to buff the marks while applying heat. Once the marks are removed, rub a little bit of olive oil on the area to recondition the wood.
7. Aluminium foil can remove rust on toilet pipes easily?!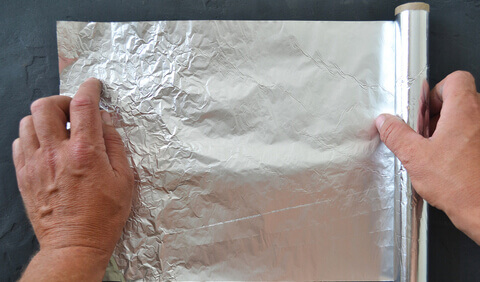 You are likely to have used aluminium foil for packing home cooked food, but did you know its uses extend beyond keeping your food warm? Aluminium foil can help and this may come in handy, especially in your toilet.
Pipes that have been around for a while tend to disintegrate (e.g. copper pipe may rust) and lead to leakages. To remove rust and maintain the pipes easily, simply dip a strip of aluminium foil in water and gently rub the wet foil on the rusted spots. Keep a dry microfiber cloth on hand to wipe away any bits of rust from time to time, and voilà!
While home maintenance is important, you should also have a comprehensive home insurance that covers home emergencies like a burst toilet pipe! Tiq Home Insurance by Etiqa provides 24/7 Emergency Home Assistance (EHA) that covers four common emergencies – plumbing, electricity, locksmith and pest control! Find out more here.
8. D.I.Y. non-toxic fizzy toilet bombs
If you are a new homeowner and learning the tough ways of scrubbing a toilet for the first time in your life, the fizzy toilet bombs will be a godsend to help disinfect and deodorise your toilet bowls without any scrubbing! Just drop it into the toilet bowl and flush after it stops fizzing. These can also be used to clean the bathtub and washing machine!
To make these fizzy bombs, you would need to mix baking soda and citric acid in 2:1 ratio prior to spraying vinegar to dampen the mixture. Next, pack it into any ice cube or jelly moulds tightly and add a few drops of essential oil. Leave the fizzy bombs to dry overnight in an air tight container before using.
9. Use a lemon to clean stainless steel faucets
Besides the aluminium foil, lemon can also help to remove rust from and stubborn water stains from any stainless steel in the bathroom or kitchen. Think about the fresh, natural citrus scent that lingers. All you need to do it to cut the lemon in half and rub directly on the intended area. For extra cleaning power, mix lemon juice with either salt or baking soda and start cleaning!
10. Make the house plants shine… with banana peel!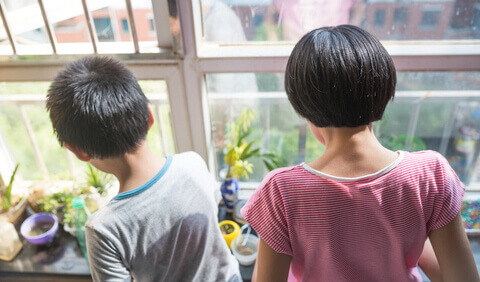 While you keep your home clean and tidy, don't overlook the maintenance of these powerful air purifiers and stress busters! You can care for your plants effortlessly… by eating a banana, and using the peel to wipe the leaves. The texture and oils in banana peels serve as a mild abrasive and polish. Forget about creating a viral 'banana' artwork and put your bananas to good use. To complete, use a microfiber cloth to wipe away any remaining residue.
Spring cleaning hacks
"Good planning is half the battle." Before you start tackling the spring cleaning for CNY, look around you and start gathering basic household ingredients that could help you to create non-toxic yet powerful cleaning solutions to make your tasks easier!
Also, while you freshen up your home, ensure that your home is well-protected with a comprehensive home insurance. Tiq Home Insurance by Etiqa offers assurance with flexible yet comprehensive coverage to homeowners, landlords and tenants. Available from S$28/year, you can widen your home protection beyond fire insurance. Learn more now!
[End]
Information is accurate as at 19 December 2020. This policy is underwritten by Etiqa Insurance Pte. Ltd. (Company Reg. No. 201331905K). Protected up to specified limits by SDIC.
Tiq by Etiqa Insurance Pte. Ltd.
A digital insurance channel that embraces changes to provide simple and convenient protection, Tiq's mission is to make insurance transparent and accessible, inspiring you today to be prepared for life's surprises and inevitabilities, while empowering you to "Live Unlimited" and take control of your tomorrow.
With a shared vision to change the paradigm of insurance and reshape customer experience, Etiqa created the strong foundation for Tiq. Because life never stops changing, Etiqa never stops progressing. A licensed life and general insurance company registered in the Republic of Singapore and regulated by the Monetary Authority of Singapore, Etiqa is governed by the Insurance Act and has been providing insurance solutions since 1961. It is 69% owned by Maybank, Southeast Asia's fourth largest banking group, with more than 22 million customers in 20 countries; and 31% owned by Ageas, an international insurance group with 33 million customers across 16 countries.
Discover the full range of Tiq online insurance plans here.