Millennials, referring to those aged between 21 to 38 years old, are often deemed as the 'strawberry generation' – easily bruised, spoiled, spendthrift and unable to withstand hardships. Yet, the millennials are in fact more strategic, frugal and far-sighted than how they are stereotypically perceived by others. A recent study found that millennials superseded Generation X or Gen X (between 38 to 53 years old) and Baby Boomer (between 54 to 72 years old) peers in terms of growing their savings, and they are more interested in investment and retirement planning.
Retirement Savings: Millennials vs Baby Boomers 
When making savings comparison between the older generation and millennials, which group has a larger pool of savings? Most people may think that it is the older generation. However, this could be a misconception, as millennials step up their saving game in this digital age. A study showed how millennials' average account balance increased 31% per annum to S$27,000. The below infographic may surprise you, as you notice the different ways in which millennials manage their finances versus the baby boomers.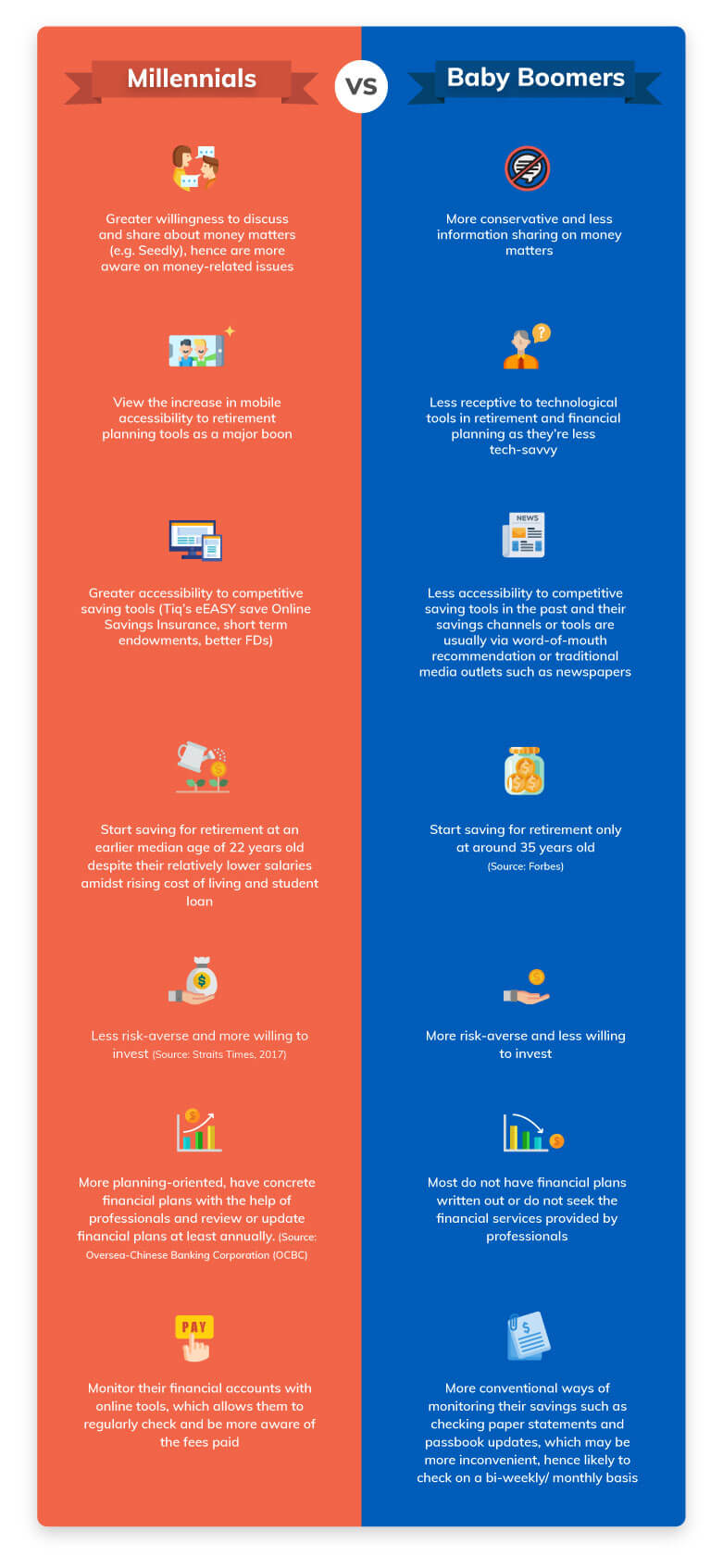 It's true that millennials sometimes spend a little too much on things that provide instant gratification, such as a cup of S$6 coffee from Starbucks, taking taxis or buying clothes that they don't necessarily need. Yet, impressively, millennials are more strategic and planning-oriented because they have their financial plans laid out in concrete terms. How can they save more even when they appear to be spending on what many baby boomers or others may see as unnecessary? These short-term spending habits may be an obstacle to their long-term saving plans, but millennials do set aside a considerable sum of money for retirement.
This spending habit is also not entirely true as 65% of millennials in Singapore are willing to cut back on their expenses in order to save money (Source: HSBC, 2017). According to Huffington Post, saving for retirement is done at a much earlier stage in life, at the median age of 22 years old for millennials, compared to the average baby boomer who started saving at 35 years old.
Additionally, millennials in Singapore have actively participated in initiatives to boost their financial literacy at a young age, learning more about ways to grow their savings. One such example would be the Citi-SMU Financial Literacy Programme, which was well-received by youth from tertiary institutes (Source: ChannelNewsAsia, 2018). This indicates that millennials are more prepared for what's to come in the future as they start saving early to generate a larger pool of savings.
Financial Situational Awareness
Millennials in Singapore have also noted on the possibility that they will have a longer life expectancy, and are required to support not only themselves but also their parents and family members for a longer time. Even if they've already secured life insurance plans to protect assets or provide for their loved ones in times of need, millennials do have other financial burdens such as their study loans or even home loans.
Tech-savvy Financial Tracking
This might be the underlying reason as to why millennials view the increase in mobile accessibility to retirement planning tools as a major boon. For example, with the help of apps like AARP Retirement Calculator, RetirePlan and sites such as Vanguard Retirement Nest Egg Calculator, one can tailor their retirement saving needs almost effortlessly.
With the popularity and rise of digital financial planning tools, millennials can tap on them to better assist themselves in their journey of saving. This includes expenses tracking apps like Seedly or Money Manager to keep track of day-to-day expenses, ensuring that one spends within his or her means.
Information Sharing Amongst Peers
Millennials are more open and willing to share on money matters with their peers, as compared to baby boomers. Talking out loud about something makes one more willing to commit to it, such as sticking to one's savings goal. This open discussion on savings and financial planning also allows them to share tips and information amongst themselves, such as the credit cards that has the most cashback. Closed groups on Facebook dedicated to the transfer of financial knowledge are brimming with millennials wanting to learn more about investment.
While these online communities are a good resource for financial knowledge, do exercise caution and be mindful of cyber threats. Otherwise, one may end up losing more than you gain.
Here's a smart saving tool
Saving hard is not an easy feat, but saving smart is. In recent years, the number of competitive saving tools has sprung up, making it much easier to grow one's savings, with higher guaranteed returns! The eEASY save series is one such smart saving tool for you to Tiq it easy. Being Singapore's first online insurance savings plan, eEASY save V offers an attractive guaranteed return of 2.68%* p.a. with upfront premium discount. For eEASY save pro, you can get up to 4.07%* of returns p.a.. *Terms apply.
This moves you a step closer to your early retirement goals and provides you with a wider room for flexibility, isn't it? Perhaps you'll be able to fulfill all your retirement travel bucket list sooner than you think!
[End]
Information is accurate as of 19 March 2020. This policy is underwritten by Etiqa Insurance Pte. Ltd. (Company Reg. No. 201331905K). Protected up to specified limits by SDIC. As buying a life insurance policy is a long-term commitment, an early termination of the policy usually involves high costs and the surrender value, if any, that is payable to you may be zero or less than the total premiums paid. You should seek advice from a financial adviser before deciding to purchase the policy. If you choose not to seek advice, you should consider if the policy is suitable for you.
Tiq by Etiqa Insurance Pte. Ltd.
A digital insurance channel that embraces changes to provide simple and convenient protection, Tiq's mission is to make insurance transparent and accessible, inspiring you today to be prepared for life's surprises and inevitabilities, while empowering you to "Live Unlimited" and take control of your tomorrow.
With a shared vision to change the paradigm of insurance and reshape customer experience, Etiqa created the strong foundation for Tiq. Because life never stops changing, Etiqa never stops progressing. A licensed life and general insurance company registered in the Republic of Singapore and regulated by the Monetary Authority of Singapore, Etiqa is governed by the Insurance Act and has been providing insurance solutions since 1961. It is 69% owned by Maybank, Southeast Asia's fourth largest banking group, with more than 22 million customers in 20 countries; and 31% owned by Ageas, an international insurance group with 33 million customers across 16 countries.
Discover the full range of Tiq online insurance plans here.