There's no place like home… and there's no home protection plan like Tiq Home Insurance, With features such as the Emergency Cash Allowance and Emergency Home Assistance (EHA), the making of Tiq Home Insurance can be traced back to a 2018 in-house consumer study on common household concerns with Etiqa's customers.
Insights
Through our study, it was found that awareness and understanding for home insurance is still low. Another key insight is that home protection is not a critical need or priority amongst home owners as there is a perception that are incidents are uncommon or will not happen to them.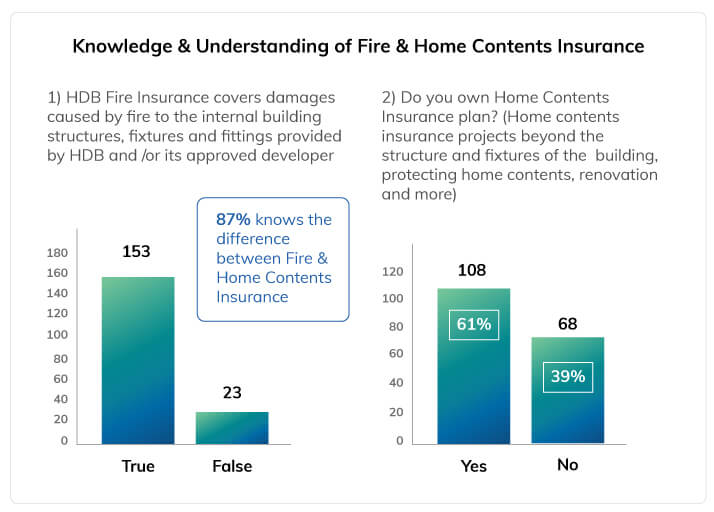 Of 176 respondents, 13% did not know the difference between Fire and Home Contents Insurance plans. Despite the majority having knowledge of the difference, 39% did not own a Home Contents Insurance plan. For those who own a Home Contents Insurance plan, about 22% of this group did not have a clear understanding on Home Contents.In addition, the top three benefits found to be essential to homeowners are: Building Protection, Emergency Home Assistance (EHA), and Renovation.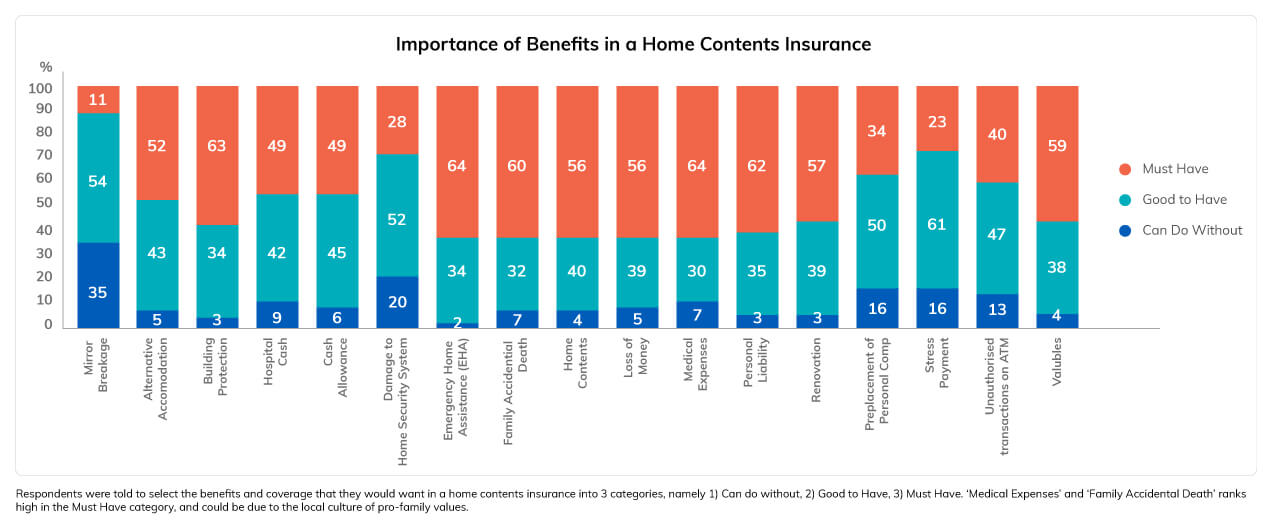 Respondents also indicated the following benefits to be a 'Must Have' in a home contents insurance: Flexibility to Choose Main Benefits, Flexibility to Choose Coverage, and EHA.
Read more: How to Choose a Suitable Home Insurance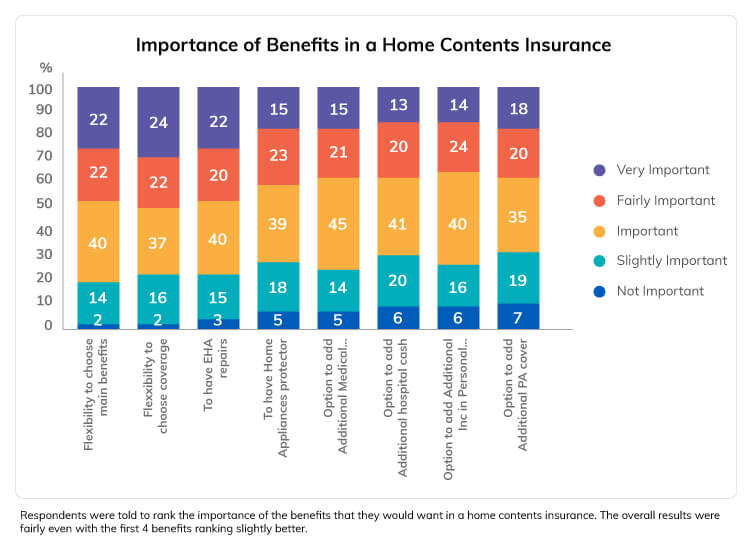 Following our market evaluation that suggests market gaps with these 'demands', Etiqa set about to create Tiq Home Insurance.
A Truly Customer-Centric Home Insurance for Singapore Residents
It took almost 180 days to create and launch Tiq Home Insurance, specifically designed to suit customers' preferences based on our study. Providing flexibility and choice, customers have the autonomy to protect their homes the way they prefer.
The three unique benefits of Tiq Home Insurance include:
1. Emergency Cash Allowance
In the market, there are policies that offer alternative accommodation, locks and keys, etc. as separate benefits with restrictive sub-limits for each. In addition, claims and payout tend to take some time as well. However, when your home is rendered uninhabitable, cash is king (more so than ever!).
Through our research, we found that having immediate cash in the aftermath of a disaster is of utmost importance to customers. Hence, we sought to ensure that we can quickly provide this within 24-hours. By consolidating the sub-limits for each item into the Emergency Cash Allowance, customers can now enjoy the autonomy of using cash allowance according to their different needs. This flexibility will be of better value to customers as compared to a fixed set of benefits that may not apply to all. So, here's what we offer in Tiq Home Insurance:
In the event of an insured peril that renders a home uninhabitable, one will receive an immediate cash allowance of up to S$5,000 within 24 hours. This amount can be used for alternative accommodation, food, or any other expenses as necessary. This practical feature also overcomes the potential prolonged wait for claims payout.
Customers would still be eligible to claim for their building, renovation and contents if other conditions are met. Watch what happens if you burn your house!
2. Emergency Home Assistance
Results from our consumer study also revealed that having a Home Contents Insurance is of low importance to some due to the belief that chances of a fire breakout in their homes are low. On the other hand, people find value in Emergency Home Assistance (EHA) that cover daily emergencies. Tiq Home Insurance was thus created to provide assistance for common home emergencies in Singapore.
Our 24-hour EHA service is end-to-end; from the moment you dial the assistance hotline, our customer care officers will be with you on the call together with the repairman to resolve the issue. This service covers four common emergencies namely, plumbing, electricity, locksmith and pest control, up to $200 per event and up to 4 events per year. Watch to find out what happens if your toilet pipe leak!
3. Flexibility and Choice
Tiq Home Insurance also provides various sum insured options for building, renovation and contents each, ranging from 1, 3 or 5 years. As flexibility was identified as an important aspect of home insurance, we wanted to give more choices to the coverage period and sum insured.
Not many insurers offer the flexibility to adjust each main benefit in a home insurance plan. Generally, a higher coverage means that all benefits will be adjusted higher as a whole, and the premium amount will increase accordingly. Everyone has different needs in terms of building, renovation and content. Thus, the ability to "flex" their sum insured individually allows customers to pay only for what they need, and nothing more. Here's a video that explains more about the flexibility of Tiq Home Insurance. Watch now!
Tiq Home Insurance was launched in June 2018. True to its nature of being customer-centric, the comprehensive home insurance plan has recently been enhanced with new benefits at no extra cost. These new benefits were added following the feedback of customers.
Emergency Cash Allowance –Included partial payout of emergency cash, whereby as long as one's house is at least 50% uninhabitable as deemed by the loss assessor, customers can receive $2,500. The original $5,000 is still applicable if the whole house is uninhabitable. The definition from only fire has been expanded to include all perils.
Professional Fees – be covered up to 10% of the sum insured for Building and/or Renovations
Accidental breakage of mirrors and fixed glass – Coverage of up to $1,000
Money – Be covered up to $750 in the event of stolen money at home
Think you know Tiq Home Insurance? Here are some fun facts!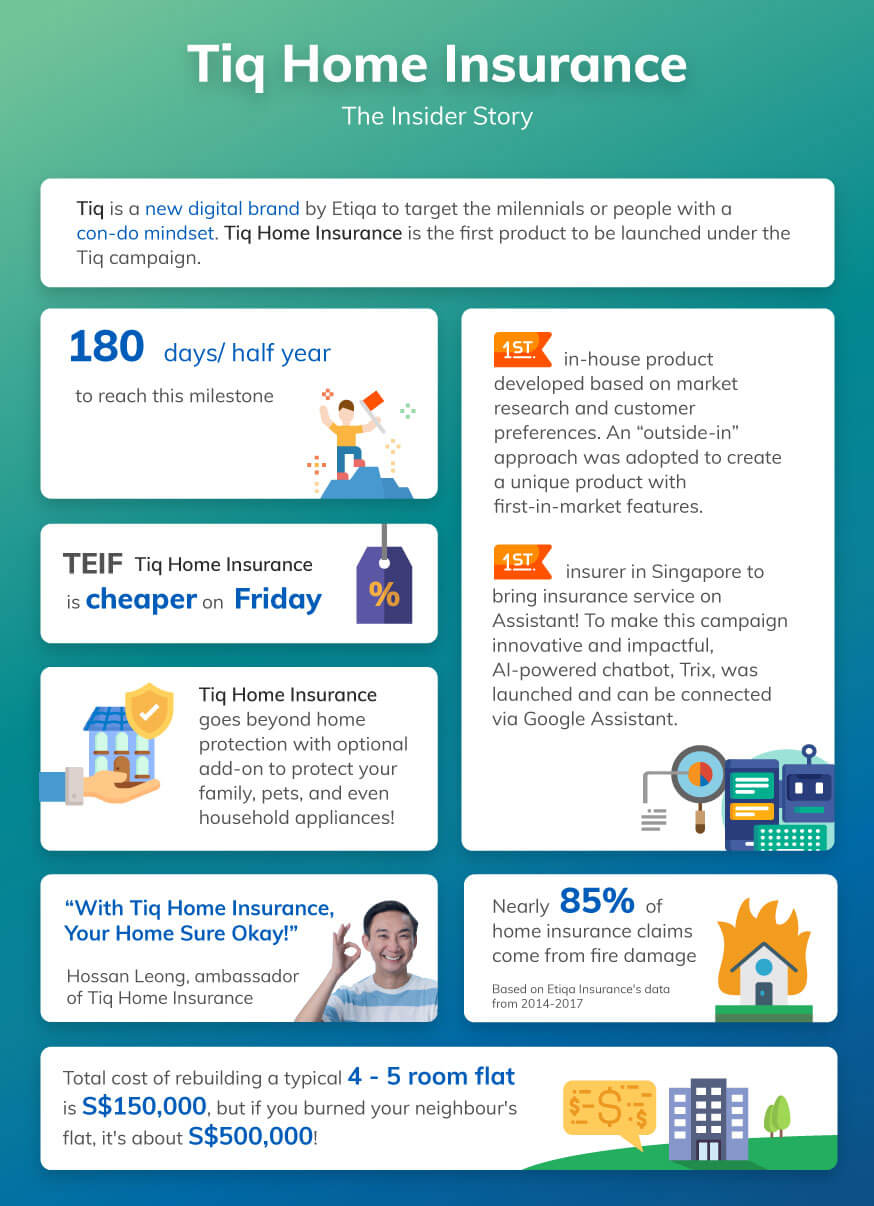 From as low as $28 per year, Tiq Home Insurance by Etiqa gives you immediate assistance when you need it. Get Tiq Home Insurance and your home sure okay! Double confirm!