Mid-Autumn is the second most important festival after Chinese New Year in the Sinic civilisation. It is celebrated widely in many East Asian countries and parts of Southeast Asia, including Singapore.
On this special day, which falls on the 15th day of the eighth lunar month, the moon is believed to be the fullest and brightest. This year, Mid-Autumn Festival falls on Thursday, 4th October 2020, so mark your calendar for a gathering with loved ones. (But don't forget to keep it to 5 visitors if you're celebrating at home).
Reunions are never complete without food, and mooncakes are a must-have on this occasion, usually enjoyed with tea! What's your favourite type of mooncake and what drinks do you usually pair it with? Read on to find our best pairing of mooncakes and tea:
Family Classic: Shanghai Mooncakes with Rooibos Tea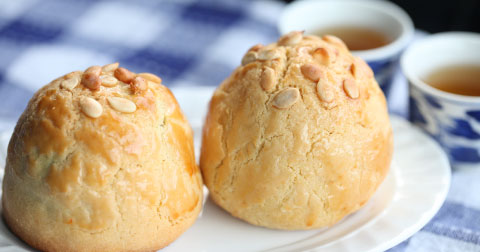 Before immersing in the beautiful moonlight with your loved ones, don't forget to be appreciaTiq of your elders. How about treating them to delicious mooncakes, as an extension of your love and appreciation for them?
Take this chance to offer them the Shanghai Mooncake, which quintessentially looks like a full moon. Despite not actually originating from Shanghai, it is a traditional favourite filled with lotus paste and a salted egg yolk centre, enclosed by a buttery and flaky pastry crust.
Pair the Shanghai Mooncake with rooibos tea, a nutritious herbal-infused and caffeine-free brew that complements the rich flavour of the mooncake. Likewise, neutral teas such as oolong, pu-erh and tie guan yin are lovely accompaniments to such mooncakes, which contain lotus paste. We guarantee grandparents, uncles and aunties will love these combinations!
'He devotes his life to looking after the home. His mate always follows when the master goes out. A gentleman sees him and goes away. A villain sees him and it spells bad luck. Who is he?' (Read to the end to find out the answer!)
Other than admiring the moon, why not spend some time unwinding and bonding with your family and friends at the comfort of your homes by guessing Lantern Riddles? This is another fun Mid-Autumn custom that completes your reunion.
Kids' Delight: Snowskin Mooncake with Darjeeling Tea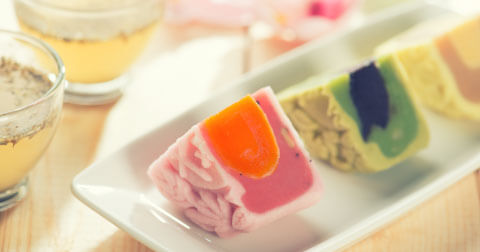 One fond childhood memory of the Mid-Autumn Festival would be running around with lit pattern lanterns and lighting up those fiery yet dazzling sparklers, which look very much like fireworks on display against the night sky.
After all that sweat from playing, serve up a slice of chilled Snowskin Mooncake as dessert for the little ones with sweet tooth. This goes really well with a light and refreshing cup of Darjeeling tea.
For a caffeine-free option, the peppermint tea comes with a tingling aftertaste that could be a good alternative. The kids will surely ask for more! Meanwhile, keep them entertained by recounting the exhilarating tales of the festival about Hou-Yi and Chang-E and the Rabbit on the Moon.
Amidst lit candles and sparklers' joy, don't forget your home insurance for better peace of mind. The comprehensive Tiq Home Insurance by Etiqa ensures that you and your loved ones are safe and cared for.
For The 'Atas': Champagne Truffle Snow-Skin Mooncake with Iced Lemon Tea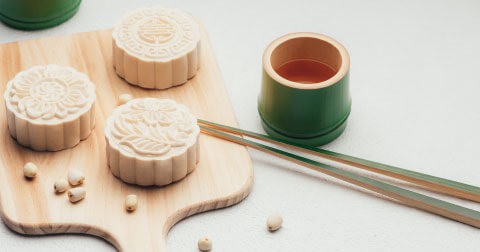 This rendition of the Snow-Skin Mooncake is a unique yet increasingly popular favourite amongst young adults, and those that relish the finer things in life. The Champagne Truffle Snow-Skin Mooncake, which typically contains alcohol, has a bittersweet aftertaste.
We suggest pairing this luxurious mooncake with something invigorating and thirst-quenching such as iced lemon tea! The ones from Raffles Hotel are our go-to Champagne Truffle Snow-Skin Mooncakes every year, while those from Grand Hyatt Singapore look equally tempting. Champagne Truffle Snow-Skin Mooncakes are also great for parties and get-togethers with friends!
Our top picks for mooncake and tea pairing:
| | |
| --- | --- |
| Mooncake | Suggested Tea |
| Shanghai Mooncake | Rooibos Tea |
| Snowskin Mooncake | Darjeeling Tea |
| Champagne Truffle Snow-Skin Mooncake | Iced Lemon Tea |
 "You can have it all. Just not all at once." ~ Oprah Winfrey
What an apt quote, Oprah! Mid-Autumn Festival gives us a rare opportunity to gather with our family and friends. These moments where we spend quality time with our loved ones – they're definitely the most precious, especially amid the current pandemic crisis. Don't forget to keep social distancing measures in mind though.
We may not always be able to have it all at once, but we can protect our dreams, loved ones and life with proper planning. While selecting your choice mooncakes and tea to go with, take time to consider about what life has in store for you too.
We know you've been waiting for the answer to the riddle – a lock. This is because when a gentleman sees it, he knows the master is away and he will leave and come back later. When a villain sees it, he will pry it open and break into the house. Once again, Happy Mid-Autumn Festival!
[End]
Information is accurate as at 10 September 2020. This policy is underwritten by Etiqa Insurance Pte. Ltd. (Company Reg. No. 201331905K). Protected up to specified limits by SDIC.
As buying a life insurance policy is a long-term commitment, an early termination of the policy usually involves high costs and the surrender value, if any, that is payable to you may be zero or less than the total premiums paid. You should seek advice from a financial adviser before deciding to purchase the policy. If you choose not to seek advice, you should consider if the policy is suitable for you. This advertisement has not been reviewed by the Monetary Authority of Singapore.
Tiq by Etiqa Insurance Pte. Ltd.
A digital insurance channel that embraces changes to provide simple and convenient protection, Tiq's mission is to make insurance transparent and accessible, inspiring you today to be prepared for life's surprises and inevitabilities, while empowering you to "Live Unlimited" and take control of your tomorrow.
With a shared vision to change the paradigm of insurance and reshape customer experience, Etiqa created the strong foundation for Tiq. Because life never stops changing, Etiqa never stops progressing. A licensed life and general insurance company registered in the Republic of Singapore and regulated by the Monetary Authority of Singapore, Etiqa is governed by the Insurance Act and has been providing insurance solutions since 1961. It is 69% owned by Maybank, Southeast Asia's fourth largest banking group, with more than 22 million customers in 20 countries; and 31% owned by Ageas, an international insurance group with 33 million customers across 16 countries.
Discover the full range of Tiq online insurance plans here.