In pre-COVID-19 days, you can save money at petrol stations across the Causeway, but that's hardly possible now and in the near future. It's more important than ever to make the most out of a full tank. Here we give you 7 easy steps you can take to increase your petrol mileage to drive further.
We have our own oil refineries in Singapore. However, taxes are imposed on crude oil entering the country, which is determined by the price per barrel. Add in refining costs, lease for petrol kiosks, advertising campaigns by oil companies, and the fact that petroleum is a non-renewable energy source, fuel consumption will never be cheap. Recession aside, saving is a virtue after all.
#1 Don't put the pedal to the metal
Do take it easy when accelerating
We all grew up watching (and still watching) the Fast and Furious movies. The idea of going from 0 to 100km/h in 5 seconds seems exhilarating, but not for the fuel. The faster you accelerate, the more fuel you burn to start moving the car. This also goes for the brake pedal. Sudden stops will require you to accelerate fast again to keep up the momentum while driving. So go easy on the pedals and always keep a safe distance from the car in front of you. We're here to drive further, not faster.
#TiqOurWord Imagine an egg between your foot and the pedal. Try to accelerate slowly and gradually without breaking the egg. This will train your body to not make sudden stop or acceleration that may easily result in a car accident.
#2 Don't carry unnecessary things
Do remove access weight from the car
There's a reason why rally cars have their air-conditioners, radio, speakers and back seats removed. This is to reduce unnecessary weight and prevent drag. Reducing drag can help the car go faster and further with more efficient petrol mileage. You don't have to go to that extreme though. Emptying the car boot of unnecessary stuff such as luggage bags, toys, gym equipment, magazines or spare tools that you are not currently using will help reduce the car weight and fuel consumption.
Did you know? Private Car Insurance from Tiq by Etiqa offers 3 levels of cover that includes island-wide authorised workshops with 9 months repair warranty​! Learn more here
#3 Don't be such a drag
Do reduce wind drag
Driving with the windows down and installing roof racks will create wind resistance (also known as drag) around the car, which forces the car's engine to burn more fuel to overcome the resistance. So keep the windows shut and remove the roof racks when not in use. Also, installing a super cool spoiler on your car will not only make it look amazing (like in Fast and Furious), but it can help you save money, just like a reliable car insurance. A spoiler makes the car more aerodynamic, reduces drag, and thus, increases fuel efficiency.
#4 Don't let your tyres deflate
Do maintain the tyres at the correct recommended pressure
Your car manufacturer put a lot into R&D in order to determine the most optimum tyre pressure specifically for your car. This is for your own comfort, and also for petrol mileage. Deflated tyres cause friction on the road and slow your car down. Not to mention, tyres that are inflated wrongly will wear out easily and may even explode (touchwood!) when driven fast.
#5 Don't be idle
Do turn off your engine while you are waiting
An engine is always burning fuel. As a rule of thumb, a car consumes about half a gallon of fuel an hour by just being idle. Modern car engine stops burning fuel when you take your foot off the accelerator or when the gear is in Neutral. Either way, turn off that engine when not in use so you can drive further later on.
#6 Don't be lazy
Do service your car regularly
Your car is an intricate machine of oil, metal and gears. It needs regular check-ups in order to perform smoothly. Checking the oil level and changing your oil every once in a while will do wonders to the car's performance. Also, regularly changing the air filter will cause the air-conditioner to work more efficiently. Air-conditioners rely on engine power to operate. Hence, dirty filter means an overworked air-conditioner which requires more engine power and can cause more fuel consumption.
#7 Don't take the longest path
Do plan your trips ahead and always use GPS
Have you ever went to the grocery shop, came back home, and then realised you have to go out again because you haven't picked up your laundry? Several short trips can cause 2 times more petrol consumption which is needed during initial combustion to get the engine started. Why not plan your route for the day and have a list of things that need to be done and places that need visiting? Also, GPS apps like Waze and Google Maps always give you the shortest distance to your destination. Following a GPS route will not only help you save time, but also save money on fuel.
Protect your car… at all cost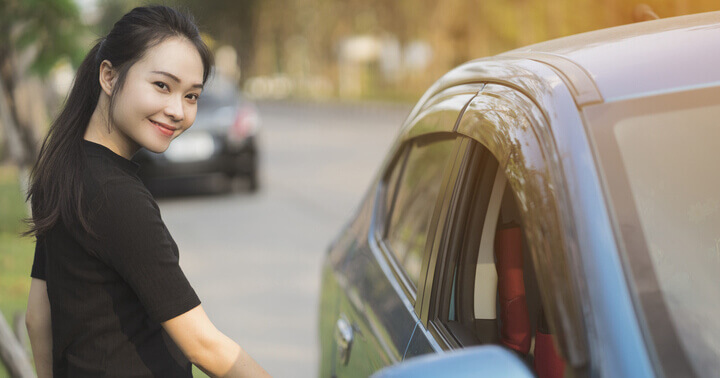 Fuel economy is not just about how to save money on petrol mileage, but also understanding how your car works and what can be done for a smoother drive. You will also protect your car from prolonged damages.
Check out other ways you can protect your car and yourself with our Private Car Insurance such as 9-month repair warranty, On-the-Go windscreen servicing benefits and more! Remember, when your car is under pressure, more work is needed by the engine to move the car, which means more fuel is being burned. Save money and drive further with Tiq by Etiqa Insurance.
Private Car Insurance at Tiq by Etiqa has some new optional add-on features that you may be interested in! Learn more here.
[End]
Information is accurate as at 8 September 2020. This policy is underwritten by Etiqa Insurance Pte. Ltd. (Company Reg. No. 201331905K). Protected up to specified limits by SDIC.
Tiq by Etiqa Insurance Pte. Ltd.
A digital insurance channel that embraces changes to provide simple and convenient protection, Tiq's mission is to make insurance transparent and accessible, inspiring you today to be prepared for life's surprises and inevitabilities, while empowering you to "Live Unlimited" and take control of your tomorrow.
With a shared vision to change the paradigm of insurance and reshape customer experience, Etiqa created the strong foundation for Tiq. Because life never stops changing, Etiqa never stops progressing. A licensed life and general insurance company registered in the Republic of Singapore and regulated by the Monetary Authority of Singapore, Etiqa is governed by the Insurance Act and has been providing insurance solutions since 1961. It is 69% owned by Maybank, Southeast Asia's fourth largest banking group, with more than 22 million customers in 20 countries; and 31% owned by Ageas, an international insurance group with 33 million customers across 16 countries.
Discover the full range of Tiq online insurance plans here.