Loves travelling but hate packing? We feel you! So here's an easy travel packing guide with useful tips to make packing for your next trip a fun, painless process. Don't be caught by unexpected weather change and never forget an essential item again. Read on!
1. Get organised
Studies have shown that people perform better when they have written down what they need to do. To get you started, a packing list is essential. Some relevant questions to keep in mind would be:
What's the weather like at your intended travel destination?
How long is the duration of the trip?
Are you packing for yourself or the family including young children?
Are you doing some activities that require special clothing? E.g. a swimming suit
Do you have carry-on luggage, check-in luggage or both?
If these sound like too much hassle, consider the intuitive free travel packing app, PackPoint, to help you create custom packing list based on your gender, destination, trip duration, date of travel and type of travel with activities to choose from! It's available for both iOS and Android devices.
#TiqOurWord Don't forget to make provision for an emergency pack! It can be a lifesaver in the event of an unexpected overseas disaster.
2. 'Marie Kondo' your luggage items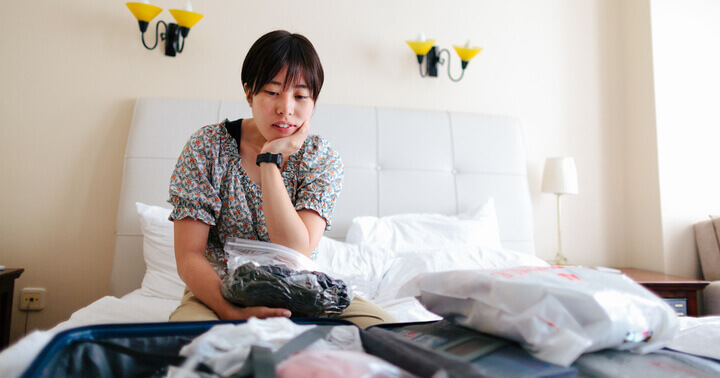 Forget about packing only the things you love when you are preparing for your trip. Think travel essentials and minimal when you pack. Knowing your baggage limit and policy will certainly help!
Gather everything on your list and review if you really need it. Water purification tablets may not hold the same status as a sexy pair of heels or classic chinos but they can save you from potential bowel disasters.
According to Marie Kondo, you should keep at least 10% of your luggage empty so that you have room for new treasures and souvenirs.
#TiqOurWord Depending on your destination, it may be worthwhile to purchase your toiletries upon arrival to save on luggage. Travel savvy Singaporeans, we know you have been doing this in Malaysia and Thailand! 
3. Fold or roll?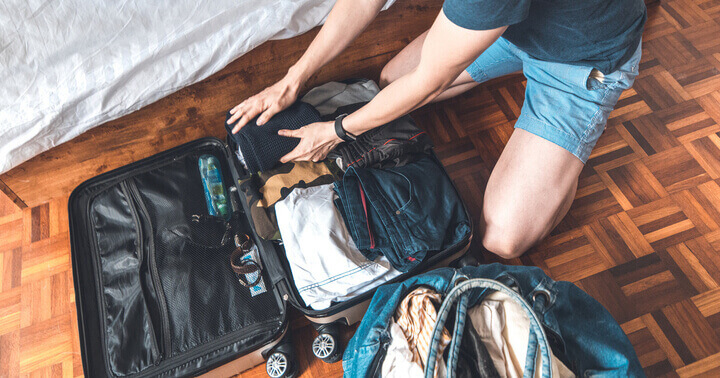 Both! We recommend a combination of folding, rolling and using packing cubes! Folding can help you to prevent wrinkles in the likes of button-downs, formal dresses and dress pants while rolling can help to save space and make the most of gaps in your luggage that folding can leave.
Not so long ago, we used to pack our clothes and essentials in plastic bags before packing cubes come along. Also known as compression cubes, packing cubes come in various sizes, different materials and designs to help you stay organised (and some say save space!) with any kind of luggage – be it a backpack, carry-on duffel bag or check-in luggage. If you have bulky clothing for cold destinations, use a vacuum pack.
#TiqOurWord Make use of what you already have on hand. Your lovely evening pouch can be used to keep your valuables and accessories during travel, and empty out to be used when you are going for a nice dinner upon arrival.
4. Essentials in your carry-on
Assuming that you have a checked baggage, how do you decide what to check-in and what to carry in your hand luggage? Here's our idea of essentials: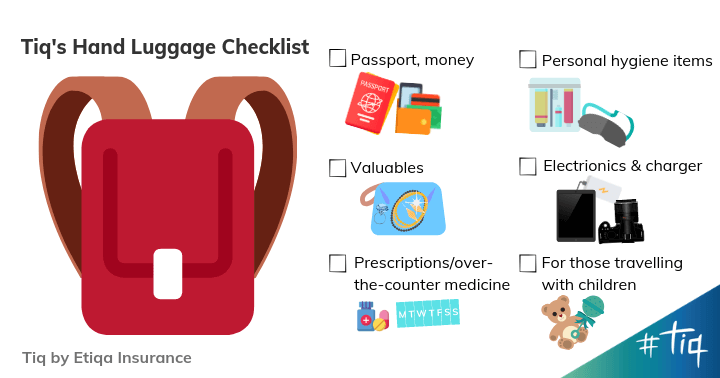 Forget about packing pepper spray or pocket knife in your carry-on bag! If you really want to bring such travel security items along, do check if they fall under prohibited items at your intended destination. Further considerations include:
Prohibited and controlled goods at your intended destination, e.g. you are not allowed to bring fake designer goods into Australia.
Weight limit, especially for budget carriers
Length of travel journey; is it a long-haul flight? Are you flying direct or do you have to transit? As there's a higher chance of delayed or lost baggage for indirect or long-haul flights, do pack an additional set of clothing just in case.
5. Think travel security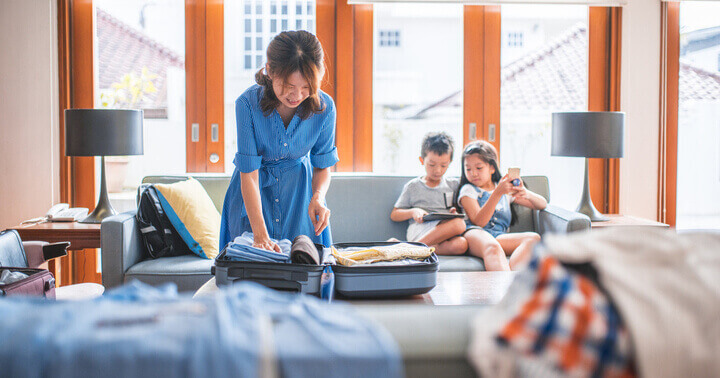 Be it a business or leisure trip, safety is always a priority and this is something that you should not neglect when packing for your trip. Keep your belongings safe by stashing it close to you, and out of plain view with cool accessories such as the silk undercover bra stash and all terrain money belt that looks just like a belt! For added luggage protection, attach a TSA approved lock for your check-in luggage.
#TiqOurWord Don't forget your travel insurance upon booking for your trip!
6. Prepare your home
All packed and set for your trip? Don't forget to get your home in order and settle the necessary such as making alternative arrangements for your pets and/or plants, unplugging appliances and locking the doors and windows. If you have an existing comprehensive home insurance, do check and ensure that it is still in place.
Did you know that Tiq Travel Insurance by Etiqa offers optional add-ons such as Pet Hotel Cover? In the event that you are unable to return on time to retrieve your pet(s), you can get reimbursement for the extended hours at the pet hotel. Learn more here.
Going on a holiday is fun, but travel packing, and unpacking for the trip is not… … unless we change our mindset and make it a fun process. We hope this simple guide will be useful for all your future trips. Happy travelling and stay safe!
[End]
Information is accurate as at 06 August 2019. Protected up to specified limits by SDIC.  This policy is underwritten by Etiqa Insurance Pte. Ltd. (Company Reg. No. 201331905K).
Tiq by Etiqa Insurance Pte. Ltd.
A digital insurance channel that embraces changes to provide simple and convenient protection, Tiq's mission is to make insurance transparent and accessible, inspiring you today to be prepared for life's surprises and inevitabilities, while empowering you to "Live Unlimited" and take control of your tomorrow.
With a shared vision to change the paradigm of insurance and reshape customer experience, Etiqa created the strong foundation for Tiq. Because life never stops changing, Etiqa never stops progressing. A licensed life and general insurance company registered in the Republic of Singapore and regulated by the Monetary Authority of Singapore, Etiqa is governed by the Insurance Act and has been providing insurance solutions since 1961. It is 69% owned by Maybank, Southeast Asia's fourth largest banking group, with more than 22 million customers in 20 countries; and 31% owned by Ageas, an international insurance group with 33 million customers across 16 countries.
Discover the full range of Tiq online insurance plans here