Contrary to common misconceptions, a comprehensive home insurance does not only cover major damages to your home in the case of a fire or flood. Most insurers provide value-added services to home owners, and one important benefit that you should be looking out for is the Emergency Home Assistance (EHA).
At Tiq by Etiqa Insurance, we provide around-the-clock home assistance services to homeowners or tenants who face any of these four household inconveniences: plumbing, electrical, locksmith, or pest issues.
 "It won't happen to me lah!"
Before you fall prey to the optimism bias, here are some common not-so-pleasant household issues that homeowner face from time to time.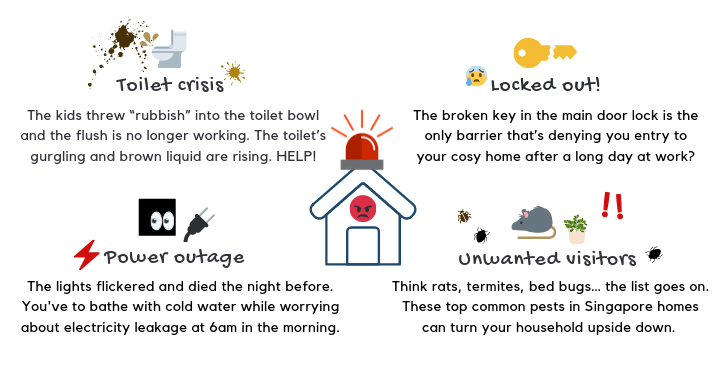 What EHA covers
Issues relating to plumbing, electrical, locksmith and pests are covered under Tiq Home Insurance's EHA. This benefit is complimentary for plans from 3 to 5 years period. Policyholders will be covered up to S$200 per event, and up to 4 events per year.
How does it work?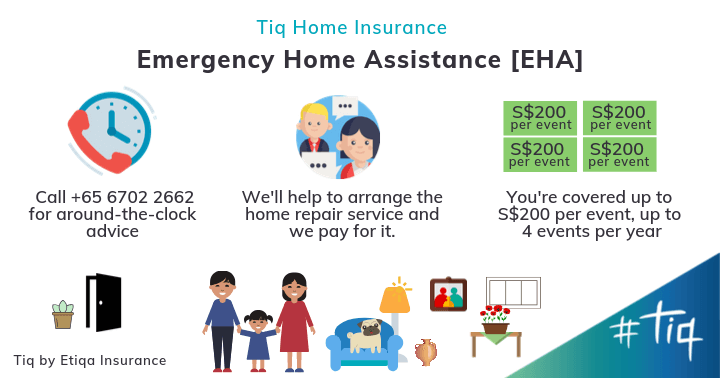 In the event that you need assistance, just call our EHA hotline at +65 6702 2662 for advice. We will help to make arrangement to resolve your issue, and we will pay for it. Sounds too good to be true? Don't take our word for it. Read on to learn the experiences of those who benefitted from EHA!
Here's what others said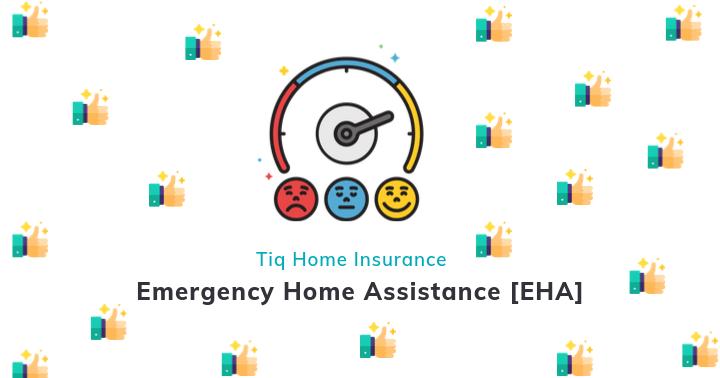 "Once I relayed my issue to the customer service rep, I was connected on the phone to a plumber. An appointment was scheduled on the same evening. It was smooth and efficient." – Rachel Koh
"Electrical water heater didn't work. Electrician fixed the wiring." – Vu Tran
"It was not very difficult. Staff was friendly and helped with the engagement of the pest control" – Desmond Yew
"Water pipe burst and cause leakage. The man come immediately on that day to repair. Good service with no charge." – Sally Tan
"Very fast and efficient, prompt and good service too." – Wendy Lim
Be mindful of wear and tear
By practising extra caution at home, you can reduce the risks of accidents. However, wear and tear is a natural process that's kind of hard to contain even if you have good maintenance practices in place.
As more people continue to work from home in the new normal, it's worth taking the extra considerations to protect your home and ensure that all things run smoothly. With Tiq Home Insurance and 24/7 emergency home assistance, your home sure okay, double confirm!
[End]
Information is accurate as at 23 August 2020. This policy is underwritten by Etiqa Insurance Pte. Ltd. (Company Reg. No. 201331905K). Protected up to specified limits by SDIC.
Tiq by Etiqa Insurance Pte. Ltd.
A digital insurance channel that embraces changes to provide simple and convenient protection, Tiq's mission is to make insurance transparent and accessible, inspiring you today to be prepared for life's surprises and inevitabilities, while empowering you to "Live Unlimited" and take control of your tomorrow.
With a shared vision to change the paradigm of insurance and reshape customer experience, Etiqa created the strong foundation for Tiq. Because life never stops changing, Etiqa never stops progressing. A licensed life and general insurance company registered in the Republic of Singapore and regulated by the Monetary Authority of Singapore, Etiqa is governed by the Insurance Act and has been providing insurance solutions since 1961. It is 69% owned by Maybank, Southeast Asia's fourth largest banking group, with more than 22 million customers in 20 countries; and 31% owned by Ageas, an international insurance group with 33 million customers across 16 countries.
Discover the full range of Tiq online insurance plans here.