Mention the word "cyber security" and most of you would probably "switched off" automatically, but it's not as complicated as you think.
As Singapore embarks on our Smart Nation initiatives, it is unavoidable to adopt digital and smart technologies. Not for you and me, not for our ageing parents, and certainly not for our growing kids. But did you know?  Most of our not-so-tech-savvy elders have already taught us the basics of how to stay safe online. Not convinced? Read on!
Don't talk to strangers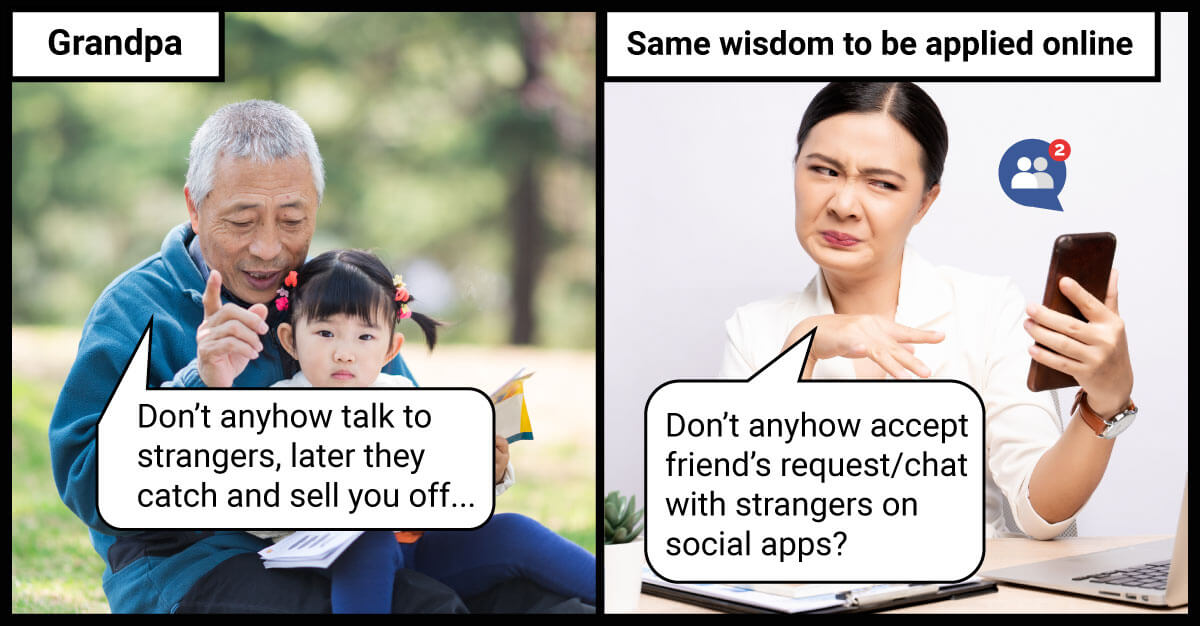 When you are growing up, did your grandparents or parents "threatened" you not to talk to strangers, otherwise you might be kidnapped and sold off to a faraway land? Well, it will certainly do us good to remember this piece of golden advice when we are going online.
Do not randomly accept friend's request from strangers and don't reveal confidential information online, even if it's to your friend. Haven't you heard about scammers who hijacked social accounts, impersonating a friend and cheating people? And then, there are Internet love scams. In Singapore, 280 cases has been reported to date, and $12,000,000 worth of money lost. You definitely don't need such friends.
Don't bring home the stray cat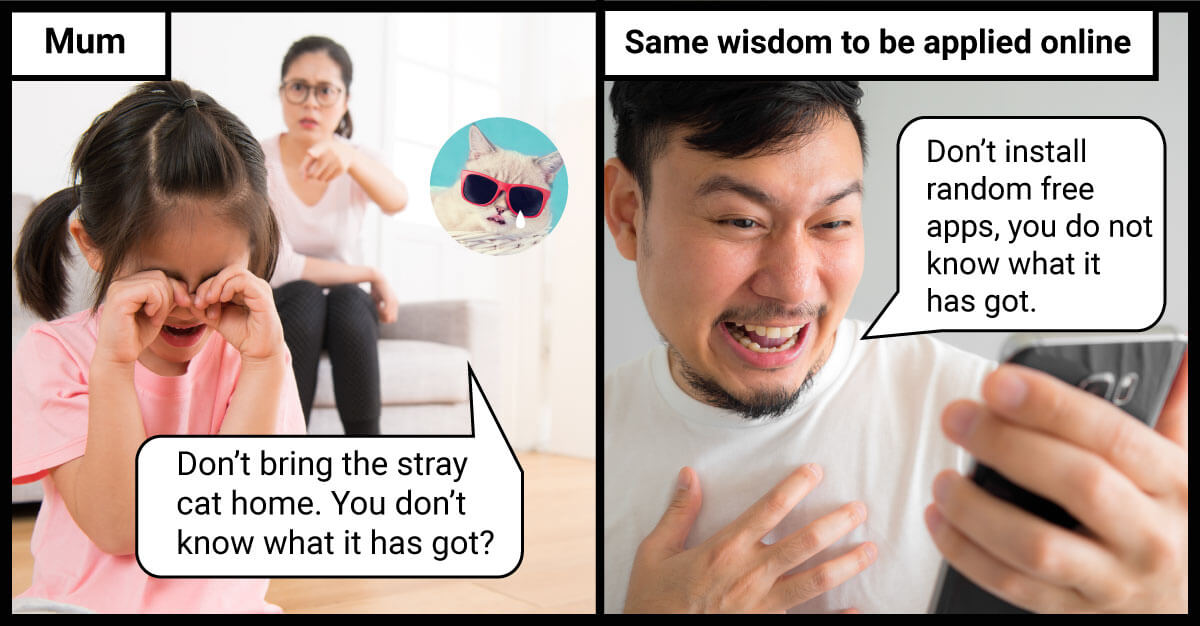 Not sure about you, but my mum is afraid of cats, and she gave the "reason" that the stray cat has been staying outdoors so it might be carrying some form of bacteria, germs and who knows what. It makes good sense to visit a vet before bringing the neighbourhood cat home.
This got me thinking while I was contemplating whether to download an application (app) that I do not know much about. The thing is, you never know what you may be getting when you install a free app of an unknown source.
Some apps may be collecting and selling your personal information without your notice. Poorly maintained apps created by enthusiastic individual developers or small companies can also be easily hacked or bought by hackers, exposing you to malware or loss of personal data. So, think twice before installing random free apps.
Do not show off your valuables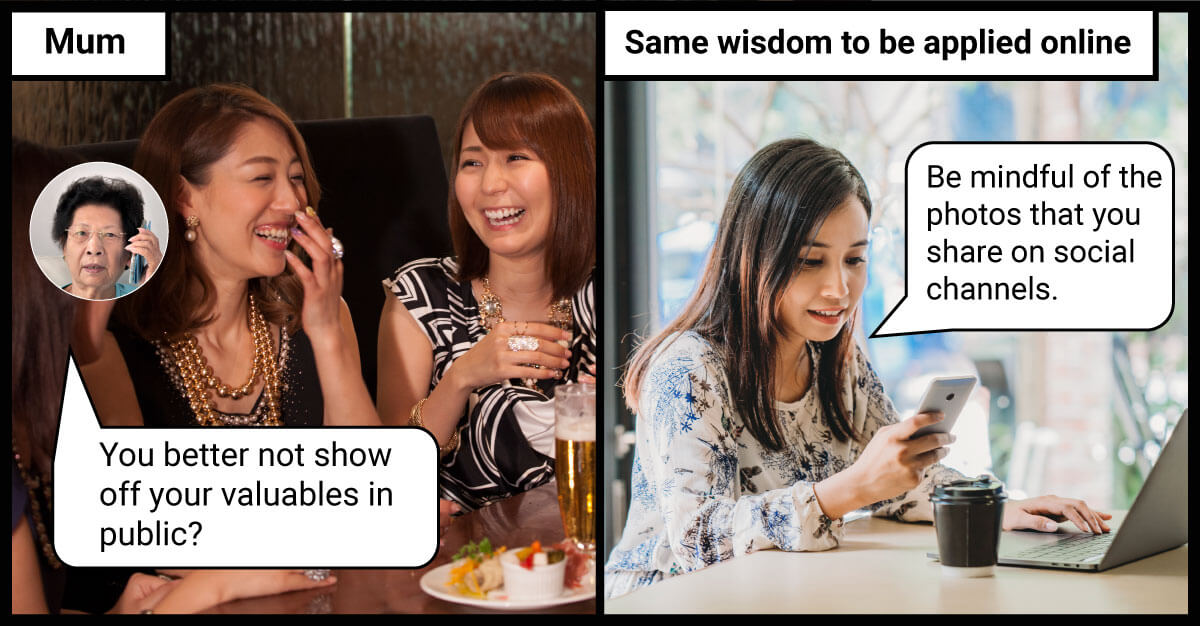 Do you hide your valuables at home or in the bank vault? You may have gotten good advice from your elders to keep a low profile and avoid flaunting your valuables. After all, you never know who may be watching you and waiting for the right opportunity to rob or steal your valuables.
The same applies for when you are in the World Wide Web. Excited to share pictures of your new BMW M1 or that Rolex watch that your boyfriend just bought for you? Think twice. How about sharing pictures of your children on a public social account? You may be putting them at risk.
A child or teenager's digital footprint now starts before birth, and this means your child could be at risk for identity theft, humiliation, various privacy violations, etc. The next time you plan to upload a picture that includes family and friends, consider carefully and remember to ask for their permission.
Don't accept sweets from strangers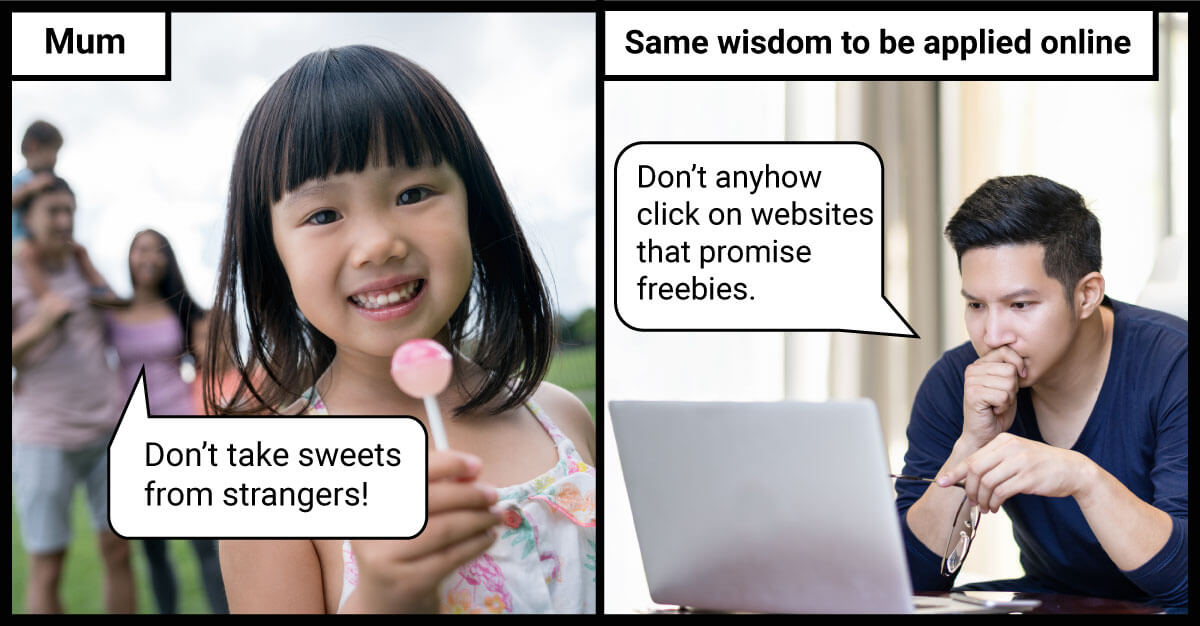 Freebies on website are like sweets given from strangers. You never know what the catch is until it's too late. So, as mum taught us, "Don't accept sweets from strangers", you should also refrain from clicking on links that promise you free stuff. If you have to provide your personal details before you can download a free e-book or to get rewards, do ensure that the website is from a trusted source before proceeding.
Don't share your full address for no good reason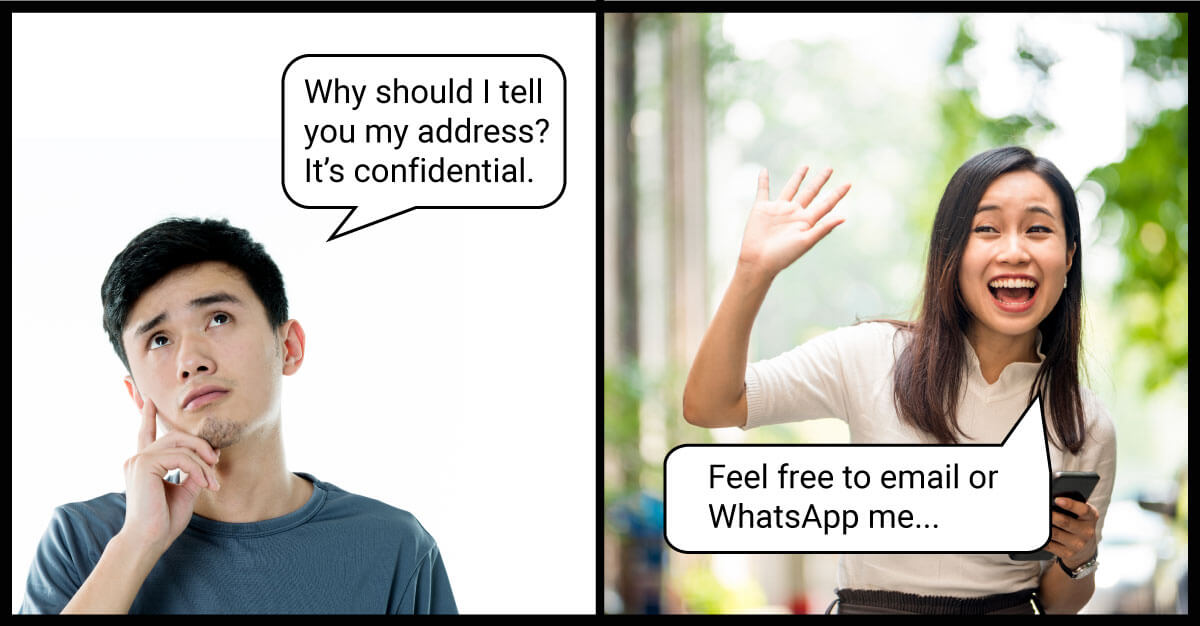 Most of us are wary about sharing our full address, unless it is for a legit reason such as hosting family and friends or anticipating delivery for an online purchase. However, the same cautious attitude does not seem to apply to email address and mobile number. Well, do not be too quick to share your contact details as these personal information are your assets, and could be used against you in cyber crimes.
Lock the door when nobody is at home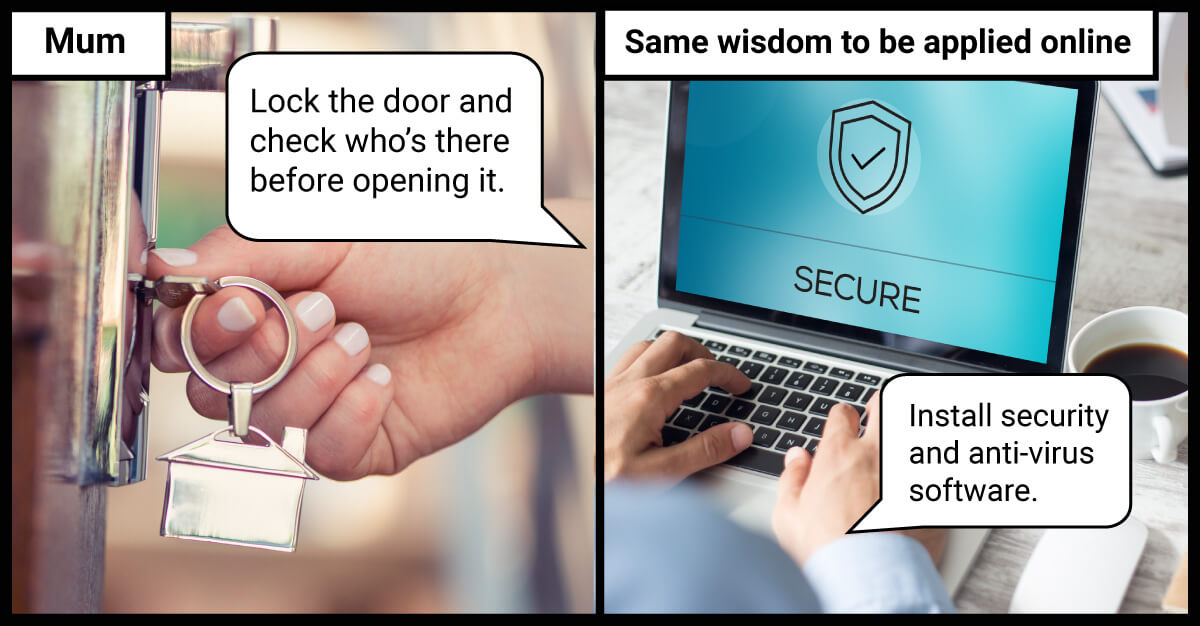 A home is a place where we can feel safe, and we do so by taking good care of it. When leaving our home, we would lock the door to ensure that nobody breaks in while we are away. Grandpa used to say, "Check who's at the door before opening it, and lock the door if you are the last one out."
Applying the same logic to surfing in the virtual world, it is important to keep security in mind and avoid leaving our virtual doors open. Prior to clicking on a link, especially from emails, do ensure that it is from a trusted source.
You should also always log out from your account on websites that have your confidential data. Just like CCTV and door locks for home, there are security and anti-virus software that you can install to stay safe online.
Simple practices to stay safe online
Simple advice from our elders during our growing up years can be easily applied online so that we stay safe. Another way to protect yourself and your household members is to get Personal Cyber Insurance at Tiq by Etiqa, which offers coverage of up to S$25,000 for a year. Learn more here!
[End]
Information is accurate as at 12 July 2019. This policy is underwritten by Etiqa Insurance Pte. Ltd. (Company Reg. No. 201331905K).
TIQ by Etiqa Insurance Pte. Ltd.
A digital insurance channel that embraces changes to provide simple and convenient protection, TIQ's mission is to make insurance transparent and accessible, inspiring you today to be prepared for life's surprises and inevitabilities, while empowering you to "Live Unlimited" and take control of your tomorrow.
With a shared vision to change the paradigm of insurance and reshape customer experience, Etiqa created the strong foundation for TIQ. Because life never stops changing, Etiqa never stops progressing. A licensed life and general insurance company registered in the Republic of Singapore and regulated by the Monetary Authority of Singapore, Etiqa is governed by the Insurance Act and has been providing insurance solutions since 1961. It is 69% owned by Maybank, Southeast Asia's fourth largest banking group, with more than 22 million customers in 20 countries; and 31% owned by Ageas, an international insurance group with 33 million customers across 16 countries.
Discover the full range of Tiq online insurance plans here.