Due to the COVID-19 pandemic, Singaporeans are encouraged by the Monetary Authority of Singapore (MAS) to opt for e-hongbao instead of the physical red packets. If you are thinking of going digital this year, here are some notes to take when it comes to giving and receiving e-hongbao. Read on!
Here's a little trivia! Did you know that the e-hongbao trend started in China back in 2014 by a popular Chinese messaging app, where billions of electronic red envelopes were exchanged during the Lunar New Year and was promoted in China's most-watched television show – the Spring Festival Gala?
e-hongbao is safe and easy to keep track
With e-hongbao, there will be lesser risk of virus transmissions as they say that money is one of the dirtiest things in the world! While many people tend to give out crisp new notes in the traditional hongbao, some of you may not have the time to go to the bank or be lucky enough to be able to secure an appointment to exchange new notes for hongbao and may resort to using the old notes you have in your wallet!
Speaking of wallet, it is a lot easier to keep track of your overall budget and who you have given, compared to the traditional way. Also saves the embarrassment of missing out on giving out red packets to some people!
e-hongbao is really convenient!
With e-hongbao, there is less hassle of having to make an appointment ahead to pre-order new notes for red packets as there are physical distancing measures with a limit of customers in banks at a time – unless you are willing to wait in a long queue.
Wondering how do you send e-hongbao? Well, you basically scan and load a value onto a QR gift card provided by your bank and it's ready to be gifted! Alternatively, you can also do fund transfers via PayNow.
If you're an e-hongbao recipient (lucky you!), it's even better as the money would go directly into your bank account via PayNow. No need to then join in long queues in the banks at the end of spring festival to deposit all your accumulated hongbao cash!

Lesser risk of loss of money
Thieves and burglars are usually rampant during festive seasons, especially the Lunar New Year, where many will have lots of cash set aside for the red packets. With the use of e-hongbao, that would be a lesser worry.
Keeping a lot of cash at home also puts you at risk of theft or loss of money in the event of accidents such as a fire or flood. Therefore, you should keep your cash and other valuables somewhere safer such as in a security safe. Alternatively, do consider purchasing a comprehensive home insurance to protect your home contents and valuables for that peace of mind!
Eco-friendly
Did you know that the yearly printing of new notes for the Lunar New Year emits about 330 tonnes of carbon emissions? Opting for e-hongbao will be a more sustainable, environmentally friendly option as it reduces printing and wastage of the new notes as they will be returned to banks after the end of festive period anyway!
By practising sustainable living, we are ensuring a liveable environment for our future generations – an equally meaningful blessing to give during this Lunar New Year.
#TiqOurWord Some e-hongbao's QR codes are printed on cards, which will then be placed into a physical red packet for the recipient. This defeats the whole meaning of e-hongbao and makes it less environmentally friendly with the carbon emissions from the printing.
Physical red packets may still be required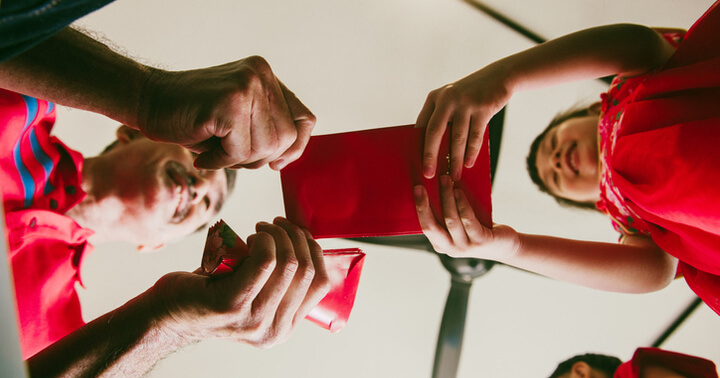 In spite of the many advantages of e-hongbao, it's undeniable that the red packets may still be required, especially for younger children and the elderly. They may not even have PayNow!
Also, e-hongbao relies on internet usage and that means potential risk of cyber scams. While e-hongbao are gifted with a QR code to scan with your phone, some can be sent to you without the code. This is where you are susceptible to phishing scams so be careful as to not open any suspicious link!
#TiqOurWord You can get coverage from cyber scams with Personal Cyber Insurance as an add-on with Tiq's Home Insurance.
Traditions vs e-hongbao
The tradition of giving and receiving red packets has been around for many years and some of the older generation may find it difficult to adopt the digital version as they may not be internet-savvy. This could also be a bonding opportunity where the younger generation can teach their po po or gong gong to progress together with time! Some people also believe that the physical red packets may pass down good luck and protection from evil spirits.
Whether you decide to upkeep traditions by continuing to dish out regular red packets or choose to go digital with e-hongbao, always remember to prioritise your household safety and well-being. Here's wishing all a happy and prosperous Lunar New Year in 2021!

[End]
Information is accurate as at 30 January 2021. This policy is underwritten by Etiqa Insurance Pte. Ltd. (Company Reg. No. 201331905K). Protected up to specified limits by SDIC (excluding Personal Cyber Insurance).
Tiq by Etiqa Insurance Pte. Ltd.
A digital insurance channel that embraces changes to provide simple and convenient protection, Tiq's mission is to make insurance transparent and accessible, inspiring you today to be prepared for life's surprises and inevitabilities, while empowering you to "Live Unlimited" and take control of your tomorrow.
With a shared vision to change the paradigm of insurance and reshape customer experience, Etiqa created the strong foundation for Tiq. Because life never stops changing, Etiqa never stops progressing. A licensed life and general insurance company registered in the Republic of Singapore and regulated by the Monetary Authority of Singapore, Etiqa is governed by the Insurance Act and has been providing insurance solutions since 1961. It is 69% owned by Maybank, Southeast Asia's fourth largest banking group, with more than 22 million customers in 20 countries; and 31% owned by Ageas, an international insurance group with 33 million customers across 16 countries.
Discover the full range of Tiq online insurance plans here.