So you have jio-ed your best friends on an overseas trip together, and you can't wait to get away from the hustle and bustle of city life with your girlfriends or best buds! The next question is – what kind of traveller are you? It's no fun planning an itinerary full of heritage sights when all you want to do is shop, and vice versa. If you aren't sure about your travel type, then we have some questions you can check off to determine your style. Take this simple questionnaire below to find out your travel persona!
First things first. What's the first thing you think of when packing for your trip?
Definitely my straw hat, sunglasses, and Instagram-worthy outfits
My credit card. Period.
My camera and lenses, duh!
Next, what accommodation would you want to stay in?
A beach villa or mountain inn, but with all the comforts of home.
A place where I'm closest to my favourite shopping spots!
Anywhere is fine as long as I can access my favourite scenic spots in a heartbeat.
Do you think you'll need extra luggage space?
Nah, all I need are my necessities and perhaps my phone and laptop.
I don't think – I NEED the extra space for all my shopping and souvenirs!
I'll bring it as a carry-on. My photography equipment are top priority!
Lastly, what is the ideal holiday to you?
A glamorous vacay where I can get in touch with my inner natural self.
Glitzy shopping malls and local markets are part of my ideal holiday!
Traversing scenic landscapes is my kind of travel.
Time to total up your scores! What did you get?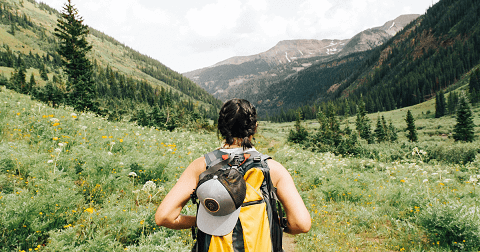 If your answer is mainly number 1s, then you may identify with…
The Glamper
If you love the outdoors and nature but prefer to take it easy instead of roughing it out, then the Glamper is who you identify with. Adding a touch of class to your itinerary, you prefer waking up to the sights of the sea and stepping out to the fresh balmy breeze. Island glamping is ideal for getting away from city life; step out into the mountain wilderness in the Irish Aran islands, or enjoy the private glamping getaway on Sumilon Island near Cebu. Due to the remote locations, your flights may sometimes be unpredictable with potential travel delay. But with Tiq Travel Insurance providing automated flight delay benefit claims and instant payout (which means you get real-time notifications about flight delays, and automatic delay-claims approvals), you can enjoy your glamping trip in style without worry!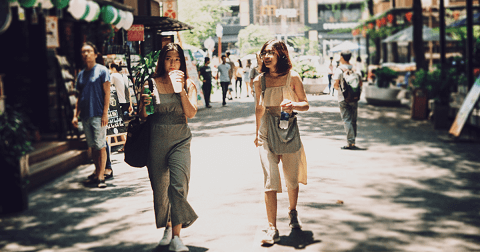 If you've ticked all the number 2s, then you may identify with…
The Shopper
Retail therapy is the name of the game, and 'shop till you drop' isn't just a metaphor for you! With a wider range of goods to choose from overseas, you don't mind spending a little more for an enjoyable shopping experience. You can travel to Thailand's Ratchaprasong shopping district or Taiwan's night markets for shopping spots with the best bang for your buck. If you don't mind splurging a little, Korea's Gangnam and Japan's Shinjuku districts are popular spots for luxury goods and cosmetics. Be alert though, sometimes pickpockets may be on the prowl. If (knock on wood!) the unthinkable ever happens, Tiq Travel Insurance will protect you from any loss of money and travel documents with its comprehensive coverage.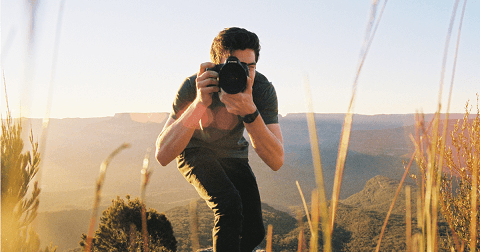 If number 3s are high on your list, then you may identify with…
The Snapper
No, we aren't talking about the fish here! The snapper is the traveller with an eye for detail, and can be seen with a camera at all times. He or she often returns with the nicest-looking snaps from the trip, and is always the designated group photographer. If the snapper is who you identify with, then you will definitely appreciate travel destinations with picturesque landscapes.
Catch a ride in a Turkish hot-air balloon in Cappadocia, and get a shot of the landscape peppered with other balloons; or photograph the lush rice field terraces in Vietnam amidst the sunset. While you may want to get that perfect shot, do take note of your surroundings too: it's better to miss a shot than to sustain an unwanted injury! On the other hand, do ensure you have Tiq Travel Insurance as your safety net, so that you are insured for overseas hospital claims, as well as treatment in Singapore post-trip. That will allow you to head out with one less burden of worry during your travels!
Regardless of your travel personality, having Tiq Travel Insurance will definitely give you a peace of mind. Be it a glamping trek, a shopping tour, or a photography expedition, you can go for your holiday without worry.
[End]
Information is accurate as at 7 March 2023. This policy is underwritten by Etiqa Insurance Pte. Ltd. (Company Reg. No. 201331905K). Protected up to specified limits by SDIC.
Tiq by Etiqa Insurance Pte. Ltd.
A digital insurance channel that embraces changes to provide simple and convenient protection, Tiq's mission is to make insurance transparent and accessible, inspiring you today to be prepared for life's surprises and inevitabilities, while empowering you to "Live Unlimited" and take control of your tomorrow.
With a shared vision to change the paradigm of insurance and reshape customer experience, Etiqa created the strong foundation for Tiq. Because life never stops changing, Etiqa never stops progressing. A licensed life and general insurance company registered in the Republic of Singapore and regulated by the Monetary Authority of Singapore, Etiqa is governed by the Insurance Act and has been providing insurance solutions since 1961. It is 69% owned by Maybank, Southeast Asia's fourth largest banking group, with more than 22 million customers in 20 countries; and 31% owned by Ageas, an international insurance group with 33 million customers across 16 countries.
Discover the full range of Tiq online insurance plans here.