(*We are counting January 1st as part of the first long weekend you can enjoy in 2019.)
The number 9 is usually associated with longevity and, for this 2019, the symbolism couldn't be more appropriate as it matches the number of travel opportunities you get to enjoy a well-deserved break. Make your holiday long and happy in 2019.
2019 Public Holidays: How many long weekends do I have in 2019?
If you prefer to plan your annual leave in advance, this information will come in handy. Bookmark this calendar for future reference.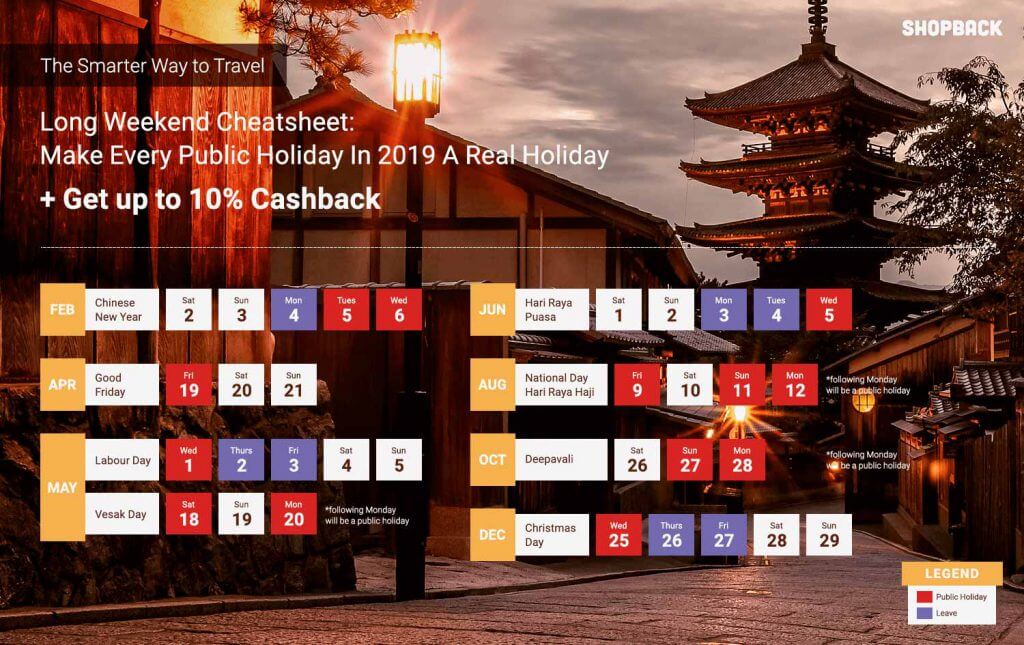 By combining these holidays and a few annual leave days wisely, you potentially get 33 days (if you choose to use all holidays to travel) to venture out of Singapore and discover new places. Some of these holidays will require you to apply for a two-day leave so you can have a full five days break.
How can I use these long weekends and plan my future trips the smarter way?
Check your company policy for annual leave and request for you leave in advance.
Book your flights from 6 to 3 months in advance to maximise your savings. Don't forget to get your travel insurance upon booking your flight (as you are covered for up to 60 days before your trip)!
Flights for the next Chinese New Year might have increased already for popular Asian destinations, but you can make use of the travel upsize cashback campaigns during this year-end sales.
For the following long weekends, check different flight aggregators to compare the flight fares available. For more tips on how to book cheap flights, check here.
Confirm if the holiday also applies to your travel destination as that might influence your travel plans. For example, if you are planning to travel to Taiwan during Chinese New Year, know that holiday is also celebrated there and you might find most businesses closed.
Pack light and take luggage you can easily carry around. For a long weekend trip, you won't need much baggage. You will be saving on luggage add-on fees if you are only taking a backpack with you.
Where should I go? Hot destinations for 2019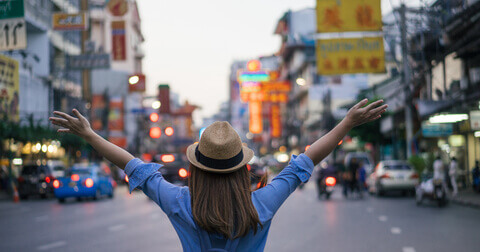 1 January – Short trip to your nearby favourite city, Kuala Lumpur (KL) or Bangkok
We count the first day of the year as part of the first long weekend you can enjoy because we're ". If you request for leave on 31 December, you will get four days to end 2018 and start the New Year somewhere else.
This is a popular travel period and you are left with less than two months to plan your end-of-year destination, but there is just enough time to set a quick getaway to spend New Year's Eve in a different city.
Hop to KL or Bangkok for a city getaway with short flight time. The hotels in both cities are affordable and, you will get to experience the fireworks upon a different skyline. If you head to KL, the 'KLCC Park' is the most central spot to watch the New Year fireworks. If your choice falls over Bangkok, 'Asiatique' is a favourite riverside spot to do your NYE countdown.
Chinese New Year in February – Luang Prabang, Laos
If you are keen to travel out of Singapore during CNY, Luang Prabang makes for the perfect short trip for backpackers and budget travellers.
Still considered an "off-the-beaten-track" destination, Luang Prabang offers pleasant weather and even better sights during February.
In the city, you will be able to enjoy a visit to the Royal Palace and stroll along the night market to try local delicacies. But more exciting activities lie outside the city borders for nature lovers. Go out to discover the three waterfalls in Luang Prabang: Kuang Si, Tad Sae, and Tad Thong, to sail through the Mekong river or even to trek the nearby mountains. Accommodation in Luang Prabang suits every type of traveller, and the place has a laid-back environment like no other.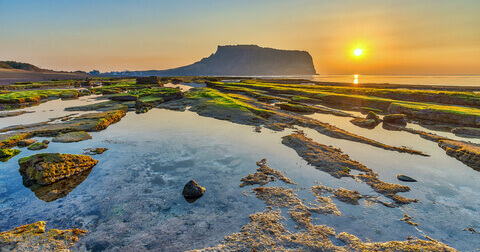 Good Friday in April – Jeju Island, South Korea
The Easter holiday gives you a perfect opportunity to pay a quick visit to South Korea. Instead of heading to Seoul, why not appreciate Springtime at Jeju Island? In this time of the year, Jeju is all about spring and blooms, and you won't be short of Instagrammable photo backgrounds of canola flowers and cherry blossoms all over the island.
Looking for good spots to photograph? Head to Seongsan Ilchulbong, also known as Seongsan Sunrise Peak, to shoot the volcanic peak, and to Hallim Park to admire the gardens, caves and the charming folk village.
Labour Day in May – Athens, Greece 
May comes with two public holidays to enjoy. If you plan to spend Labour Day far away from the office, we have a 5-day trip suggestion for you: head to Europe! Yes, it is possible. There are budget airlines that offers direct flights to long-haul destinations such as Athens, and five days will give you enough time to explore the Greek capital fully. Just imagine admiring Athens from the Acropolis on a bright Spring day… (insert image of Acropolis view)
Apart from all the historical heritage, Athens is also one of the most affordable capitals in Europe and offers plenty to explore. Among the must-visit spots for first timers in the city are: the quaint neighbourhood of Plaka, Syntagma Square and the Parliament House to witness the changing of the guards, the Monastiraki flea market to shop for unique souvenirs. Ancient culture is one of the highlights of a trip to Athens so don't leave without seeing the Temple of Zeus and the National Archaeological Museum, Convinced? This is your chance for a short (but full of excitement!) Euro trip!
Vesak Day in May – Chiang Mai, Thailand
If you can't spare two days leave on the beginning of May, make the most of the Vesak holiday later in the month. You will have a 3-day long weekend which is the ideal duration to venture out to Chiang Mai in North Thailand.
Chiang Mai is an accessible destination from Singapore and will present you with a right balance of both cultural and natural experiences. If you are keen on spending a free and easy weekend away, don't miss the Walking Street Night Market in Chiang Mai to try the local food and the Wat Chaloem Phra Kiat Phrachomklao Rachanusorn, about 2.5 hours outside of Chiang Mai.
Hari Raya Puasa in June – Yangshuo, China
Once more, June offers the opportunity of having a more extended five-day long break if you can spare two days off from work. Yangshuo in China is the off-the-beaten path destination that you may want to visit in 2019. In the northeast of Guangxi Province and to the southeast of Guilin City, Yangshou has quaint cobbled streets, rice terraces and fantastic food. You can opt to take a relaxing cruise from in the northeast of Guangxi Province and to the southeast of Guilin City to enjoy the scenery or cycle along the rice paddies and enjoy the countryside. The city itself has enough establishments to cater to tourists, but if you are willing to venture away from the downtown, you will find a more authentic and untouched city.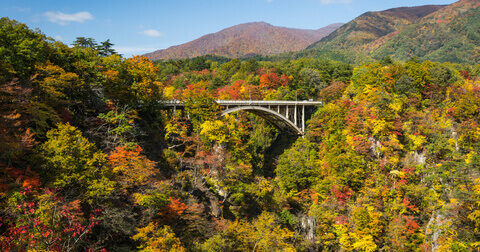 National Day and Hari Raya Haji in August – Tohoku, Japan
If you are skipping the National Day parade in Singapore, you can combine that holiday with Hari Raya Haji and head out of the country for four days.
The Tohoku region in Japan comprises different prefectures, and it has been generally overlooked by tourists even though some of them are only a couple of hours drive north of Tokyo. That is good news to you as this region promises to be less crowded than the more popular cities.  Even though five days is not enough to truly see the entire area, you can choose only one prefecture to visit and build your travel itinerary around that.
Take the train 3 hours north from Tokyo and visit Ouchijuku in Fukushima to experience the memories of the Edo period and enjoy the local soba noodle restaurants, souvenirs shops, cafes and guesthouses along the way.
Deepavali in October – Kathmandu, Nepal
Take Deepavali holiday as an opportunity for an exotic short getaway in this bustling Nepalese city. Although Kathmandu is still recovering from the 2015 earthquake and you may notice construction work going on in different areas, the city remains safe for tourists. Look beyond that, and you will find that the beauty of Kathmandu lies in its warm and friendly Nepalese people.
Visit the bustling Durbar Square and the historic neighbourhood of Patan and take a cooking class to learn how to make delicious momos. Be adventurous and venture in the narrow streets and hidden courtyards of Kathmandu. Even the shortest walk will unveil new temples and Buddhist stupas to admire.
If your heart lies in the mountains, but you don't have time to trek, know that you can do a mountain flight instead to admire the Hymalayas. This is an unforgettable 1-hour flight activity through the Himalayan range from the Kathmandu Airport. Don't forget to bring as many memories and souvenirs if you wish: from Tibetan singing bowls to handicraft jewellery, to handwoven boho sweaters and Thanka paintings.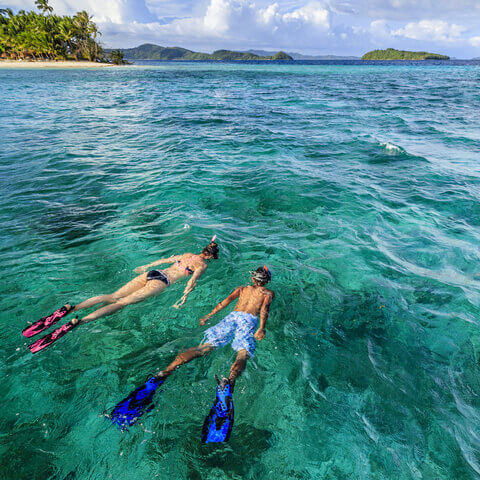 Christmas in December – Boracay, The Philippines
Boracay is now reopened, and December is an excellent time to visit because of the more amenable weather on the island.  You will get a calmer (thanks to the new "no parties on the beach" policy) and cleaner version of one of the favourite islands of the Philippines. See for yourself how beautiful and lush Boracay still is.
Stroll along the stretches of white sand and clear waters, and you will find plenty of activities: water sports, island hopping tours and seafood restaurants. Head over to Willy's Rock to enjoy the sunset or start your day with a leap of faith in one of the world's top cliff diving destinations, Ariel's Point.
When the time comes to make your New Year resolutions, you will know what to put on your bucket list! May 2019 bring you plenty of chances to see the world (if you wish to do so) and quality time with the ones you cherish the most.
PS: Don't forget your travel protection before you go!

This article is contributed by ShopBack Singapore. All information is correct as at the date of publication on 29 November 2019. For more information, please visit https://www.shopback.sg/travel-deals.