Planning to travel over the Chinese New Year (CNY) period, but still undecided on where to go? Read on, and stop procrastinating! If you plan your work leave properly, you can get up to 5 days of break for a long weekend holiday! Be it an adventurous solo trip, or all-inclusive family vacation, the following destinations shall give you great food for thought! Think beautiful sand dunes, waterfalls and delectable cuisines, these are the best places for a 2019 CNY travel escapade!
Mui Ne, Vietnam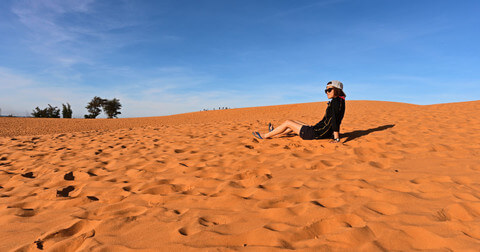 What's at Mui Ne? Abundant nature! Think sand dunes, a stream named Fairy and of course, the beach. Catch a sunrise or slide down on a sand board at the Red Sand Dunes. You don't want to miss the White Sand Dunes too, where the dunes range from gold to pure white! The Fairy Stream that meanders through remarkable cliff formations is also one of Mui Ne's highlights, which makes for a great relaxing stroll.
For the sporty #YOLO ones, why not try your hands at kite surfing? Furthermore, February is a great month for kite surfing; as the wind would literally be in your favour!
A beach resort town that rests along the South China Sea in the city of Phan Thiet, Mui Ne is perfect for a 2-3-day short weekend holiday. You could even be back in Singapore just in time to celebrate the first day of CNY!
#TiqOurWord If you are travelling right before CNY 2019, know that this is a peak travel season, as many who are working overseas might be travelling home for CNY reunion dinner. Try to reach the airport ahead of time, in case of lengthier check-in queues and ensure you have a comprehensive travel insurance that covers flight delay!   
Sydney, Australia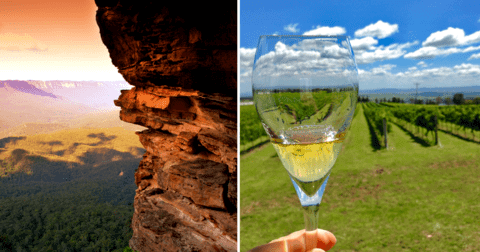 The best thing about Sydney is her versatility to offer holiday makers a bit of everything! Can't live without city comforts and good food? Visit Sydney! Need a breather from the popular Sydney Opera House or the Harbour Bridge, head out to The Greater Blue Mountains Drive, a World Heritage-listed area 1.5-hour away from the city. Other than the fresh mountain air that you'll probably never get in Singapore, the cliffs, waterfalls and eucalyptus forests are simply stunning. End your road trip with an unforgettable sunset at Sublime Point Lookout.
Psst, did you know that you can add on Rental Car Excess Cover to your Tiq Travel Insurance? This flexible option helps to cater to specific needs, and of course, you can save on it if you are not renting a car!
For wine connoisseurs, The Hunter Valley Food and Wine Trail, which is Australia's oldest wine region will interest you! There, you can savour cheese and chocolates while on a hot air balloon with an amazing view overlooking the vineyards. Sounds like the perfect holiday to take it slow, unlike the hectic CNY house visiting, right?
Kyoto, Japan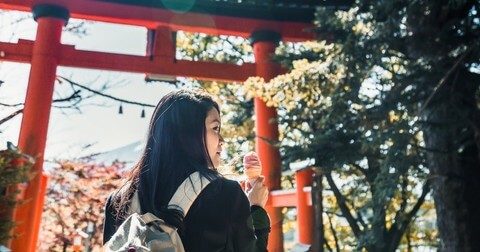 While Kyoto enthralls many for its mesmerising cherry blossoms, you could yield introspective travel experiences during the winter season. Imagine taking a leisurely stroll along the lush bamboo forests in the quaint and photogenic town of Arashiyama this CNY. The paths of the bamboo groves even offer a chance for meditation as you immerse yourself in the wonders of nature. Don't miss out on the iconic Fushimi Inari Shrine too. You'll past by close to 10,000 red and orange torii gates guarded by bronze and stone foxes as you trek up Mount Inari where the shrine is.
#TiqOurWord Be mindful that the 4.02 kilometres trail can be strenuous, especially for those with pre-existing medical conditions, so do plan adequate rest stops. Also, don't forget to get travel insurance prior to your trip.
2019 CNY Travel Destinations
Forget about bak kwa (barbecued pork) and pineapple tarts, a truly authentic, local gastronomic awaits you at each of the above recommended travel destinations this CNY!
For some of us, this Chinese New Year presents the perfect opportunity to catch up with loved ones, be it at home or on an overseas vacation. For others, this CNY holiday could be the rare chance for us to take a break. Wherever you are, do keep safety in mind and ensure that you have comprehensive travel insurance if you are travelling. Happy holidays and we wish you a safe travel, joy and prosperity in the upcoming Year of The Pig!
PS: Did you know that Tiq Travel Insurance offers a variety of affordable plan types, which can be customised with add-ons such as Rental Car Excess Cover for those who are keen to self-drive during your overseas trip? Find out more!
[End]
Information is accurate as at 17th January 2019. This policy is underwritten by Etiqa Insurance Pte. Ltd. (Company Reg. No. 201331905K). Protected up to specified limits by SDIC.
Tiq by Etiqa Insurance Pte. Ltd.
A digital insurance channel that embraces changes to provide simple and convenient protection, Tiq's mission is to make insurance transparent and accessible, inspiring you today to be prepared for life's surprises and inevitabilities, while empowering you to "Live Unlimited" and take control of your tomorrow.
With a shared vision to change the paradigm of insurance and reshape customer experience, Etiqa created the strong foundation for Tiq. Because life never stops changing, Etiqa never stops progressing. A licensed life and general insurance company registered in the Republic of Singapore and regulated by the Monetary Authority of Singapore, Etiqa is governed by the Insurance Act and has been providing insurance solutions since 1961. It is 69% owned by Maybank, Southeast Asia's fourth largest banking group, with more than 22 million customers in 20 countries; and 31% owned by Ageas, an international insurance group with 33 million customers across 16 countries.
Discover the full range of Tiq online insurance plans here.