"It won't happen to me." Some called it the safety myth while others termed it the "optimism bias" where one believes that we are excluded from potential negative effects, and disregard the reality of an overall situation.
This mindset has certainly settled in the majority of Singapore residents who believe that they are unlikely to encounter a fire in their homes, but is that really so?
Then why is the Fire Code being implemented, with updated fire safety regulations that mandate new homes to install smoke detectors or Home Fire Alarm Detectors (HEADs) since June 2018? Existing homes which undergo fire safety works are also required to install them.
In 2020, there were 1,054 fire incidents that occurred in residential premises. According to annual statistics released by the Singapore Civil Defence Force (SCDF), there were 184 fire injuries in 2020, an increase from 142 in 2019. Unfortunately, there was one fire fatality, which was related to the residential fire incident at Ang Mo Kio last February.
Fires caused by electrical origin was the leading cause of all fires (we can't emphasise enough on regular maintenance of electric wiring and sockets!), accounting for 545 or 29% of all fires in 2020. The next highest cause with 416 cases was fire due to overheating of food.
Although we have come a long way since the Bukit Ho Swee fire in 1961, it is important to acknowledge that accidents can happen when we least expected. Read on to find out what you can when a fire breaks out at/near home.
Infographic: What to do if a fire breaks out at home?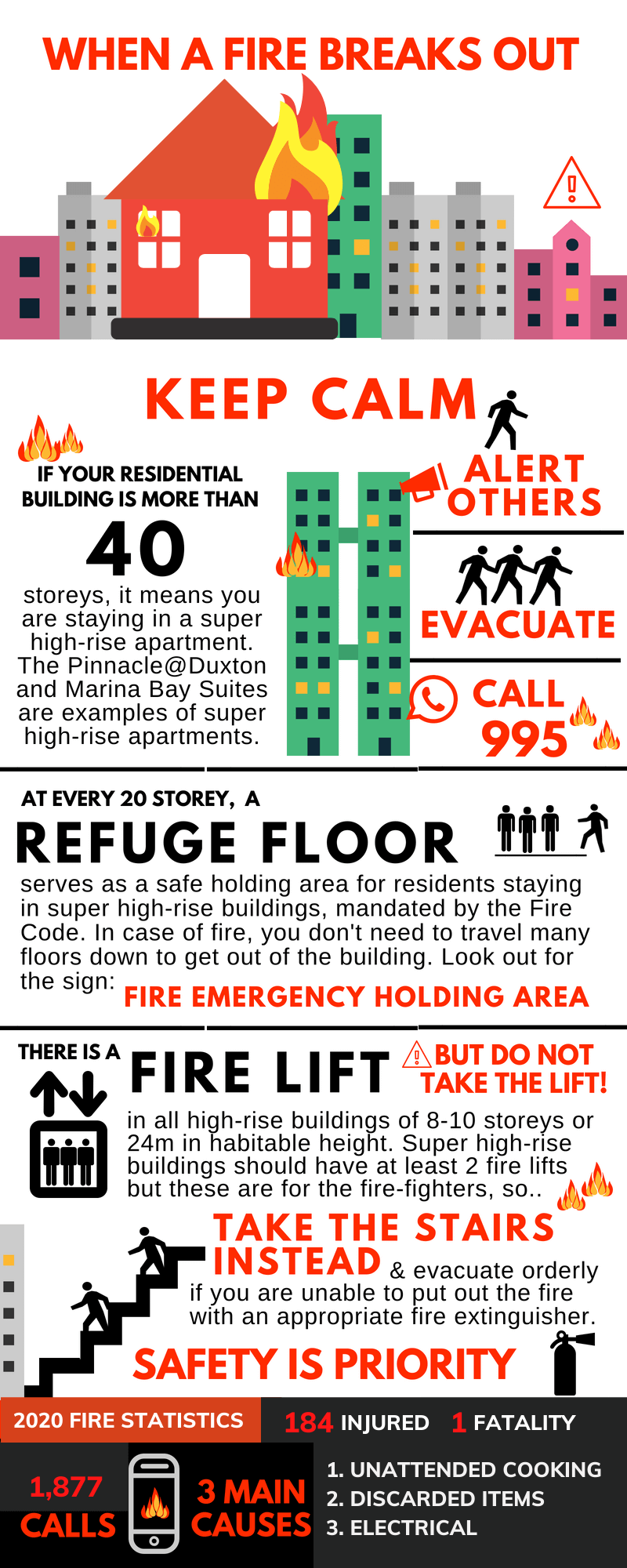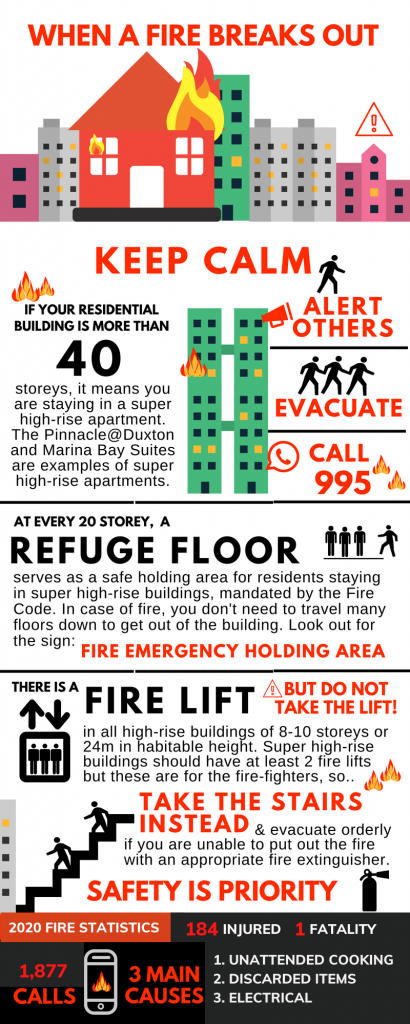 Note: Statistics featured in the infographics were taken from SCDF Fire, Ambulance, And Enforcement Statistics 2020.
In the event of a fire, the number one rule is to keep calm. Alert your neighbours and don't forget to call 995. If you are staying in a super high-rise apartment or HDB flat, you should evacuate in an orderly manner to either a refuge floor or the safe ground. NEVER take the lift in the event of a fire, you should take the stairs instead.
Prevention is better than cure
In 2020, the top three types of fires in residential premises were due to unattended cooking, electrical and discarded items.
By staying vigilant and careful, fire incidents can be avoided. Here are some simple housekeeping practices to keep in mind:
Do not throw lighted materials such as burning embers and cigarette butts into the rubbish chute or rubbish bin.
Do not leave cooking unattended; do switch off and unplug all cooking appliances when not in use.
Keep flammable liquids such as cooking oil and wine or combustible materials (e.g. paper and batteries) away from the stove.
Do not overload electrical outlets and always switch off electrical appliances when not in use.
Discarded items should be placed in designated areas; do not leave them at common areas such as lift lobbies, common corridors and staircase landings.
More safety prevention tips are available at: Civil Defence Emergency Handbook
Here are things you should have in the event of a fire:
A calm mind
At least one PSB-approved Dry Chemical Power fire extinguisher weighing 1.5kg or more.
An adequate home insurance that covers your building, home contents, and helps you to get back on your feet quickly in times of an emergency such as a fire.
Did you know that Tiq Home Insurance provides Emergency Cash Allowance of $5,000 within 24 hours in the event a fire rendered your home uninhabitable?
Tiq Home Insurance  is a comprehensive home protection plan that offers assurance with flexibility to homeowners and tenants. Beyond your building, you can choose to protect renovation, home contents and things you love, only paying for what you need and nothing more. Find out more now!
[End]
Information is accurate as at 23 February 2021. This policy is underwritten by Etiqa Insurance Pte. Ltd. (Company Reg. No. 201331905K). Protected up to specified limits by SDIC.
Tiq by Etiqa Insurance Pte. Ltd.
A digital insurance channel that embraces changes to provide simple and convenient protection, Tiq's mission is to make insurance transparent and accessible, inspiring you today to be prepared for life's surprises and inevitabilities, while empowering you to "Live Unlimited" and take control of your tomorrow.
With a shared vision to change the paradigm of insurance and reshape customer experience, Etiqa created the strong foundation for Tiq. Because life never stops changing, Etiqa never stops progressing. A licensed life and general insurance company registered in the Republic of Singapore and regulated by the Monetary Authority of Singapore, Etiqa is governed by the Insurance Act and has been providing insurance solutions since 1961. It is 69% owned by Maybank, Southeast Asia's fourth largest banking group, with more than 22 million customers in 20 countries; and 31% owned by Ageas, an international insurance group with 33 million customers across 16 countries.
Discover the full range of Tiq online insurance plans here.