"Why is Singapore so hot?" It's that time of the year again where the sweltering heat becomes one of the main talking points. Hiding indoors is an option but here's a better idea: jet off to a hidden gem with cool weather in Kimchi Land! Be it nature lovers, adventurers or cafe hoppers, you'd sure like these cooling getaways and activities near Seoul that are fun, accessible and less crowded. Read on to start planning your next vacation!
Key Takeaways:
There are many cooling getaways near Seoul, which are suitable for travellers of different interests.
Ski resorts offer more than just skiing activities and can be visited during the summer for some cooling activities.
A travel insurance with value added services is recommended, especially for free and easy travellers who like flexibility.
Cooling getaways near Seoul
Pocheon-si: Immerse in nature and arts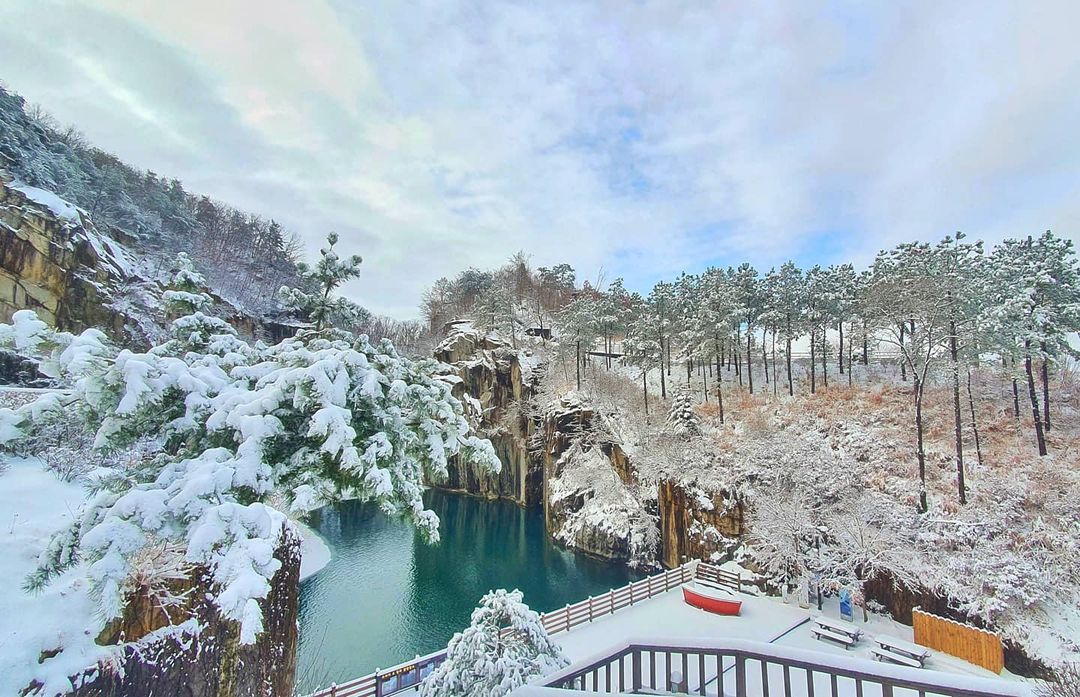 Source
Located northeast of Seoul in the Gyeonggi province, Pocheon-si is an underrated city that is popular with the locals but not so with international tourists. If you like visiting attractions without the crowd, this could be on your list of cooling getaways near Seoul.
How cool is it? Pocheon-si's average temperatures hover between 20°C and 26°C during May and September, and it is even cooler during the year end!
What to do? If you love nature, arts and culture, you must visit Pocheon Art Valley, an abandoned quarry transformed into a well-loved attraction. You can literally enjoy culture and arts in the middle of nature surrounded by a granite cliff that overlooks an emerald lake. There is also an astronomical observatory, outdoor sculptures, museum, lookout cafe, etc.
For adventure seekers, consider fast tracking to Bears Town Ski Resort, which offers ski slopes, snow sledding, hiking and forest zip lining all year round! Being a place of 'ice and snow', you can't get any cooler than this. Even the locals living in Seoul would come here to escape from the summer heat!
Note: If you plan to partake in risky activities, remember to get travel insurance and ensure that your plan covers you adequately.
For those who can't get enough of nature, the Hantan River Sky Bridge features a 200m-long skywalk that is 50m above ground, across the Hantan River Gorge. The beautiful Bidulginang Waterfalls – part of the Hantangang River Geopark – is nearby. If you find any of these spots familiar, it's likely you are a Korean drama fan. These are indeed the filming locations of various popular K-dramas such as Crash Landing on You and Zombie Detective.
How to get there? Pocheon-si is less than an hour's drive from Seoul and easily accessible by bus for those who don't drive. While it can be explored on a day trip, it is nice to stay here for at least a couple of days because of its cooling weather.
Yangpyeong: Sightsee and eat local foods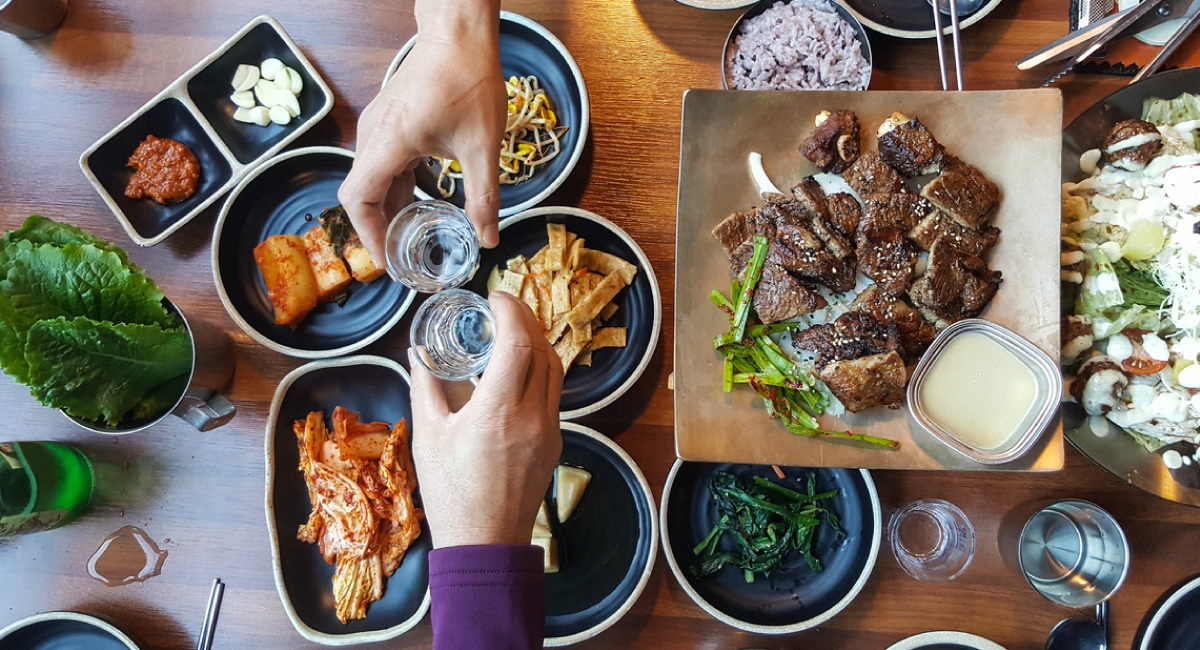 With a tagline like "made healthier by nature and happier by people", it is no wonder that Seoul residents are flocking over to Yangpyeong for short breaks from their busy city life. Located east of Seoul, Yangpyeong is a county in the Gyeonggi province that is known for its stunning natural landscapes and fun cafes. There are also many exciting activities such as paragliding for adventure travellers.
How cool is it? With a similar climate as Pocheon-si, the average temperatures in Yangpyeong are between 20°C and 26°C during May, June and September. If that's not cooling enough, visit during October when it starts to get colder, or in January (coldest month) when the average maximum temperature is 0°C.
What to do? Be a trendsetter and view lotuses in bloom at Semiwon instead of the usual sightings of cherry blossoms or lavender in Japan. 😛 At this idyllic botanical garden in Yangpyeong-gun, you can also visit the world's only museum dedicated to showcasing how lotus is being used in daily life.
While you are at it, how about feasting on a traditional Korean full-course meal with lotus-related dishes? Check out Yeonbat (연밭), popular restaurant located near to Yangsu station. There's no better way to learn more about another's culture than through its food. FYI, lotus-related food and products are widely available in the city.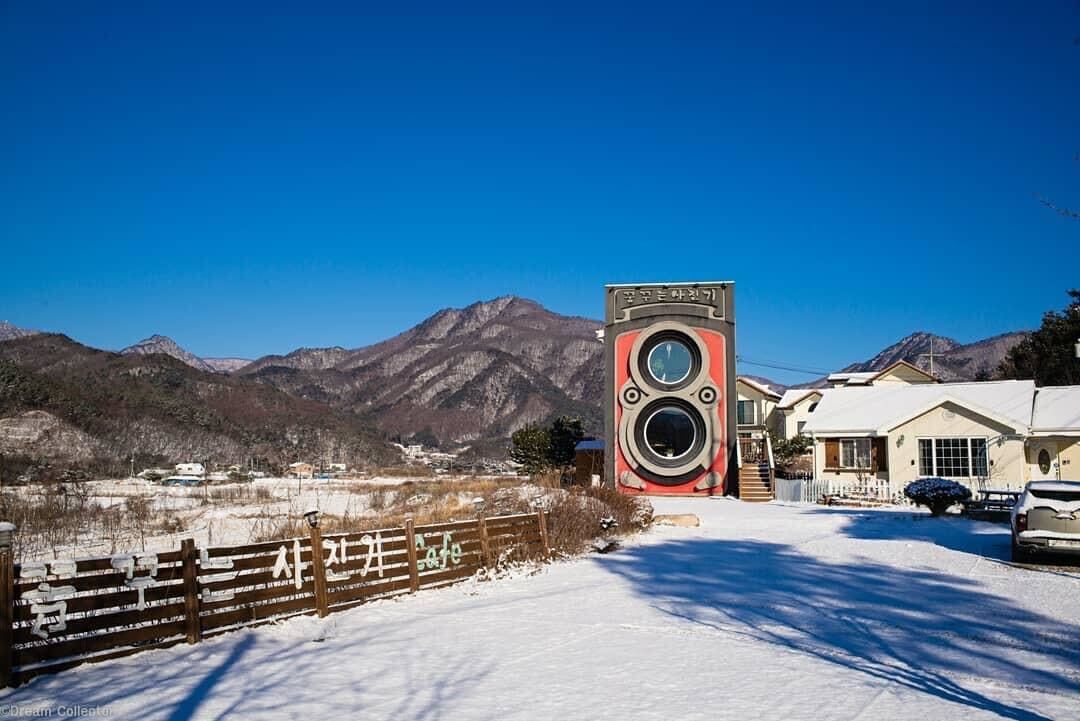 Credits
No trip to South Korea is complete without visiting one of its many unique cafes. At Yangpyeong, you can step into a Rolleiflex Twin Lens Camera at the calm and spacious Dreamy Camera Cafe. You'd even get a memento (a print out of your bucket list) to encourage you to keep chasing your dreams.
Yangpyeong is also well-known for its many strawberry farms where you can visit for strawberry picking. In case you haven't tried Korean strawberries, they are usually big, juicy and sweet.
How to get there? It would take less than an hour's drive from Seoul to reach Yangpyeong or you can consider taking the train or subway. Yes, it's that convenient!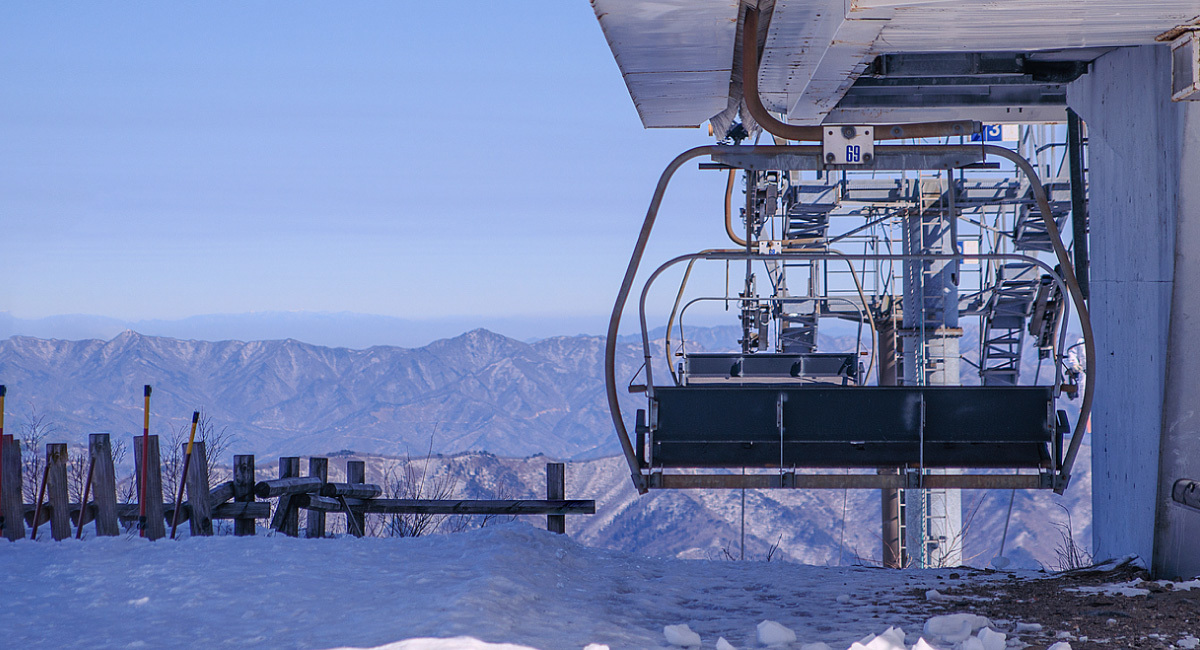 A ski resort offers more than just skiing activities. At Yongpyong Ski Resort – reputed to be Korea's biggest ski resort – you can escape the heat by taking a dip at the water park or enjoy the zip line across the ski slopes during the summer months.
Sitting at a base elevation of 700m and going as high as 1,438m, Yongpyong Ski Resort towers over its neighbouring ski resorts and has better natural conditions, which allows it to have more (lasting) snow. On average, the resort gets 250 cm of snowfall per year.
FYI, many ski resorts in Seoul don't have real snow, so for a true snowy experience, you may consider visiting Yongpyong Ski Resort during the winter season. While you are here, don't miss a ride on the longest gondola course in Asia while enjoying the breathtaking views of Balwangsan Mountain.
How cool is it? The hottest month is August and averages around 27°C during the day and 19°C by night. The rest of the months are significantly colder and could go below 0°C between December to March.
How to get there? From Seoul, you can get to Yongpyong Ski Resort in approximately two hours by car or train. Buses are also available but will take a longer time.
These days, many Singapore travellers like to travel free and easy, as it can be more affordable than a packaged tour, and offers greater flexibility to do what one likes – just like Tiq Travel Insurance and our value-added services.
Besides 24-hour worldwide emergency travel support, flight check-in reminder, and full refund if you need to cancel your travel policy, you can also add on coverage to Tiq Travel Insurance according to your needs, i.e. rental car excess cover or COVID-19 add-on and more. Remember to buy your travel insurance once you've booked your flight tickets,
Bukhansan National Park: Cool down in the mountains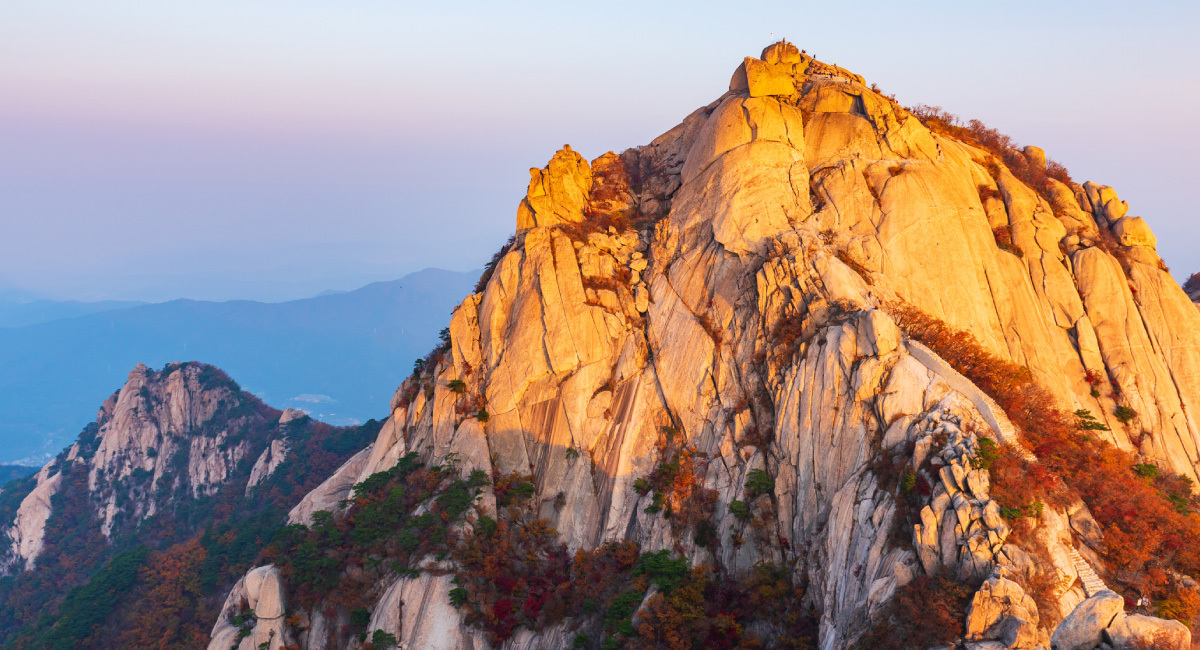 Planning to visit Seoul soon? During the summer, it can be hot in the city but you don't need to travel too far to cool down. We don't mean shopping in air-conditioned malls or loitering in cafes (although that works too!).
Consider hiking at the national parks such as Bukhansan National Park or Jirisan national park. Since you'd be within the mountains, the temperature would be much cooler. There are many hiking routes with varying difficulty so even if you are not the sporty sort, you can easily hike some paths.
If you plan to visit Bukhansan National Park, don't miss Eunpyeong Hanok Village at the foot of the mountain. Hanok refers to traditional Korean houses, and those planning to do a sunrise hike can consider staying here.
How cool is it? If you are travelling during the June holidays, Bukhansan National Park's average temperatures range between 25°C and 15°C, making it pleasant to hike. During the hottest month of August, average temperatures range between 29°C and 19°C.
How to get there? Located at the outskirts of the capital city, you can easily reach Bukhansan National Park via subway or bus from Seoul.
Ready to visit some of the coldest places in Korea?
A cooling getaway sounds divine but do be mindful that your body needs time to adjust to different climates. Bundle up and bring along your travel medications if you plan to visit Seoul during the colder months.
Also, don't forget to get your travel protection before departing. Did you know that Tiq Travel Insurance is the only insurer that offers a 3-hour flight delay claim? We also have a comprehensive COVID-19 add-on for an added layer of safety. Find out more about Tiq Travel Insurance here.
[End]
Information is accurate as at 22 May 2023. This policy is underwritten by Etiqa Insurance Pte. Ltd. (Company Reg. No. 201331905K). Protected up to specified limits by SDIC.
Tiq by Etiqa Insurance Pte. Ltd.
A digital insurance channel that embraces changes to provide simple and convenient protection, Tiq's mission is to make insurance transparent and accessible, inspiring you today to be prepared for life's surprises and inevitabilities, while empowering you to "Live Unlimited" and take control of your tomorrow.
With a shared vision to change the paradigm of insurance and reshape customer experience, Etiqa created the strong foundation for Tiq. Because life never stops changing, Etiqa never stops progressing. A licensed life and general insurance company registered in the Republic of Singapore and regulated by the Monetary Authority of Singapore, Etiqa is governed by the Insurance Act and has been providing insurance solutions since 1961. It is 69% owned by Maybank, Southeast Asia's fourth largest banking group, with more than 22 million customers in 20 countries; and 31% owned by Ageas, an international insurance group with 33 million customers across 16 countries.
Discover the full range of Tiq online insurance plans here.