The Lunar New Year, known by many as CNY – short for Chinese New Year, is just around the corner. Like many other festivals in Singapore, we have to celebrate a little differently this year with all the restrictions in place. Sure, this Lunar New Year will feel a little strange but here are some ways you can celebrate safely without feeling like you're missing out. Read on!
Shop online and skip the queues
You may feel tempted to join the crazy queue for bak kwa and at other CNY specialty stores to show your filial piety to your parents but why not opt to do your shopping online? Order your CNY hampers and supplies online and have it delivered straight to your doorstep.
Otherwise, consider minimising your browsing time in the shop(s) by pre-planning your shopping list. If possible, pre-book ahead and pick up your items.
#TiqOurWord Be mindful of dodgy websites and always make sure you are on a secured page when making payments online. Protect yourself from cyber fraud with Tiq's Personal Cyber Insurance. Learn more.
CNY visits and reunion dinners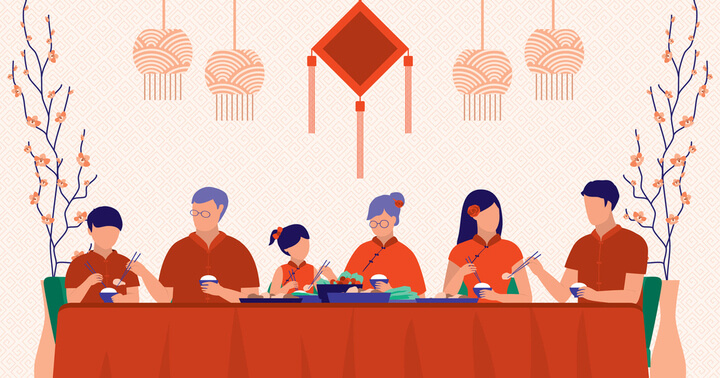 While you can have up to 8 visitors per day in your home, try to segregate the visiting time. The government advises to limit visitations to family members only. If you have a large family, try to break them into smaller groups and schedule them on different days or video call. You can also include other family members overseas who couldn't come home!
Indoor spaces have poorer ventilation, and it may be tricky to practice physical distancing in your home. You may consider extending your gathering to an outdoor setting like your balcony or garden decorated with some festive decorations. Check out some festive decor ideas for your balcony here!
Homemade cookies as gifts
If you have the yearly tradition of baking CNY cookies and sharing with your family and friends, be sure to maintain a clean and hygienic workspace. Most importantly, try not to get distracted whilst baking! Instead of meeting up with your family and friends to pass your baked goods, consider dropping them off at their doors to reduce physical contact.
#TiqOurWord Did you know that one of top three causes of residential fires is from unattended cooking? Try to set a timer for your oven if you have to pick up that phone call so you will not forget about those cookies! Tiq Home Insurance by Etiqa can cover your home contents, renovation and belongings in the event of fire. Learn more.
Lion dances from a (safe) distance
Amid cancelled dragon dances and restrictions on lion dance performance venues, this year's celebrations may seem muted. Nonetheless, some performances in larger venues such as temples or shopping malls would still be on-going. Keep in mind safe distancing measures if you plan to be present. Otherwise, you can consider watching it through live streams with your family and friends. There's much you can do virtually, including travel!
Where can you go during CNY in Singapore?
For those who have the yearly tradition of travelling with your family during the Lunar New Year, forget about cruising. You can explore Singapore – most of the major attractions are open. Even the supermarkets will remain open! And yes, River Hongbao 2021 is open from 10 to 16 February 2021.
For something innovative and safer, consider a virtual guided tour, which can easily accommodate your extended family, even if you're more than 8 people. There is a huge selection of both paid and free tours available online – you can choose from free virtual tours along the Singapore River or experience Japan with a VR headset! Read this for more unique family travel ideas in the comfort of your home.
Staying safe this Lunar New Year
We have to adapt to new ways of living and celebrating to protect ourselves and our community. While you prepare for the coming Lunar New Year, also prepare for the many uncertainties ahead with the right insurance for you and your family for that peace of mind. Know that Tiq Home Insurance covers more than just fire, renovation and home contents for homeowners, landlords and tenants. Learn more here.
[End]
Information is accurate as at 6 February 2021. This policy is underwritten by Etiqa Insurance Pte. Ltd. (Company Reg. No. 201331905K). Protected up to specified limits by SDIC (excluding Personal Cyber Insurance).
Tiq by Etiqa Insurance Pte. Ltd.
A digital insurance channel that embraces changes to provide simple and convenient protection, Tiq's mission is to make insurance transparent and accessible, inspiring you today to be prepared for life's surprises and inevitabilities, while empowering you to "Live Unlimited" and take control of your tomorrow.
With a shared vision to change the paradigm of insurance and reshape customer experience, Etiqa created the strong foundation for Tiq. Because life never stops changing, Etiqa never stops progressing. A licensed life and general insurance company registered in the Republic of Singapore and regulated by the Monetary Authority of Singapore, Etiqa is governed by the Insurance Act and has been providing insurance solutions since 1961. It is 69% owned by Maybank, Southeast Asia's fourth largest banking group, with more than 22 million customers in 20 countries; and 31% owned by Ageas, an international insurance group with 33 million customers across 16 countries.
Discover the full range of Tiq online insurance plans here.