Are you in the market for a maid insurance policy for your new maid?
Here's a tip: Go for an insurance package that not only protects your maid with sufficient accident and medical coverage but also safeguards you adequately against liabilities and unexpected expenses.
Introducing a policy that does just that: ePROTECT maid from Tiq by Etiqa Insurance. It's an attractive policy that offers comprehensive coverage for both your maid and you. What's more, it's the most affordable plan in town. Here are 3 great reasons why you should choose ePROTECT maid for your maid insurance:
1. ePROTECT maid's comprehensive coverage gives you peace of mind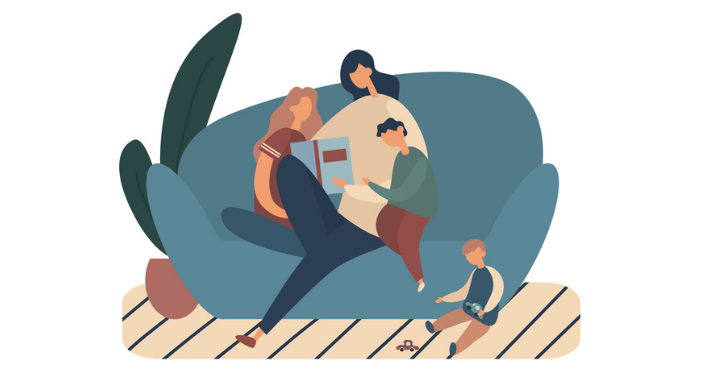 It seems like hardly a day goes by in Singapore without news of an unfortunate incident involving a foreign domestic worker. Some maids get hurt while working at home. Others are injured in accidents on their days off. Accidents involving maids are more prevalent than we think.
With ePROTECT maid, your maid is adequately covered with generous hospitalisation and surgical benefits if accidents happen to her. As for you, the employer, you are protected against a wide range of risks.
Benefits for your maid
Personal accident protection: ePROTECT maid protects your maid with high policy cover for accidental death and permanent disability. For the lowest-tier plan, the coverage is $60,000 for accidental death; that for the highest-tier plan is $70,000. For medical expenses due to accidents or injuries, ePROTECT maid covers up to $3,000.
Hospitalisation and surgery: When an illness or accident happens, your maid can get the medical care she needs with ePROTECT maid. The policy covers $15,000 per year for hospital and surgical bills. This benefit covers inpatient treatment and day surgery, as well as follow-up outpatient treatment, up to 90 days from the date of discharge.
Repatriation: If your maid cannot work for you anymore due to illness or injury that has resulted in total permanent disability, you need to send her home. The plan covers $10,000 for repatriation expenses.
Benefits for you, the employer
Termination or rehiring expenses: If you need to hire replacement help in the event of your maid's permanent disability or death, ePROTECT maid covers your termination or rehiring expenses up to $350.
Wages and levy reimbursement: If your maid cannot work due to hospitalisation, you can claim pro-rata reimbursement of her salary and the maid levy, up to $30 per day.
Alternative maid services: Need alternative help during your maid's hospitalisation? Make use of the policy's daily benefit (up to $20 per day) to help you do so.
Recuperation benefit: Receive a daily benefit of up to $20 per day while your maid is hospitalised.
Security bond: You don't have to pay the Ministry of Manpower (MOM) the security bond of $5,000 upfront. ePROTECT maid provides a Letter of Guarantee to MOM as your guarantor.
Maid's liability: If your maid accidentally causes bodily harm to a third party or accidentally damages a third party's property, ePROTECT maid provides you with indemnity of up to $10,000. You can also enhance the sum insured for this benefit to up to $75,000.
Cover against abuse: Although not that common, maids can sometimes commit abuse on their employers' families, no thanks to the stress of living and working in a foreign country. This benefit, not often seen in other insurers' policies, compensates you up to $5,000 in medical expenses in the unfortunate event that your maid abuses your child, elderly relative or a relative with disability.
2. ePROTECT maid can be customised with add-ons to meet your needs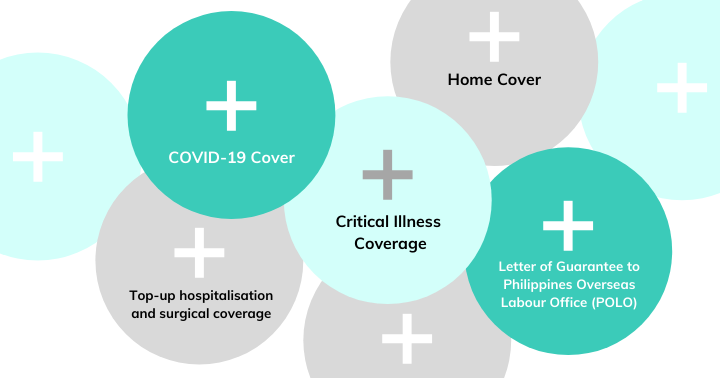 ePROTECT maid is extremely flexible and allows you to tailor your policy to your maid's needs and yours with useful add-ons. Why not build an even more rounded plan that better shields you and your maid from the risks?
COVID-19 coverage: It's prudent during these unprecedented times to be prepared for COVID-19. While your maid is undergoing her Stay-Home Notice upon arrival in Singapore, ePROTECT maid covers her with of up to S$15,000 for hospitalisation and surgical bills due to COVID-19 treatment. Your maid also gets free coverage for the side effects of COVID-19 vaccine.
Letter of Guarantee to Philippines Overseas Labour Office (POLO): If your maid is from the Philippines, she needs a Letter of Guarantee for her home leave every 2 years. We issue the letter to POLO on your behalf, so you don't have to fork out the full $7,000 for the security bond.
Critical illness coverage: We can't predict what's waiting for us around the corner, and a critical illness may strike anyone, anytime. Your maid can get a lump-sum payout of up to $20,000 if she contracts a critical illness.
Top-up hospitalisation and surgical coverage: Medical and hospital bills can add up if your maid's injury or illness is serious. For an even more comprehensive medical plan, add on a sum insured of up to $25,000 for hospitalisation and surgical charges.
Home cover: If your home contents within your home are damaged by a fire caused by your maid, or if they are stolen by your maid, we've also got you covered with this add-on for up to $20,000.
3. ePROTECT maid is super affordable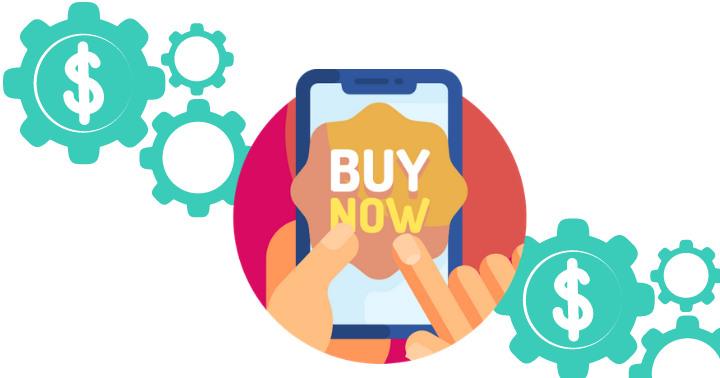 ePROTECT maid is one of the most affordable maid insurance plans around. Let's say your maid is from Myanmar. For a 14-month plan without any promotion applied, the lowest-tier plan costs only $184.55 while the highest-tier one is $222. And with the on-going 25% discount applied, these are easily among the cheapest maid insurance rates in Singapore.
Want to boost your policy with add-ons for even better coverage? Get an idea of how much your customised plan costs by using the quotation page.
Additionally, as a new customer, you can refer your friends to ePROTECT maid and earn referral fees. Simply log into TiqConnect to share the referral code with them. When they apply the code during checkout, they enjoy a discount instantly. You then receive your referral fees, which you can use to buy Etiqa products or make withdrawals via PayNow or direct bank credit. That's what we call a win-win!
ePROTECT maid may just be the maid insurance plan for you!
As the employer, you are responsible for your maid's well-being and safety. But sometimes accidents not within our control do happen.
However, if your maid is protected with a quality insurance plan, the financial coverage ensures that she gets adequate medical care. She can also recuperate with greater peace of mind and you won't be saddled with extra expenses.
Competitively priced with attractive benefits, ePROTECT maid may just be the maid insurance plan for you and your maid. Check it out today!
[End]
Information is accurate as at 25 March 2021. This policy is underwritten by Etiqa Insurance Pte. Ltd. (Company Reg. No. 201331905K). Protected up to specified limits by SDIC.