If you are thinking of investing in a digital investment-linked policy (ILP) such as Tiq Invest but have yet to muster enough courage to overcome inaction, we're here to help!
This relatively new investment option offers specially curated packaged funds of varying risks with one of the lowest management fees in the local market! Policyholders also enjoy protection, and flexibility to access and manage their investment. If you've landed on this page, chances are you have an idea of what Tiq Invest is all about, but just in case – you can also learn more here.
Step-by-Step guide to purchase Tiq Invest
Purchasing Tiq Invest is super easy as there are only four steps: Fund Selection, Application, Review and Payment, available on both desktop and mobile. Get started here.
Here's what you should be seeing:
Step 1: Fund Selection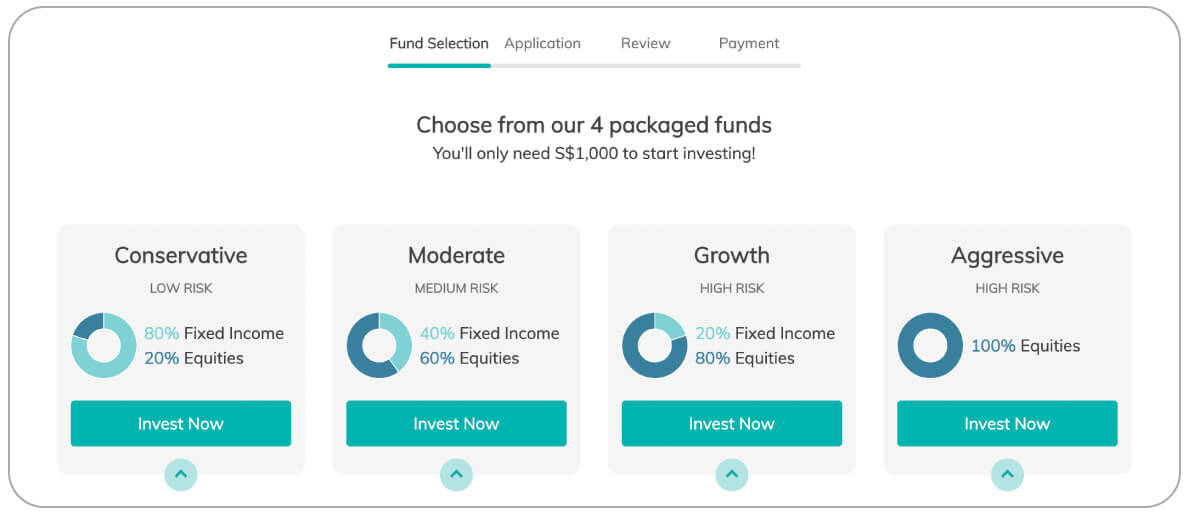 There are 4 packaged funds of different risk levels with corresponding potential returns. When you click on any of the options, scroll down a little for more information such as suitability and sub-fund allocation. There's also information on the fund summary and FAQ at the end of the page.
Pro tip: Check out the packaged funds and prices here first to make a better informed choice.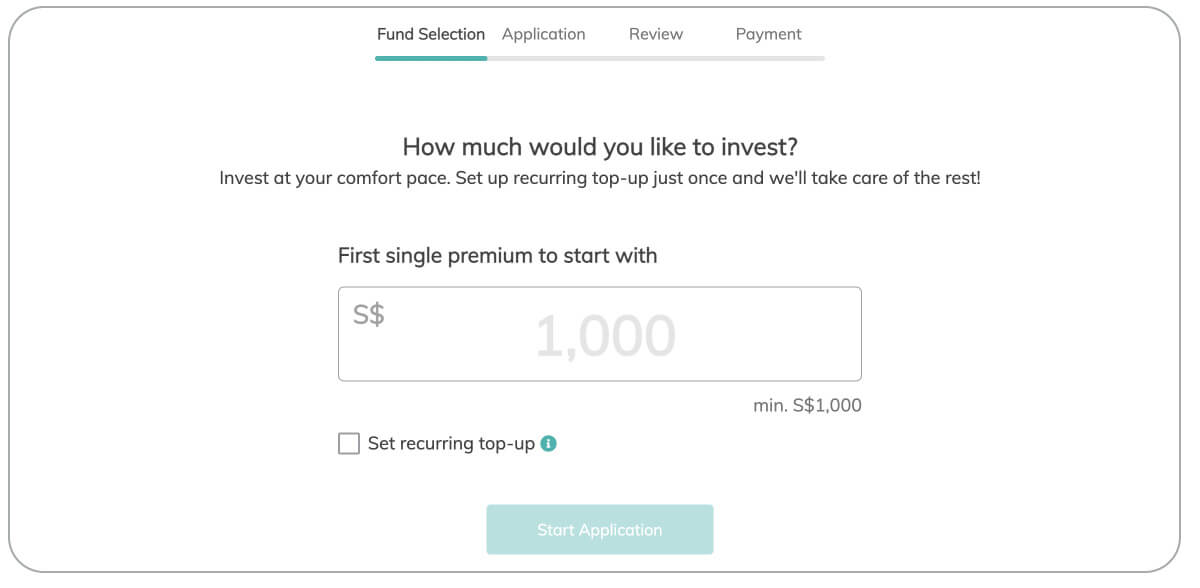 Upon selecting your preferred packaged fund, you'll be prompted to enter the investment amount that you have in mind. You only need S$1,000 to start investing. It can be a one-time application, or for a more powered-up option, you can even set up a recurring top-up.
A recurring top-up can help you to leverage on dollar cost averaging, where investment risks can be smoothened since you'd be averaging the price payable for the asset. This means that you'd be better able to gain value over a long investment horizon, and you don't need a lump sum to start.
To set a recurring top-up, simply click on the box for recurring top-up and select your preferred top-up amount (minimum S$100) and frequency – available for annual, semi-annual, quarterly or monthly.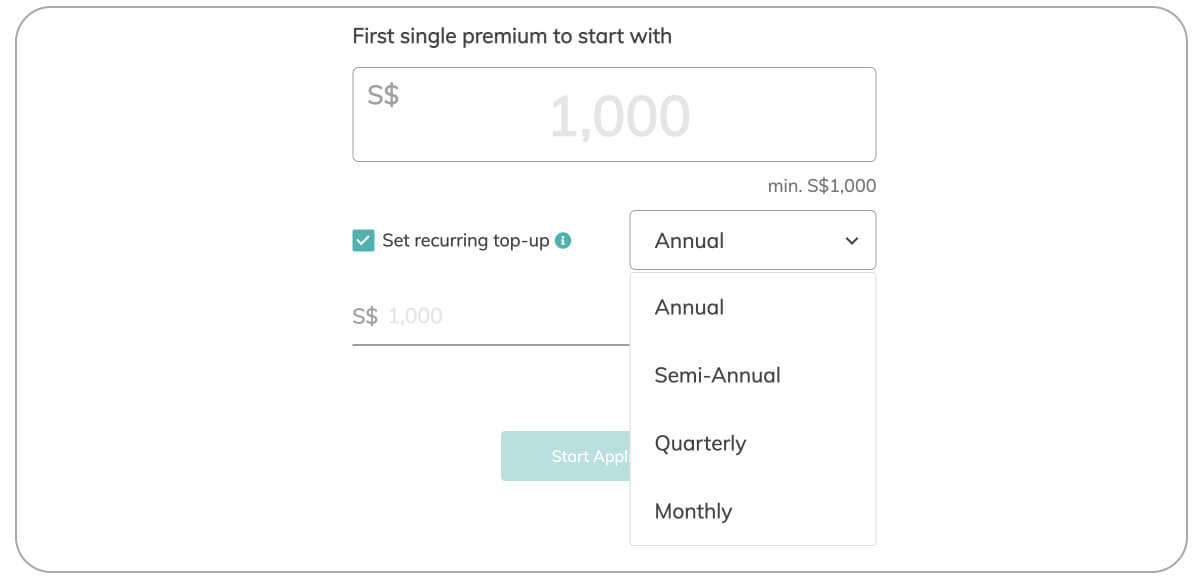 Next, take the Customer Knowledge Assessment (CKA)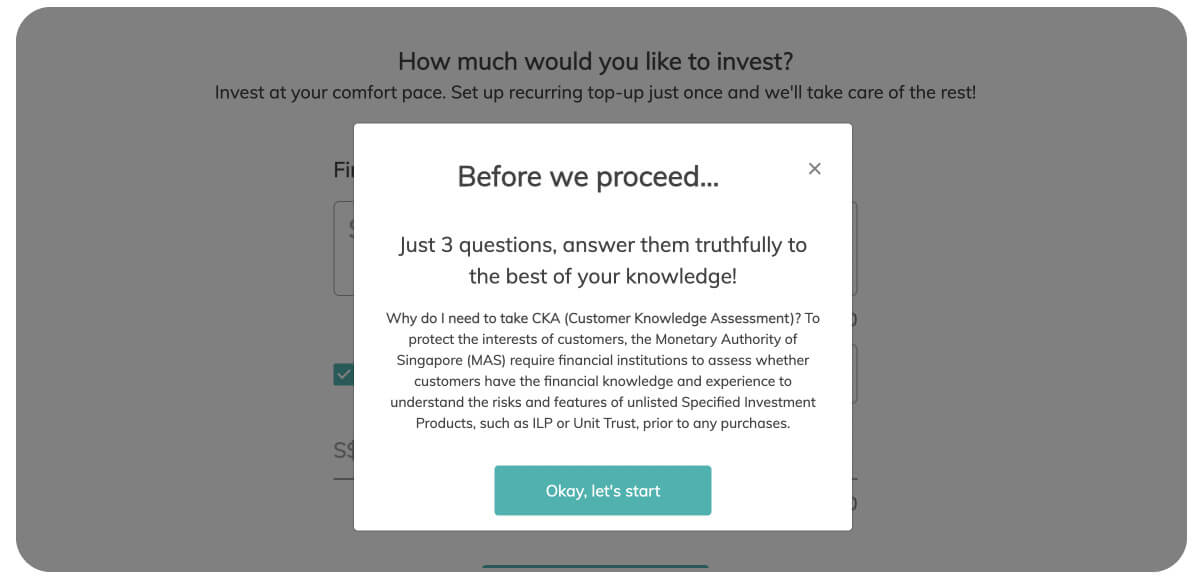 The Customer Knowledge Assessment (CKA) is a form of assessment administered by our government – to be precise, the Monetary Authority of Singapore (MAS) – to ensure potential investors (like you) have the financial knowledge and experience to understand the risks and features of Specified Investment Products. In other words, it is to protect your interest by ensuring you know what you're getting yourself into.
There are three simple questions related to your education, work and investment experiences. Once you pass the CKA, you will reach the application stage that will provide you with a notice that advises you that your 12-month CKA validity begins on the same day.
Step 2: Application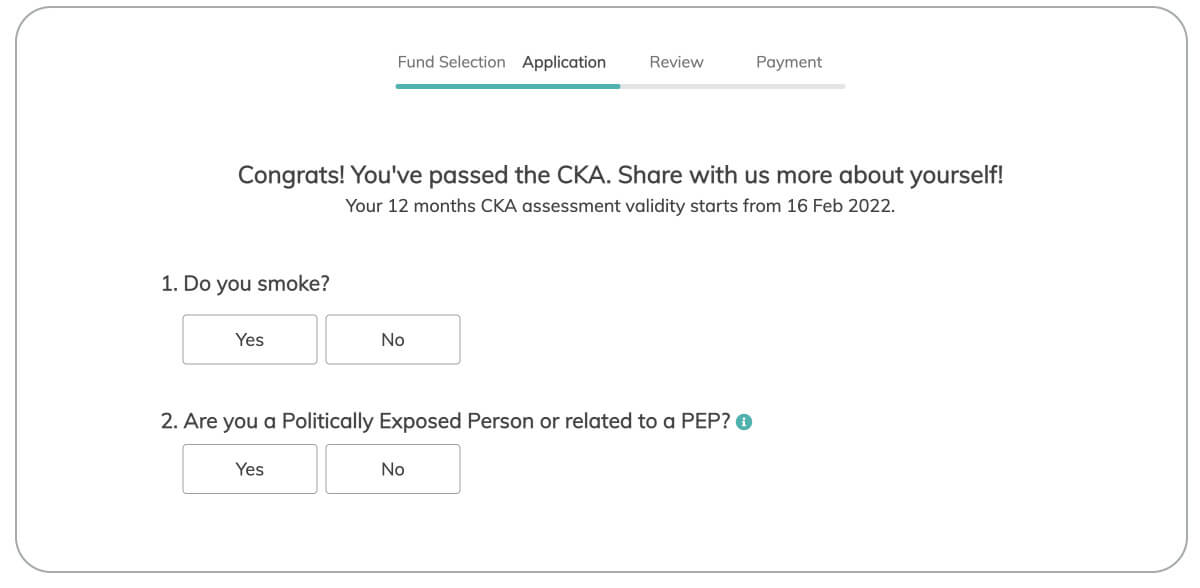 Prior to entering your full personal details, there are four YES/NO questions to be answered. If you are an Etiqa customer, you can opt to autofill your personal details by logging into TiqConnect customer portal. Alternatively, you can connect to MyInfo or enter the information manually.

With the exception of those who auto filled the personal details via MyInfo, all applicants are required to upload the front and back of your NRIC. To ensure a smooth application, you may want to prepare this ahead of time. With mobile phones having smart features and many scanner apps available, you can easily snap and scan the required files.
Tip: If you know anyone who has Tiq Invest or if you are planning to refer someone in the near future, take note of the Referral Code box here. Simply enter the referral code to enjoy rewards.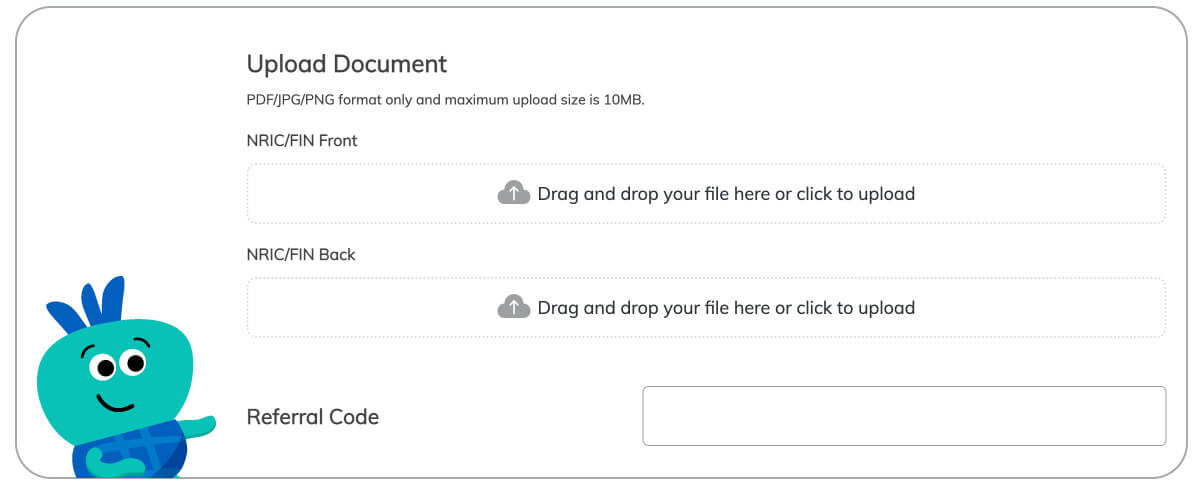 Prior to the Declaration segment, double check that all the information is accurate and true. Otherwise, the policy may be voided. After you've read and accepted the Declaration and relevant Terms and Conditions, click on 'Next' to do a final Review of your selected Fund Selection as well as your personal details.
If you'd like to make any changes, you can always click on '< back' at the upper right of the page.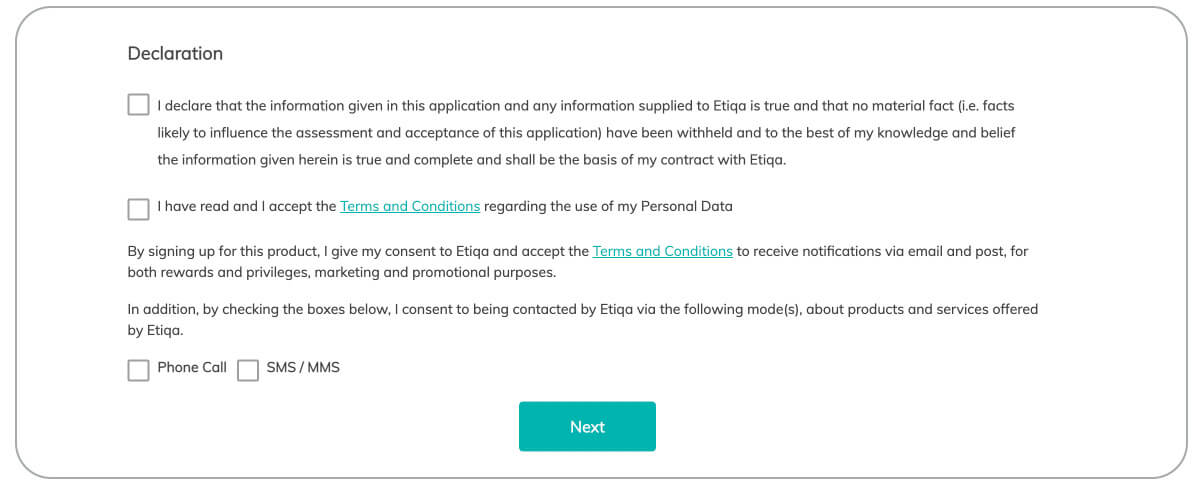 Step 3 & 4: Review and Payment
Following the Review page, the final step is Payment. You can make payment via Direct Debit by DBS/POSB or PayNow. Upon successful payment, you can expect to receive your policy details and receipt at your registered email.
And that's it! You can view your units allocation, unit price, and manage your policy on TiqConnect customer portal or via the Tiq by Etiqa mobile app. While it's nice to sit back and watch your money grow, we strongly urge you to evaluate your Fund Selection regularly to ensure you are ready to grab opportunities and remain on track for your financial goals.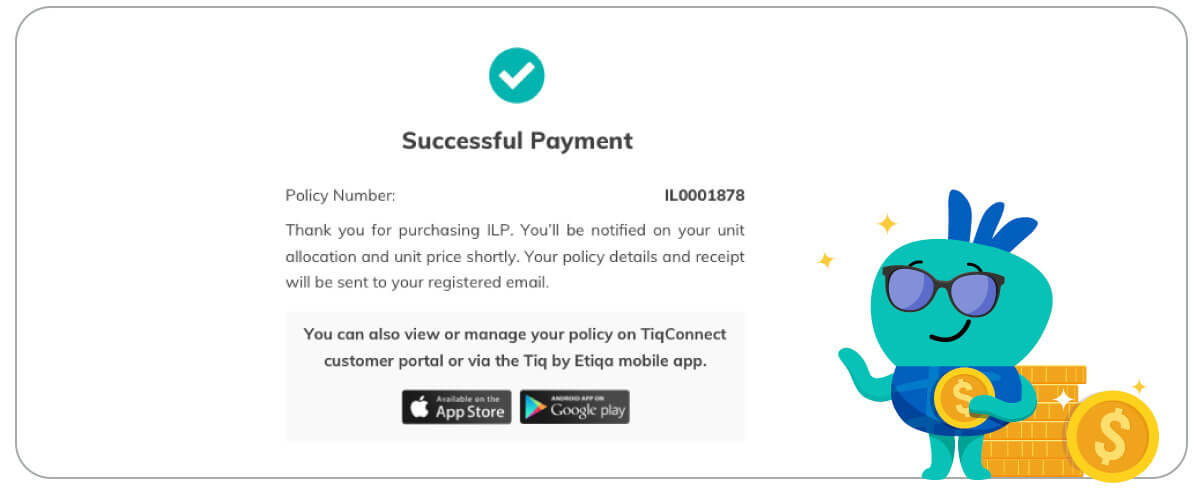 Investing made easier with Tiq Invest
Tiq Invest was conceived to help aspiring but time-starved investors to start investing through our hassle-free digital ILP while affording maximum financial flexibility. With a minimum of S$1,000 and a 4-step application process, you can easily kick start your investment journey with Tiq by Etiqa Insurance today!
Did we mentioned no lock-in period? You have the flexibility and control to top-up1, withdraw2 and switch Packaged funds3 anytime you want without charges. Get started with Tiq Invest now!

[End]
1 For Ad-hoc top-up: the minimum top-up amount will be S$500, the maximum ad-hoc top-up per transaction is S$200,000. For Recurring top-up: the minimum top-up amount will be S$1,200 per annum, S$600 semi-annual, S$300 per quarter and S$100 per month; the maximum recurring top-up per transaction is S$200,000.
2 The minimum partial withdrawal amount is S$200.
Information is accurate as at 7 February 2022. This policy is underwritten by Etiqa Insurance Pte. Ltd. (Company Reg. No. 201331905K).
Tiq Invest is an Investment-linked Plan (ILP) which invest in ILP sub-fund(s). Investments in this plan are subject to investment risks including the possible loss of the principal amount invested. The performance of the ILP sub-fund(s) is not guaranteed and the value of the units in the ILP sub-fund(s) and the income accruing to the units, if any, may fall or rise. Past performance is not necessarily indicative of the future performance of the ILP sub-fund(s).
A product summary and product highlights sheet(s) relating to the ILP sub-fund(s) are available and may be obtained from us via www.tiq.com.sg/product/tiqinvest. A potential investor should read the product summary and product highlights sheet(s) before deciding whether to subscribe for units in the ILP sub-fund(s).
As buying a life insurance policy is a long-term commitment, an early termination of the policy usually involves high costs and the surrender value, if any, that is payable to you may be zero or less than the total premiums paid. You should seek advice from a financial adviser before deciding to purchase the policy. If you choose not to seek advice, you should consider if the policy is suitable for you. This content is for reference only and is not a contract of insurance. Full details of the policy terms and conditions can be found in the policy contract.
This policy is protected under the Policy Owners' Protection Scheme which is administered by the Singapore Deposit Insurance Corporation (SDIC). Coverage for your policy is automatic and no further action is required from you. For more information on the types of benefits that are covered under the scheme as well as the limits of coverage, where applicable, please contact us or visit the Life Insurance Association (LIA) or SDIC web-sites (www.lia.org.sg or www.sdic.org.sg).
This advertisement has not been reviewed by the Monetary Authority of Singapore.
Tiq by Etiqa Insurance Pte. Ltd.
A digital insurance channel that embraces changes to provide simple and convenient protection, Tiq's mission is to make insurance transparent and accessible, inspiring you today to be prepared for life's surprises and inevitabilities, while empowering you to "Live Unlimited" and take control of your tomorrow.
With a shared vision to change the paradigm of insurance and reshape customer experience, Etiqa created the strong foundation for Tiq. Because life never stops changing, Etiqa never stops progressing. A licensed life and general insurance company registered in the Republic of Singapore and regulated by the Monetary Authority of Singapore, Etiqa is governed by the Insurance Act and has been providing insurance solutions since 1961. It is 69% owned by Maybank, Southeast Asia's fourth largest banking group, with more than 22 million customers in 20 countries; and 31% owned by Ageas, an international insurance group with 33 million customers across 16 countries.
Discover the full range of Tiq online insurance plans here.