Owning an e-scooter is supposed to be cost-effective and eco-friendly. You probably never thought that charging a Personal Mobility Device (PMD) in the kitchen or in your bedroom would cause a fire to break out, destroy your home and possibly that of your neighbours. Who knew that a faulty electrical battery could cause such heavy damages? Faced with news of recent PMD-related fires, it's time to take greater caution. Read on for important tips to prevent a PMD-related fire.
Important tips to prevent a PMD-related fire: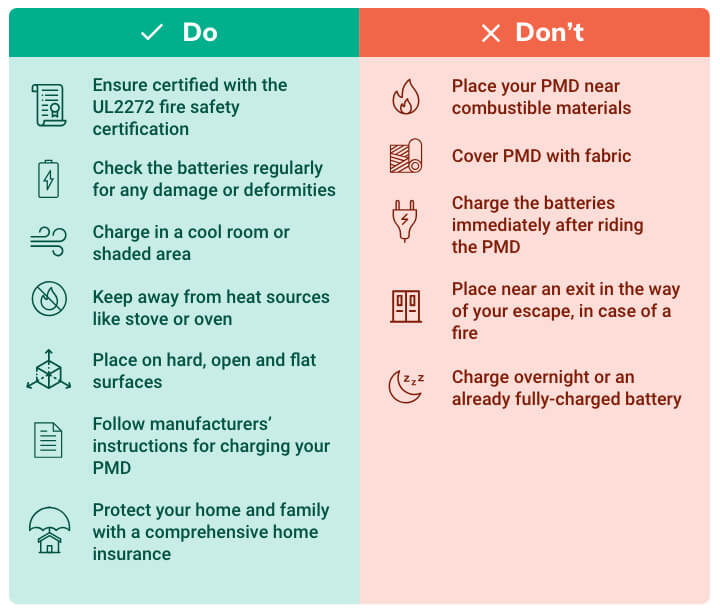 How can you further protect yourself?
We have received quite a number of enquiries on whether Personal Mobility Insurance covers your home and household members in the event of a PMD-related fire. Unfortunately, the answer is no. A comprehensive home insurance would come in handy in such situations.
#TiqOurWord Tiq Home Insurance offers up to S$5,000 Emergency Cash Allowance in the event that your home is rendered uninhabitable due to an insured peril such as a fire accident.
So what's the benefit of a Personal Mobility Insurance?
The Chinese have a saying, "the road is like a tiger's mouth", which translates that danger abound when one is out on the streets. Specially tailored for users of personal mobility devices*, ePROTECT personal mobility, which costs as little as S$78 per year, covers accidental death and permanent disability, medical expenses as well as protection against third-party liability when one meets with accidents while riding, mounting or dismounting from any bicycle or personal mobility device in Singapore.
Our Personal Mobility Insurance provides coverage for:
Medical expenses that you incur related to an accident while riding your bicycle or PMD, of up to S$3,000
Liabilities arising from injuries or damage to the property of a third party, up to S$300,000
Personal accidents that result in death or permanent disability, with a sum assured payout of up to
That's not all! Cycling enthusiasts can consider the optional add-ons to protect your bicycle or upcoming overseas cycling trip to Malaysia or Thailand:
Coverage for bicycle damage
Coverage for bicycle theft if it gets stolen from your home
Geographical limit extension to include Malaysia and Thailand
Coverage for loss of/damage to bicycle in transit
*Mobility devices cover bicycles, e-scooters, roller skates and wheelchairs
Get peace of mind as you travel with your PMD today! Learn more here!
[End]
Information is accurate as at 13 September 2019. Protected up to specified limits by SDIC. This policy is underwritten by Etiqa Insurance Pte. Ltd. (Company Reg. No. 201331905K)
Tiq by Etiqa Insurance Pte. Ltd.
A digital insurance channel that embraces changes to provide simple and convenient protection, Tiq's mission is to make insurance transparent and accessible, inspiring you today to be prepared for life's surprises and inevitabilities, while empowering you to "Live Unlimited" and take control of your tomorrow.
With a shared vision to change the paradigm of insurance and reshape customer experience, Etiqa created the strong foundation for Tiq. Because life never stops changing, Etiqa never stops progressing. A licensed life and general insurance company registered in the Republic of Singapore and regulated by the Monetary Authority of Singapore, Etiqa is governed by the Insurance Act and has been providing insurance solutions since 1961. It is 69% owned by Maybank, Southeast Asia's fourth largest banking group, with more than 22 million customers in 20 countries; and 31% owned by Ageas, an international insurance group with 33 million customers across 16 countries.
Discover the full range of Tiq online insurance plans here.