Love potatoes and cheese? You won't go wrong with Swiss food, which includes the likes of rosti and raclette. Multi-cultural and rich in flavours, traditional Swiss cuisine spanning 20 cantons and 6 semi-cantons offer diverse culinary options, with strong influences from neighbouring countries such as Germany, France and Northern Italy.
Here's our must-try Swiss food guide, divided into breakfast, lunch, and dinner for your convenience.
Did you know? Tiq Travel Insurance provides flight check-in reminder(s) as well as an automated flight delay benefit so you'll get paid upon a 3-hour flight delay, even without submitting a claim!
Must-try Swiss food for breakfast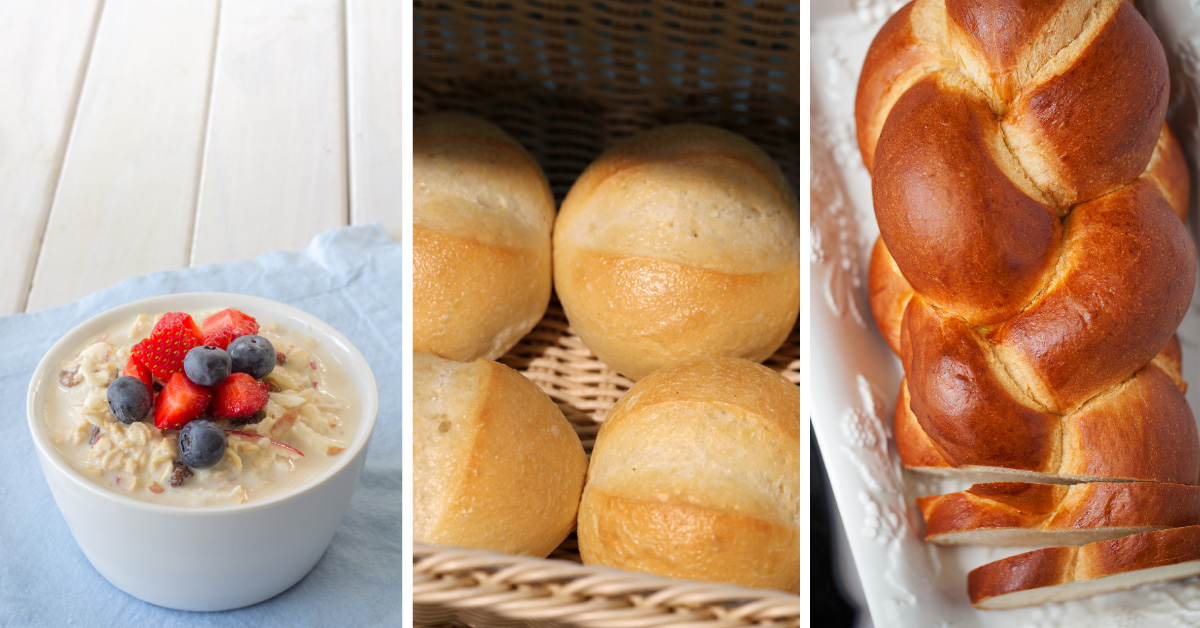 Bircher Muesli
For the health-conscious, you may be familiar with Bircher Muesli, also known as Swiss Oatmeal. This creamy and fruity bowl of overnight oat flakes originated in Zurich, dating back to the year 1990, and is available at almost any cafe in Switzerland. A typical Swiss breakfast, the original Bircher Muesli contains nuts, fruits, condensed milk, lemon juice and rolled oats.
Pull-Apart Weggli
The pull-apart Weggli (classic Swiss milk bun) is a popular morning staple amongst both Swiss adults and children. Depending on where you live in Switzerland, these sweet milk rolls can also be called Semmeli. They go well with jam and butter or even chocolate chunks, and are available at breakfast places, bakeries and supermarkets.
Sunday Zopf (Plaited bread)
Made with full cream, milk and butter, Zopf is a brioche-style bread, braided to give it a distinct appearance and interesting texture. Usually eaten on Sunday, hence its name – Sunday Zopf – this bread has been known in Switzerland since the mid-15th century!
Word has it that this braided white bread was inspired by a custom whereby widows cut off their braided hair and buried them with their husbands. Later, they buried a bread loaf in this shape instead of their hair. If you happen to be in Switzerland on a Sunday, don't miss this local delight!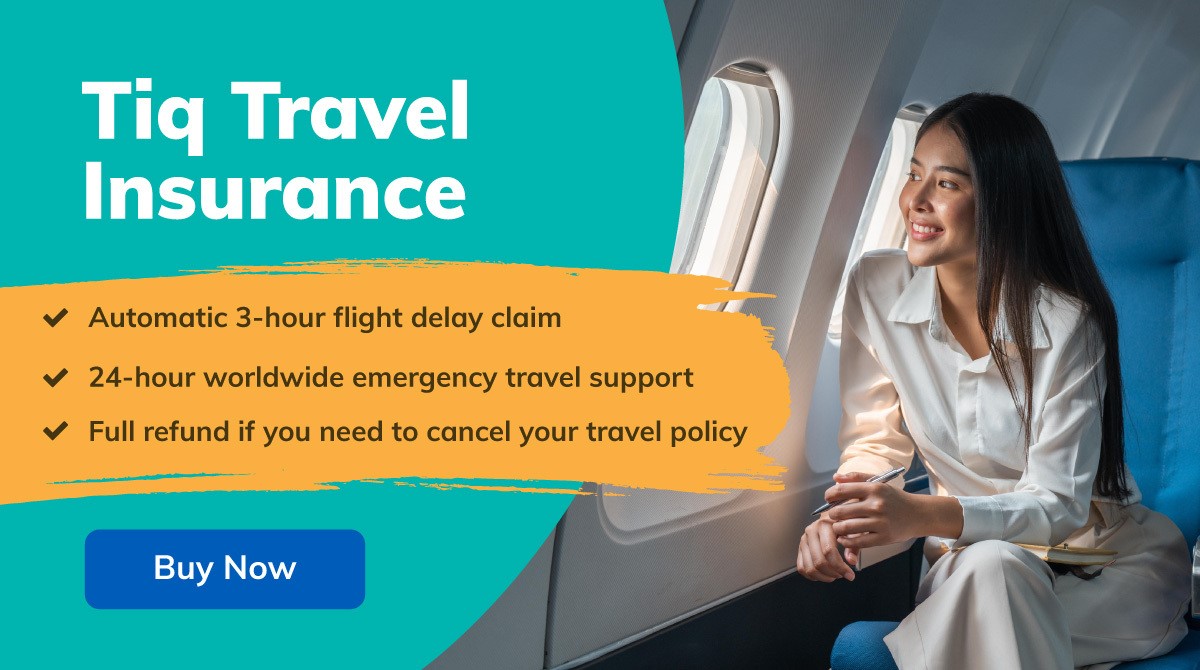 Must-try Swiss food for lunch / dinner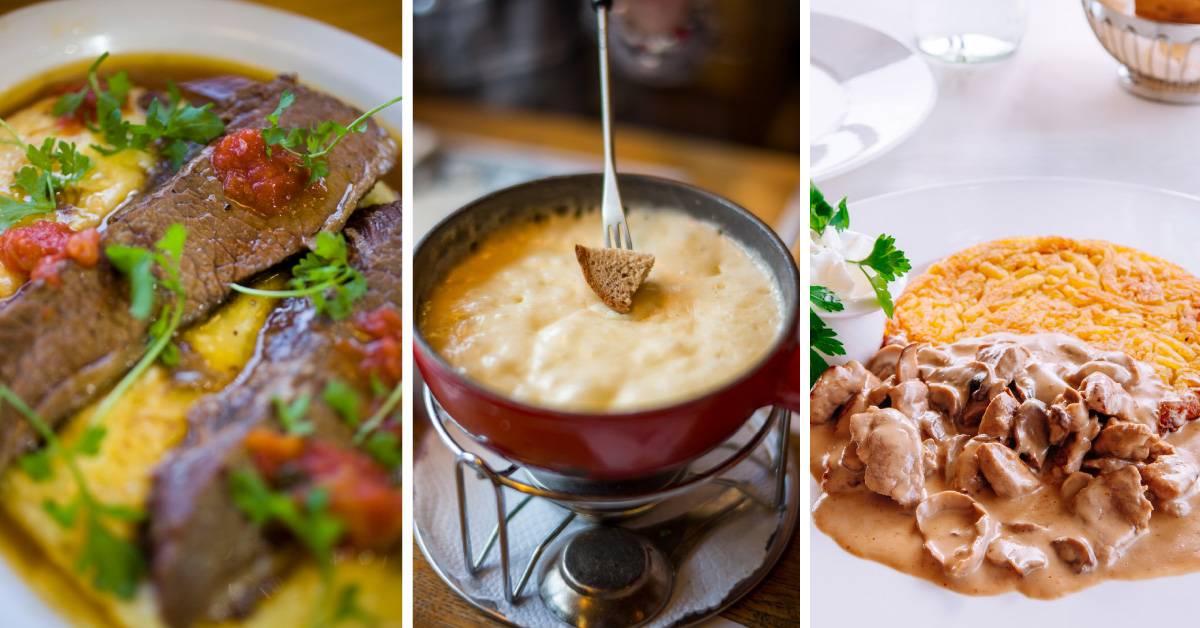 Polenta and Braised Beef
Often served during winter as comfort food, polenta and braised beef is a popular savoury street food that originated from Ticino – an Italian speaking region in southern Switzerland. Fluffy and light, polenta is your cornmeal porridge served with tender beef braised in red wine.
Cheese Fondue
More than just a pot of melted cheese that you dip bread into, cheese fondue is like that western-style 'hotpot' that combines the finest Swiss cheese, wine and communal atmosphere, best to be enjoyed in a cold climate.
There are many variations to the traditional Swiss fondue, including tomatoes, mushrooms, chilli or bacon. Others include meat, vegetables and eggs. Known as Switzerland's most popular cheese dish, cheese fondue is one of the most traditional Swiss culinary experiences you should not miss! In fact, you can even bring home a cheese fondue set (including the pot!) or two as a souvenir.
Rosti
This fried grated potato dish that is well-loved internationally is actually one of Switzerland's national dishes! Originated from Bern as a traditional dish for agriculture workers after a long day's work, Rosti is a humble dish that calls for two crucial ingredients: potatoes and butter. Depending on the region you find them in, they might be topped with bacon, onion, or cheese amongst other sides.
Zürcher Geschnetzeltes
When visiting Zurich, don't miss this classic Swiss dish of thinly sliced veal, typically sautéed in butter with onions and served in a creamy white wine and mushroom sauce. Tender and flavourful, Zürcher Geschnetzeltes is often served with rosti! See top right image!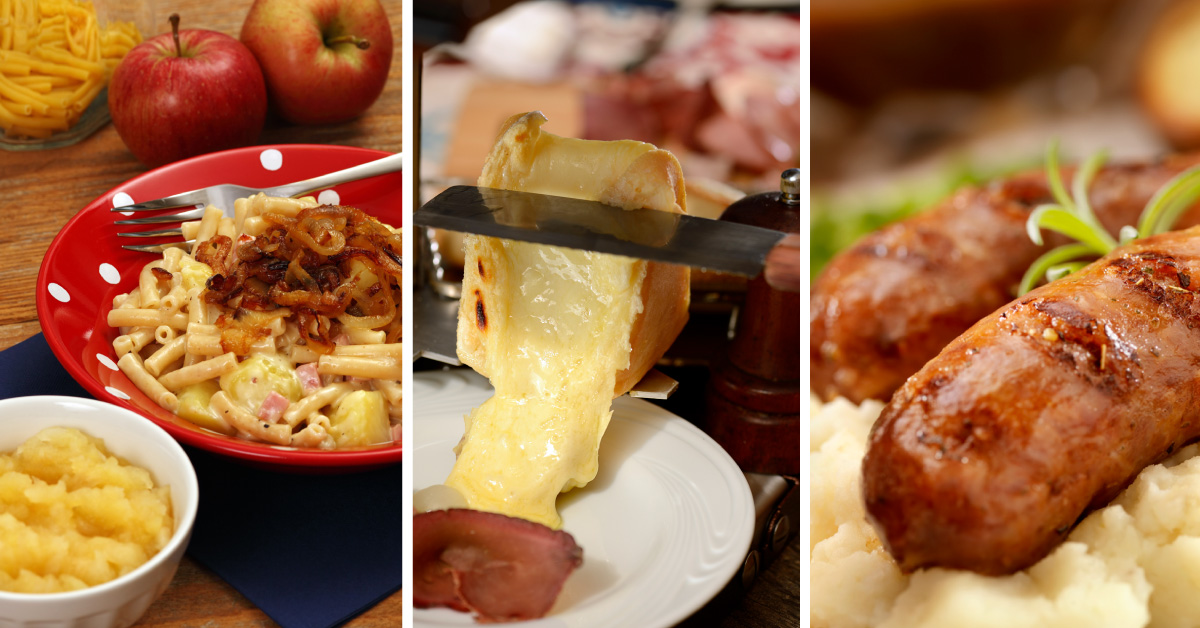 Caution: Digestive problems and intestinal distress are common travel ailments! Besides practising mindful eating when overseas, do ensure that your travel insurance covers you adequately. Besides providing 24-hour worldwide emergency travel support, Tiq Travel Insurance covers medical expenses incurred overseas up to S$1 million. Learn more.
Älplermagronen
A dish from the alpine regions of Switzerland, Älplermagronen is hailed as the ultimate Swiss comfort food. Imagine a hearty dish of macaroni with creamy melted cheese, flavoured with caramelised onions and paired with crispy fried golden-brown potatoes that give that satisfying crunch!
Raclette
From pasar malam (night markets) to fine dining restaurants, raclette has taken the Singapore food scene by storm. That's why you must try this warm and gooey Swiss staple from where it originates – the alpine regions of Switzerland!
Don't be mistaken though, raclette is not just about cheese. Similar to Swiss fondue, it is often paired with bread, potatoes, pickles and cured meat, etc. The only difference being it is heated and scraped off the wheel onto the ingredient, rather than as a pot of molten cheese for dipping. You can also bring home a portable raclette set (including pan!) if you can't get enough of the grilled cheese, or as a gift for loved ones.
Berner Platte
Calling all meat-lovers! As its name suggests, Berner Platte is a traditional Swiss meat dish that originates from Bern. Think succulent smoked meats, savoury sausages, tender pork, and flavourful cured beef, served alongside boiled potatoes, beans and sauerkraut. Sounds like a feast? This food platter was created in 1798 as a gourmet feast when the Bernese defeated the French army at Neuenegg!
Papet Vaudois – Leeks with potatoes and sausage
Yet another comforting Swiss food, Papet Vaudois is a traditional dish consisting of leeks and potatoes cooked together until they give a creamy, melt-in-your-mouth texture! Created from the Vaud region of Switzerland, Papet Vaudois is usually served with sausages.
Swiss desserts and snacks not to be missed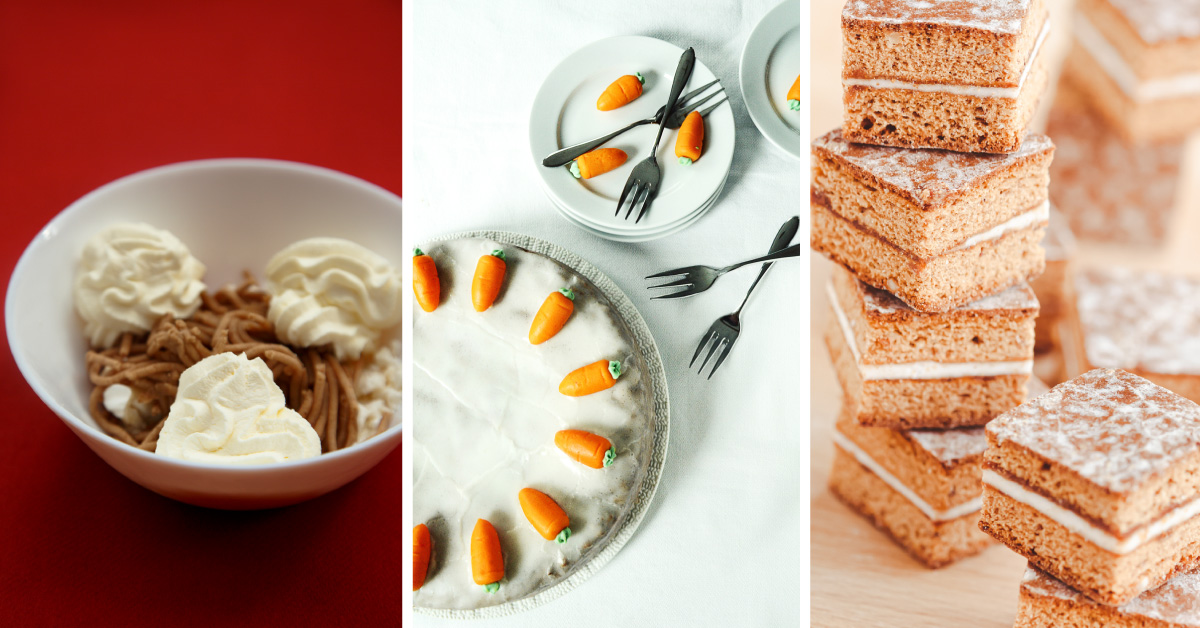 Vermicelles
A traditional treat made from chestnut puree, Vermicelles is an elegant dessert that you can easily find in cafes and pastry shops during autumn and winter. Its name reflects its resemblance to thin, noodle-like strands, usually accompanied with a generous dollop of whipped cream. Think light and fluffy cream with rich and nutty chestnut flavour ~ Shiok ah!
Rüeblitorte
Regardless of whether carrot cake really originates in Switzerland, Rüeblitorte aka Swiss Carrot Cake is one classic sweet treat you don't want to miss. Made of finely grated carrot that gives the moist crumbly cake its orange hue, Rüeblitorte includes aromatic spices such as cinnamon and nutmeg, and is generously frosted with a decadent cream cheese icing.
Zuger kirschtorte
Simple yet sumptuous, Zuger Kirschtorte is a layered sponge cake infused with kirsch (cherry brandy) and crowned with fresh cream, giving it that rich, creamy taste with a hint of alcohol. Don't worry though, you won't get drunk eating this Swiss sweet treat.
Brischtner Nytlä
This traditional Swiss dessert may be mistaken as poached pear but Brischtner Nytlä is, in fact, made of dried pears, red wine, and whipped cream. The red wine is diluted using sugar and water, with the pears gradually being added to the concoction.
Basler Leckerli
You don't need to go to Basel to try Basler Leckerli, although this traditional Swiss spice cookie originated there. Chewy and aromatic, Basler Leckerli is typically made of honey, almonds, candied citrus peel, and a mixture of spices like cinnamon, cloves, and nutmeg.
These cookies are glazed with a thin layer of sugar or honey, adding a touch of sweetness that complements the warm and comforting spices. These make for a great tea break snack or food souvenirs, and can be easily purchased from supermarkets.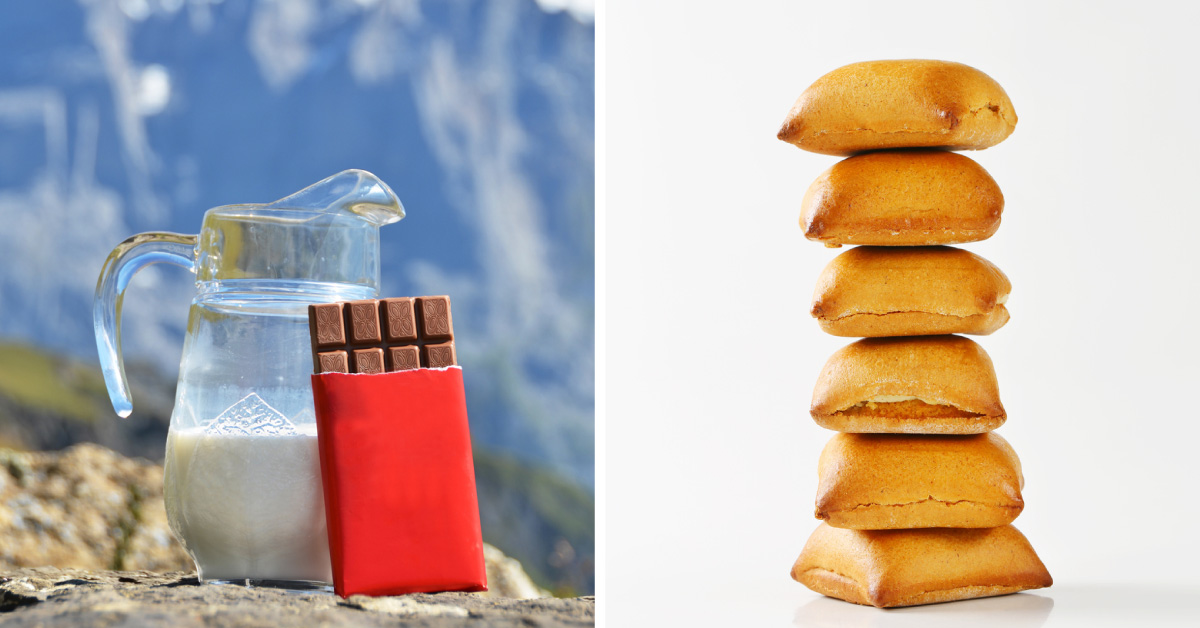 Swiss Chocolates
Recognised for the invention of milk chocolate and high-quality standards, Swiss chocolates are not to be missed when you are in Switzerland! You'd recognise some popular Swiss chocolate brands such as Lindt, Cailler, Toblerone, Kägi Fret, Weggli, Brügeli Läderach, etc.
Besides indulging in them while you are there, why not consider going on a chocolate factory tour or even hopping on the chocolate train? Needless to say, chocolates are one of the best food souvenirs for gifting.
Biberli
Originating from the canton of Appenzell, Biberli is a small, rectangular-shaped treat – typically made of two slices of sweet gingerbread held together with a sticky flavourful filling of ground nuts, honey, candied citrus peel, and spices like cinnamon and cloves. This sweet treat can be eaten as a dessert or snack and is available at food marts and bakeries.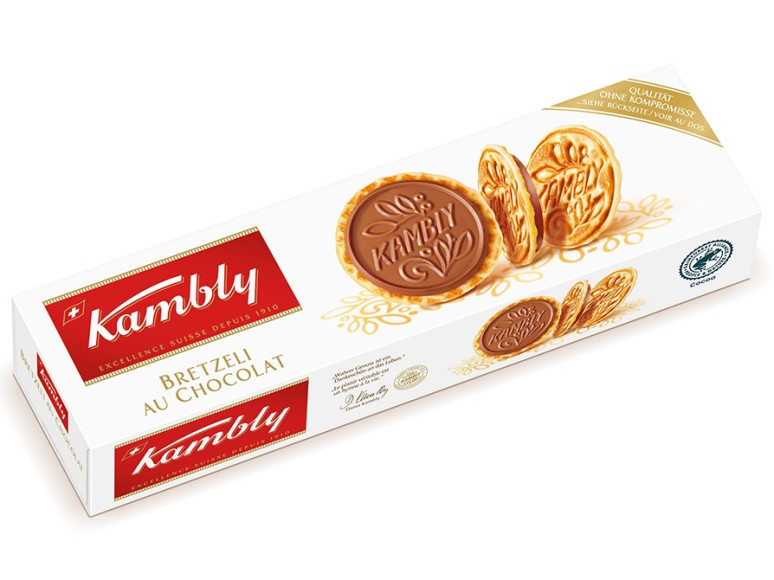 Source: https://kambly.com/en/shop/single-packs/bretzeli-au-chocolat-100-g
Kambly Biscuits
Perhaps one of the most famous brands in Switzerland, Kambly has produced a wide variety of biscuits with rich flavours for four generations! Kind of like Khong Guan biscuits in Singapore, you can easily find Kambly biscuits in supermarkets and local stores. These biscuits make for a great snack and food souvenir.
If you have trouble choosing amongst the different flavours and textures, ranging from buttery and crispy to nutty and chocolate-based, go for the Bretzli – a thin crepe-type biscuit, which was Kambly's first creation. Here's another tip: hop on a train to visit the Kambly factory in Trubschachen where you can try unlimited biscuit flavours for free, and buy them at discounted rate.
Planning to visit Switzerland? Here's what you need to know
When is it cheapest to visit Switzerland?
Those who are planning a family trip during the year-end holidays would be pleased to know that November to January (avoid the days surrounding Christmas and New Year) are the cheapest months to travel to Switzerland. It will be autumn and winter season then, where you can score greater savings on flights and accommodations.
It may get cold in the latter months though, so prepare appropriate clothing and ensure you have adequate travel insurance. Tiq Travel Insurance provides the flexibility to add on COVID-19 Cover even for our annual plans, ensuring you're well-protected before, during and after your trip? Learn more.
From where should I fly into Switzerland?
Zurich and Geneva are both popular cities to visit from Singapore. For those who prefer to take a direct flight, consider flying to Zurich either by Singapore Airlines or Swiss Air. It would also be more environmentally friendly as direct flights typically burn less fuel, hence reducing carbon emissions. On top of that, the risk of losing your baggage is lower on non-stop direct flights. While travel insurance generally covers baggage loss, the hassle of having to purchase necessities in a foreign land upon arrival can be disconcerting.
What is the best way to explore Switzerland?
Travelling by train is highly recommended, as Switzerland has one of the densest and longest rail networks in Europe, with punctual service and magnificent scenery. With their extensive public transport network and value-for-money Swiss Travel Pass, train travel offers a stress-free way to explore Switzerland. Choosing public transport over self-drive also means reduced emissions and greater travel sustainability.
Did you know that Tiq Travel Insurance covers all forms of transportation? If you prefer to self-drive, we also have an option to add-on Rental Car Excess Cover. Travelling in a foreign land, especially if you are travelling with family, usually requires greater considerations. Tiq is here to be your best travel partner with comprehensive travel protection and COVID-19 add-on so you can travel with greater peace of mind!
[End]
Information is accurate as at 21 August 2023. This policy is underwritten by Etiqa Insurance Pte. Ltd. (Company Reg. No. 201331905K). Protected up to specified limits by SDIC.
Tiq by Etiqa Insurance Pte. Ltd.
A digital insurance channel that embraces changes to provide simple and convenient protection, Tiq's mission is to make insurance transparent and accessible, inspiring you today to be prepared for life's surprises and inevitabilities, while empowering you to "Live Unlimited" and take control of your tomorrow.
With a shared vision to change the paradigm of insurance and reshape customer experience, Etiqa created the strong foundation for Tiq. Because life never stops changing, Etiqa never stops progressing. A licensed life and general insurance company registered in the Republic of Singapore and regulated by the Monetary Authority of Singapore, Etiqa is governed by the Insurance Act and has been providing insurance solutions since 1961. It is 69% owned by Maybank, Southeast Asia's fourth largest banking group, with more than 22 million customers in 20 countries; and 31% owned by Ageas, an international insurance group with 33 million customers across 16 countries.
Discover the full range of Tiq online insurance plans here.