The premium placed on space in Singapore today is so high that newer apartments increasingly fall under the classification of 'shoebox homes'. If you are an aspiring homeowner, it's no wonder space constraints now stand in your way of attaining your dream home. Even if you don't have as much floor area as you'd like, there are a million ways to make your humble abode feel more spacious. Likewise, if you're going for that minimalist look, our ingenious space saving tips will help you declutter your home, giving it an illusion of being bigger than it actually is, ticking off your #homegoals checklist. Here are our tips and tricks!
#1 Hidden storage solutions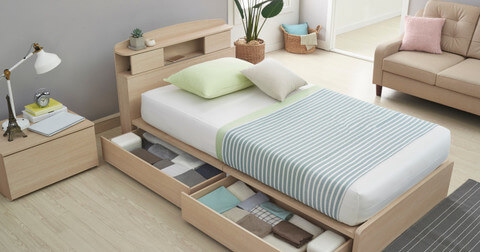 No, we're not referring to chucking your stuff away in the storeroom…! Select furniture with double-duty designs to maximise storage space while keeping things organised. Hidden storage solutions keep clutter away from open areas and out of sight. For example, some bed frames come with storage underneath, allowing you to access the inside to hold bulky items, or with built-in drawers by the sides where you can stash smaller items. Laundry closets that permit the storage of a washing machine, dryer and cleaning supplies are also popular. This way, you can save space and minimise disarray to achieve your minimalist home!
#TiqOurWord Hoarding and clutter can potentially lead to fire hazards, which can put you and your family's safety at risk. Besides clearing the clutter regularly, you should have a comprehensive home insurance.
#2 Make use of mirrors and walls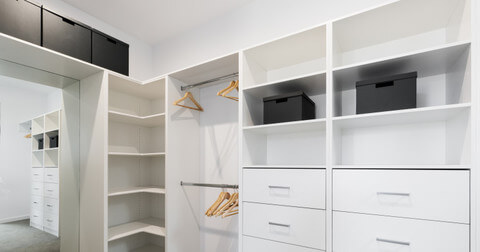 Just like in land-scarce cities, the solution to make space for your home would be to go up, meaning go vertical! Run shelves or storage spaces from floor to ceiling. Another idea would be to store your items on top of your cabinets and wardrobes but we'd not recommend this as your items may collect dust, which could mean additional cleaning!
Comb your recesses too – when built into the walls of your home, they help to carve out extra space where for instance you can have lesser racks in the kitchen. Similarly, recesses in the feature walls of your living room or beside your bed affords you extra space for your home décor and other knick-knacks.
Minimalist homes tend to make good use of mirrors too, which are not only perfect for narcissists (just kidding!), but offer the illusion of a larger space.
#3 Pick furniture of the right size
This tip is pretty straightforward but often overlooked. How many times have we bought something on the pretext that it suits the design and concept of our home, such as a furniture or a décor piece only to regret because of wrong dimensions? Instead of a harsh overhead lamp, space out your home's lighting by mounting them on the walls and ceilings.
Ambient lighting not only gives a cosy vibe to your home, it is also less space consuming than standing floor lamps or table lamps. Or, you can incorporate sleek, smart lighting in your home that blends well with a minimalist home, killing two birds with one stone as automated lighting is much more energy-saving. Mounting your flat-screen TV and speakers on the wall is also pretty common these days – doing away with a TV console altogether saves you money too!
#4 Opt for open concept designs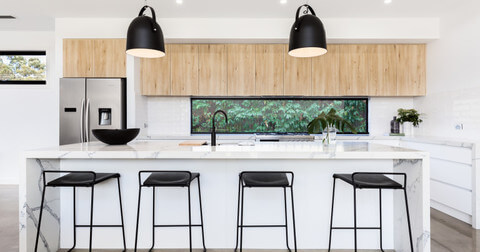 Removing your dividing kitchen wall and opting for an open concept kitchen are all the rage these days, topping every millennial homeowner's renovation list.
Since an open concept design means an extension of your kitchen to the living room, you're forced to keep your kitchen minimal too. This can also overcome space constraints as you'll be getting a larger kitchen. One cannot leave out a trendy kitchen island that screams #homegoals. What's more, you can pair the design of your kitchen to that of your living room, if aesthetics are important to you.
#TiqOurWord Homeowners, did you know that Tiq Home Insurance allows you to protect your home by insuring your renovation?
Less is more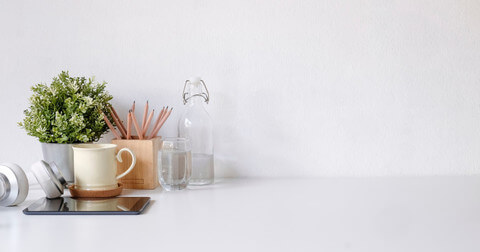 While a cliché, we have to agree with the statement, 'less is more', indeed. Minimalism is taking the interior design world by storm, a perfect example of how style need not be compromised by space constraint. We hope you've learnt a thing or two with our smart space saving tips and tricks for your home to maximise your living space!
Information is accurate as at 21 March 2019.