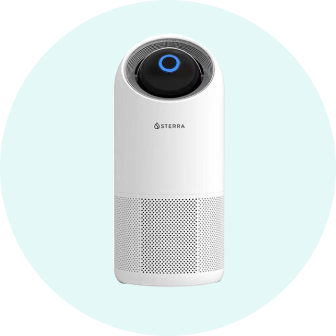 Redeem your Sterra Moon™ True HEPA-13 Air Purifier (worth S$229)
Qualifying Period
1 October 2023 – 31 March 2024
Limited to 10 sets per month
T&C applies
Eligible Protection products
For more details on the promotion, you may call us at +65 68878777
between Mon to Fri, 8.45am to 5.30pm (Excluding Public Holidays)
Important notes:
Age means the age at next birthday. These policies are underwritten by Etiqa Insurance Pte. Ltd. This content is for reference only and is not a contract of insurance. Full details of the policy terms and conditions can be found in the policy contract. The information contained on this product advertisement is intended to be valid in Singapore only and shall not be construed as an offer to sell or solicitation to buy or provision of any insurance product outside Singapore. You should seek advice from a financial adviser before deciding to purchase the policy. If you choose not to seek advice, you should consider if the policy is suitable for you.
These policies are protected under the Policy Owners' Protection Scheme which is administered by the Singapore Deposit Insurance Corporation (SDIC). Coverage for your policy is automatic and no further action is required from you. For more information on the types of benefits that are covered under the scheme as well as the limits of coverage, where applicable, please contact us or visit the Life Insurance Association (LIA), General Insurance Association (GIA), or SDIC websites (www.lia.org.sg, www.gia.org.sg or www.sdic.org.sg).
Information is accurate as at 20 October 2023.
This advertisement has not been reviewed by the Monetary Authority of Singapore.

Be the first to know
Get the latest promotions and news

Please share with us which topics interest you:
All
Financial Planning
Health & Wellness
Travel & Leisure
For the Millennials
Promotions & Giveaways
I consent and agree for Etiqa Insurance to collect, use and disclose the personal data above for the purposes of validation and sending, via telephone calls and text message. Read Etiqa's Privacy Policy [here]