Don't miss out on our very last sale of 2022!
End the year with a blast & earn your chance to be 1 of the lucky winners in our lucky draw!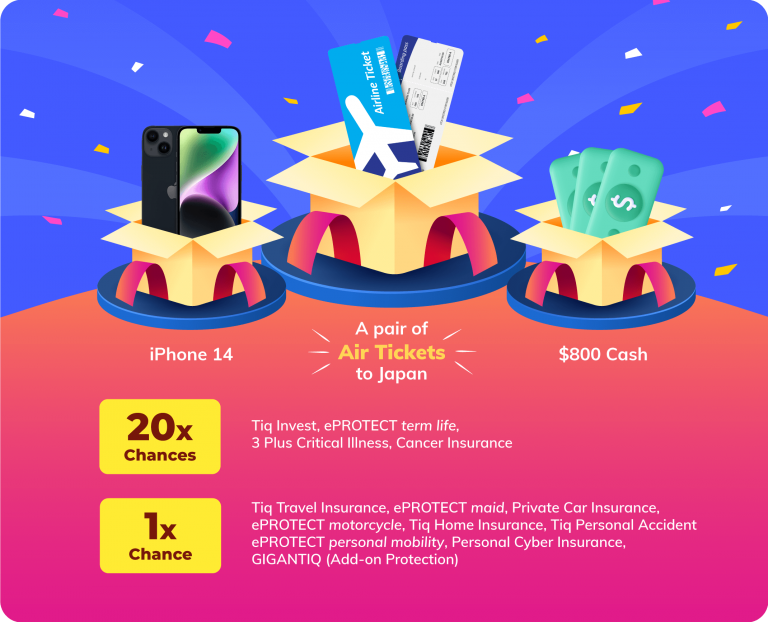 ePROTECT motorcycle
10% off + $25 cash




Tiq Personal Accident
25% off + $20 cash



ePROTECT personal mobility
10% off


Personal Cyber Insurance
10% off


Cancer Insurance
25% off + $5 cash



GIGANTIQ Add-on Protection
Major Cancer, Accidental Death, Death & TPD, Home, Cyber


Important notes:
These policies are underwritten by Etiqa Insurance Pte. Ltd. This content is for reference only and is not a contract of insurance. Full details of the policy terms and conditions can be found in the policy contract. This policy is protected under the Policy Owners' Protection Scheme which is administered by the Singapore Deposit Insurance Corporation (SDIC). Coverage for your policy is automatic and no further action is required from you. For more information on the types of benefits that are covered under the scheme as well as the limits of coverage, where applicable, please contact us or visit the General Insurance Association (GIA), Life Insurance Association (LIA) or SDIC websites (www.gia.org.sg, www.lia.org.sg or www.sdic.org.sg).
This advertisement has not been reviewed by the Monetary Authority of Singapore.
Information is correct as of 24 November 2022.